The institute of CUST has announced admission and the last date of application submission is 05 August 2021. Capital University of Science and Technology CUST Islamabad Fall Admission 2021 is open for BS, MS, and Ph.D. programs. Students are allowed to apply for the current admission open in Capital University Of Science And Technology. It is a private university that was established in 1998 under the Umbrella of Muhammad Ali Jinnah University. This is the project of the Punjab Group of Colleges. This university offers different courses including undergraduate, postgraduate, and doctoral programs. CUST is emphasizing business and engineering programs. It is standing on the list of best PEC-recognized universities in Pakistan. It is chartered by the government of Sindh and recognized by the Higher education commission. This university is also affiliated with PGC and Pakistan Engineering council. All students who have passed intermediate, bachelor, or masters are allowed to apply for CUST Fall admission 2021. In this article, you will learn about
CUST Islamabad Fall  Admissions 2021
For the information of the students who are looking the www.cust.edu.pk admission 2021 because recently administration of this university has announced the admission. On the other hand, the Capital University of Science and Technology admission's last date is October 2021. After close the admission they will announce the merit list and just those people will make a part of this institute who will meet the criteria of the merit list.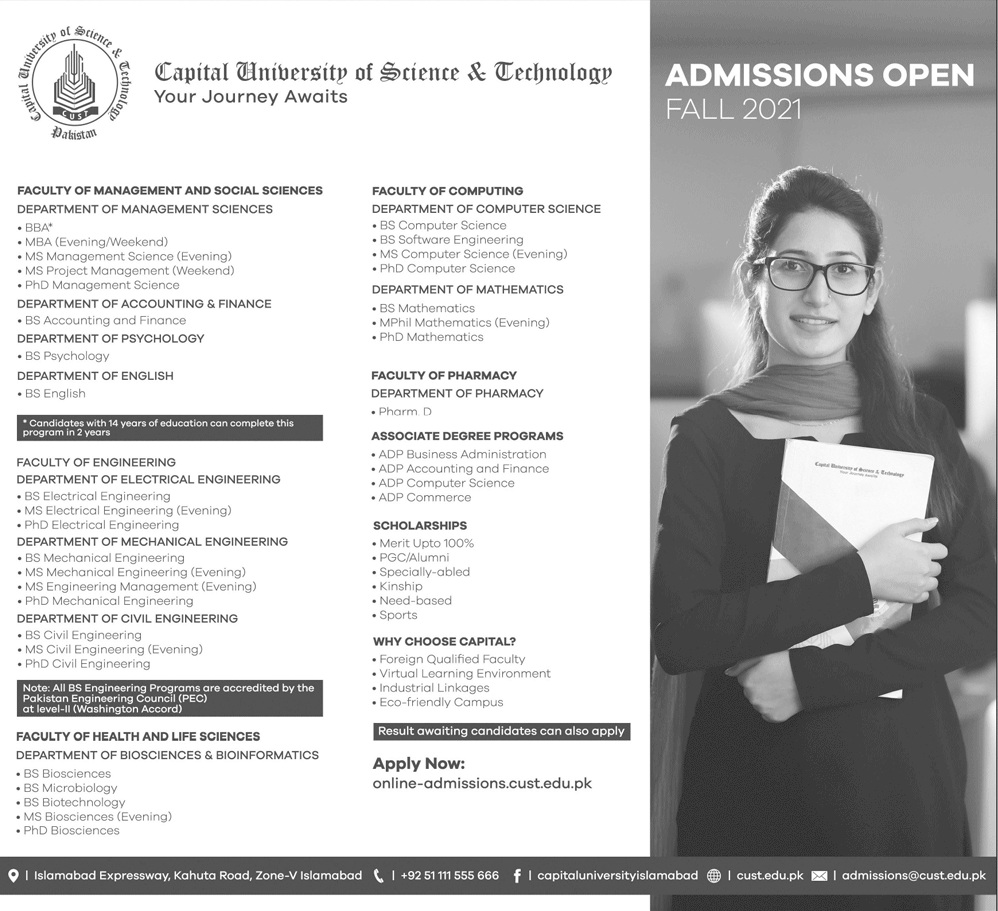 Offered Courses:
Capital University of Science and Technology CUST offers different undergraduate, master's, and postgraduate programs related to engineering and business. currently, admissions are open in the following programs.
BS Computer Science
BS Software Engineering
BS Biosciences / Bioinformatics
BS Bio-Technology
BS Microbiology
BS Accounting and Finance
BBA
MBA
MS Electrical engineering
MS Mechanical Engineering
MS Civil Engineering
MS Computer Science
MS Mathematics
MS Management Science
PHD
Admission Criteria
Students having at least 45% marks are allowed to take admission however for BS engineering it is mandatory to have at least 60% marks
For MS and MBA it is mandatory to have at least 2.00 CGPA out of 4.00 or equal marks
For Ph.D., it is mandatory to have a minimum of 3.00 CGPA in the previous exam
An admission test will be there for students and after passing the test, they have to face an interview
Result awaiting students are also allowed to apply
Fee Structure
When you select a top-level institute then definitely increase the education expenditure but the majority of the students are unaware of the admission fee and semester fee. So before apply to this institute must check the criteria of the fee while every year they change the fee structure.
Last Date to Apply
Students, till applying in October 2021 because after this date administration of this university, will not accept your application. So if you are interested in this institute then apply before the last date that has mentioned above content.
Admission Procedure
Here is the admission Open CUST Islamabad Fall Admission for various undergraduate, master's, and postgraduate programs. Students are allowed to purchase prospectus from the campus of this university. Prospectuses are also available online at www.cust.edu.pk. You can also download the prospectus and submit it after dully filling that form at the admin office before the last date in order to get admission to this institute. Hence it is all about the CUST Islamabad Fall Admission 2021.
Most of the universities are going online according to the online paradigm. The university is currently explained here on this page through the latest advertisement that has the complete plan. The CUST online admission form needs to be filled online and you will be guided here at this page through the proper way out explained. The below-given link is sufficient to get the online paradigm.