If you are looking for Fatima Jinnah Women University FJWU Rawalpindi Admissions 2022 then you are on the right page. Here, you will be able to check the complete admission procedure, eligibility, and last date, and can apply for it. Admissions are offered in several bachelor's and master's programs. The admissions are offered on a Regular and Self-Support basis. So, if you have completed your previous studies, then apply for admission. Fatima Jinnah University is the top name among Women's universities in Pakistan. It is providing the best education for a long time. Every year, it opens admission and a big crowd of students apply for it. Now it is offering admissions in several programs. Have a look at it. Now, another detail about FJWU Rawalpindi Admissions 2022 is mentioned below.
Fatima Jinnah Women University FJWU Rawalpindi Admissions 2022
Fatima Jinnah Women University Rawalpindi admission 2022 has been announced and all the candidates will submit the application form before the last date which will announce soon. Further, when they will announce the admission schedule they are clear about the admission test.
Also Check:
Old Advertisement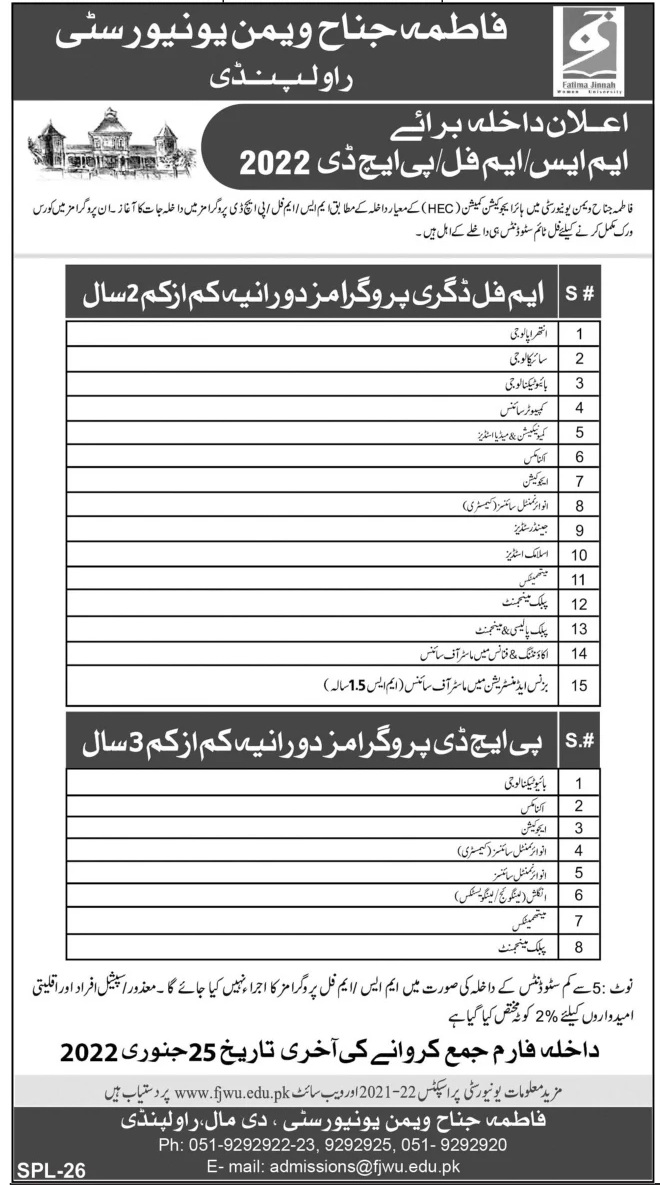 Degrees Offered ay FJWU
The university is currently offering admissions in various programs for the following degrees.
Fatima Jinnah University Admissions Criteria
The candidates must have 1st division in Intermediate for PEC-approved Software & Electronic Engineering Departments.
For Law and BCS departments, the candidate must have at least 50% marks in Intermediate.
For all the other programs, the candidate must have at least 2nd Division.
For engineering departments, at least 40 scores in NAT-I by NTS/UET Combined entry test 2022 are required.
Law Entry Test LAT is required with a score of at least 50 for LLB. (If the entry test will not be taken this year due to COVID-19, then the merit will not be calculated on the entry test basis.
The entry test is only required for the above-given departments.
Number of Seats at FJWU
For Bachelor's programs, the number of seats ranges from 25 to 70 seats for each program (different for each program) given in the advertisement.
For Masters's programs, 60 seats are allocated for each program.
25 seats are available for the Economics program and 35 seats for Diploma in Early Childhood Education.
Last Date
The Last Date to Apply for admissions is 25 January 2022 (extended).
Admissions Form
The prospectus along with the admission form can be taken from the banks given below for Rs.1200.
The admission form can be downloaded online by visiting www.fjwu.edu.pk.
After downloading, fill out the form, and attach all the required documents with it.
Now submit your form at the banks given below and pay the admission processing fee of Rs.1200 before the deadline.
Bank List of First Women Bank: Rawalpindi (Al-Amin Branch, Saddar, and Chandni Chowk Branch, Murree Road). Islamabad (Blue Area Branch), Jhelum, Wah Cantt., Gilgit, Karachi, Lahore, Peshawar, Quetta.
So, admissions are open at Fatima Jinnah University. It came into existence in 1998 and is located in Rawalpindi. Every year, students from all over the country apply for admission. From the first day of its inception, it is provided the best education. It hires brilliant teachers and students get a chance to study under their supervision. So, the admissions are open. Hopefully, you have applied for it. So, this was all about Fatima Jinnah Women University FJWU Rawalpindi Admissions 2022. Hopefully, you are confident about the post. Stay connected with us for more updates.