Jinnah Sindh Medical University JSMU Pharm D Admissions 2016-2017 is now open for all the eligible candidates. If you also want to be a part of JSMU then you have to attempt a JSMU Entry Test. You will be allowed to sit in this entry test if you are eligible according to the JSMU Pharm D Admission eligibility Criteria. JSMU is looking for all those candidates who are self motivated and want to grow their future with medical educations and want to be a Doctor of Pharmacy. So if you are also among those candidates who have such desires to get this admission. You are here on the right page to get eligibility criteria, important dates, and procedure that how to apply. You are just advised to read this entire article with full attention and response against the instructions written bellow this page. The Jinnah Sindh Medical University JSMU Karachi was founded on 7th April, 1973 as a public type University by the Government of Sindh and known as the best Medical college in Karachi. The purpose for the establishment of this well managed university was to provide the best quality educations in Medical faculties as in MBBS, BDS and Pharm D. JSMU Karachi is affiliated with the Higher Education Commission HEC and University Grant Commission UGC.
Hence this is short overview about JSMU admission 2016-2017 in Pharm D and University Overview. If you are also interested in this admission then see this page bellow and reaction against the information.
Jinnah Sindh Medical University Pharm D Admissions 2016-2017 JSMU Entry Test
JSMU Karachi Admission 2016-2017 programs
Jinnah Sindh Medical University JSMU Karachi is offering admission for the year of 2016 and 2017 in the following program.
Doctor of Pharmacy (Pharm-D)
JSMU Eligibility Criteria / Entry Test
Jinnah Sindh Medical University JSMU open admissions 2016-2017 in Pharm D programs and restrict eligibility Criteria. Well only those candidates will get admission that meet the eligibility criteria and also qualify the JSMU Entry test which is mandatory for each and every candidate.
Eligibility criteria are mentioned in the bellow image. We recommend you to see this image and read this out entirely.
JSMU Important Dates
Last Date for submission of Online JSMU Application Form: 27th November, 2016
Last Date for Submission or NTS Form: 20th November, 2016
JSMU Karachi Entry test Date: Sunday 22nd November-2016 by 10:00 Am at Jinnah Sindh Medical University JSMU Karachi.
Click for JSMU Apply Online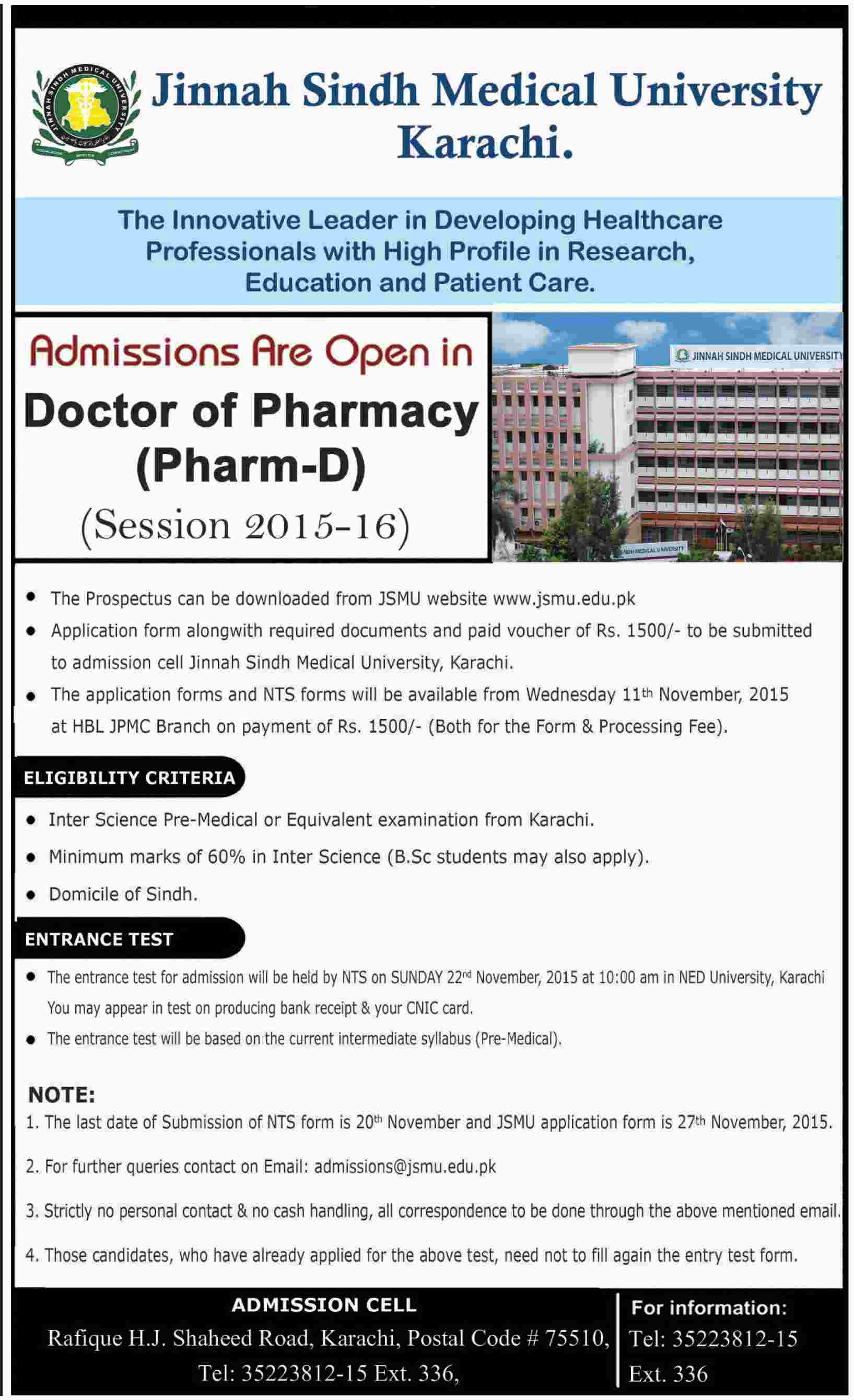 How to Apply
Hence this is all about the Jinnah Sindh Medical University Pharm D Admissions 2016-2017 JSMU Entry Test. If you have read this entire page and eligible for this test and you are suggested to apply on line through the link above. After Obtaining your application forms and fills it up. Attach all the required documents with it along with the Bank Draft of Rs. 2000/- with it for admission and entry test fee. You are also suggested to perform all this procedure before the last date 27th NOVEMBER, 2016.