Kinnaird College For Women Spring Admission 2019 is open in various BA / BS (Hons) and BCS Degree, Post graduate programs. "Light to guide us, courage to support us and love to unite us" is the moto of the Kinnaird college. This is an institution which is serving the students for last ninety five years as in Kinnaird College Intermediate class starts in year 1913 and than B.A class after the four years has also started here in this college. The old building of Kinnaird College is not enough to promote education in that high level and can offer students various programs so that is why the building of this college is moved from that place to Lake road in year 1926 and than in year 1033 land was acquired by the college administration itself and a building there were constructed near Lahore canal and this building were completed in 1939 and from than this institution is providing education to the girls of the nation at very high level. Get complete information aout Kinnaird College for Women University from this page.
Kinnaird College For Women Spring Admission 2019
Kinnaird College For Women now in present providing a number of educational programs from Intermediate level to the master levels that is why there is a number of students who wants to take admission in Kinnaird College very year as from the inception's first day this college is provising quality education no matter what happens. Kinnaird College For Women believe on honesty and equality so that is why there is no difference among students and a standard is set by the Board of Governors of Kinnaird College and college is just providing that standard every year.
Kinnaird College BSc Admission 2019
Admission are open in 4 Years Program Leading to BA/BS (Hons)/ BCS degrees
Biochemistry
Botany
chemistry
Computer Science
economics
Environmental Sciences
International Realtions
Mathematics
Physics
Political Science
Psychology
Statistics
Urdu
Zoology
Kinnaird College Admission Form and procedure:
Admission form or admission hand book are available from the admission office of Kinnaird College for women from 9 am to 2 pm.
Admission Procedure & Deadlines

Admission Open
December 03, 2018
Last Date to Apply
December 14th, 2018
Minorities Interview
3rd January, 2019
Merit List
07th January, 2019
Last date to Submit Fee
January 11th, 2019
Commencement of Classes
January 21st, 2019
Eligibility criteria For BA/ BS (Hons) 4 Years programs:
Fa/FSC with minimum 60% marks or A-Level in three Subjects (Main subjects no subsidiary)with minimum grade B (60%) with equivalence certificate for all major other than Urdu and geography.
FA/FSC with minimum 55 % marks or any equivalent examination for Urdu and geography majors.
The NAT-I test conducted by the BTS with minimum 50 Cumulative score.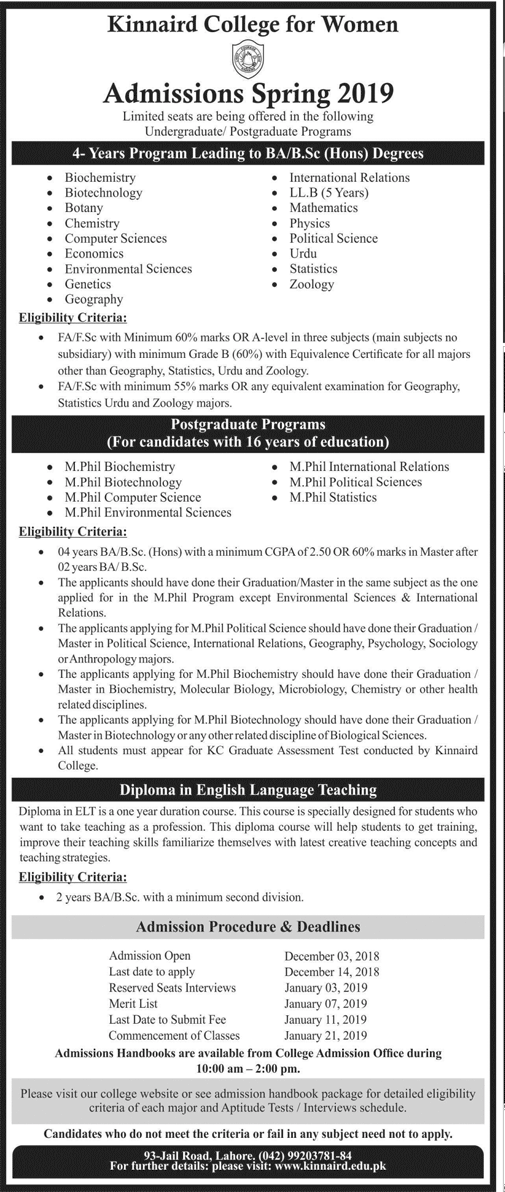 Eligibility Criteria for post Graduate Programs:
4 years BA.B.SC. (hons) with minimum CGPA of 2.50 in related degree or 60% marks in Master after 2 years BA.B.SC. The applicants should have done their graduation or master in the same subjects as the one applied for in the M.Phil Programs.
The GAT (genera) Conducted by the NTS with a minimum 50 Cumulative score.
For More Information Contact:
93-Jail Road, Lahore
Tel: 042-99203781-84