Students can apply for the NFC Institute Of Engineering & Fertilizer Research Faisalabad Admissions 2021. Admissions are open in various courses including MSC Chemical Engineering, BSC Engineering in Electrical Engineering, Mechanical Engineering, Chemical Engineering, Civil Engineering, BSc (Hons), Computer Science, BBS, BSc Engineering Technology are open so the candidates who are eligible and have wish to take admission in IEFR they can apply for the admission before its too late As the last date to apply for the admission in 20th August 2021 and one important thing is that incomplete or late application form will not be entertained by the officials of IEFR. Here is something that you might be interested in knowing.
IEFR is renowned for progressive institutions imparting Engineering education / Research since 1986.
Degrees are accredited by the Pakistan Engineering Council and recognized worldwide.
Earned accolades and appreciation from industrial & multi-national organizations.
NFC Institute Of Engineering & Fertilizer Research Faisalabad Admissions 2021
NFC institute of engineering & fertilizer research Faisalabad admission 2021 has announced for the students of M.Sc chemical Engineering and they can apply before the last date that is will be announced as soon. So when the last date of application submission will announce then we will share it on this page. Most important after the last date application will not accept by the management.
NFC Faisalabad Admission 2021 Documents you required:
Attested photocopies of matriculation certificates
Equivalence Certificate issued by the Inter Board Committee of Chairmen (IBCC) Islamabad in case the applicant has the equivalent examination. (IBCC office address: FBISE Building, H-8/4, Islamabad)
Attested copy of the domicile certificate of the candidate must be attached with the application form
4 passport size recent photographs duly attested.
Address Form duly filled
Attested photocopy of the B. Sc. Certificate. (If applicable)
Attested photocopy of DAE Certificate issued by the Board of Technical Education. (If applicable)
Attested photocopy of Hafiz – e – Quran Certificate.
The overseas candidate shall have to submit a copy of the passport of his/her father and a copy of the work permit along with the application form.
Sports Certificate. ( If applicable)
 UET Entry Test Result for the current year or NAT test for the BBA program valid for one year.
So all those students who get 60% marks in F.Sc. (Pre-Engineering) or a minimum of 60% marks in Diploma in Associate Engineering can apply for these programs.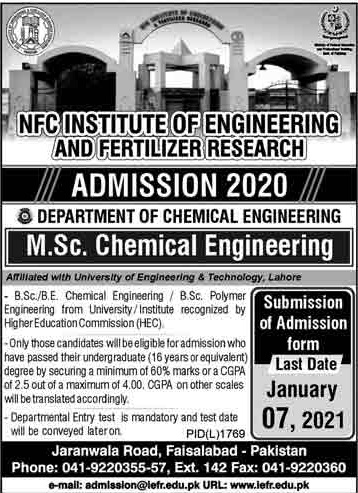 Apply for the NFC Institute Of Engineering & Fertilizer Research Faisalabad Admissions 2021 before the last date which is not exist.
Right now there are many departments are working in these institutes to make sure that quality education is delivered to all the students who enter into NFC Institute of Engineering & Fertilizer Research including Dept. of Chemical Engineering, Dept. of Electrical Engineering, Dept. of Mechanical Engineering, Dept. of Computer Science & Engg., Dept. of Civil Engineering, School of Business Management, Dept. of Basic Sciences, IT Skill Development Division, R & D Department, Personnel and Administration. And now the university is declared admission for Professional Degree programs for technologists, this is a 4-year program and are
B.SC. Chemical technology
B.SC. Electrical technology
B.SC. Mechanical Technology
B.B.A and B.Sc. Honor (Comp. Science)
All information of NFC Institute Of Engineering & Fertilizer Research Faisalabad Admissions 2021 are clearly described with complete details and if you want more query then all number are mention in below and you can easily get more info about them.
For More Information Contact:
NFC institutes of Engineering and Fertilizer Research
Jaranwala Road Faisalabad, PostCode 38090 Pakistan.
Phone: 041-9220355 – 57, Ext: 142, Fax: 041-9220360