National University of Modern Languages NUML University Lahore Spring Admission 2017 are open in different Undergraduate, Graduate and Post graduate program in the morning and evening classes so all those candidates who wants to take admission in the NUML Lahore could get their admission form from the University admin office till 15th January, 2017 as this is the last date that is announced by the officials of the University to accept the admission forms from the students as after that date no form will be taken from the students. Along with the educational program there are also some short courses that are being offered in the National University of Modern languages and wishing students can also get admission in these programs too. Further more details of the University admission process, last date for the form submission, Admission Form, Entrance Test and Entry Test result all the information is listed here below on this page.
National University of Modern Languages were established in year 1970 and is located in Islamabad Pakistan. This university is consider to be a oldest and largest university of the Pakistan in linguistics and foreign languages which are providing more than 27 languages programs. Every year more than 10,000 students take admission in this university and get the quality education from more than 1000 highly educated and experienced faculty members. NUML Lahore is recognized from the Higher Education Commission HEC Pakistan which is the only higher education regulatory body in Pakistan all universities.
NUML University Lahore Spring Admission 2017
Admission are open in the following listed programs
Management Sciences:
BS (HONS) economics and Finance, Mass Communication
BBA (Hons) in HRM, Marketing, Finance, IT, Banking
MSBA in HRM, Marketing, Finance, Supply Chain Management
MBA in HRM, Marketing, Finance, Supply Chain Management
MBA Executive
Education:
Psychology:
International Relations:
Commerce:
English:
IELTS
English Speaking Skills
Certificate
Diploma
Computer Course
BS English
MA English Linguistics & literature
MA English Language Teaching ELT
Continental Languages:
Arabic/ French/ German/ Chinese certificate
Arabic, German, French short course
Admission Form:
Admission Application form for taking admission in the NUML can be taken from the admission office of the Lahore campus before 15-01-2017 in against the payment of the Rs. 800/- and those candidates who want to get the admission form by post has to send a demand draft of Rs. 1000/- in favor of the head of the department. After getting the form it is than also important of student that to return the form with the entering all the correct data to the same office before 15 January, 2017 as after that date your form will not be entertained in any case by any of the official.
Online Admission Portal for NUML Lahore Spring 2017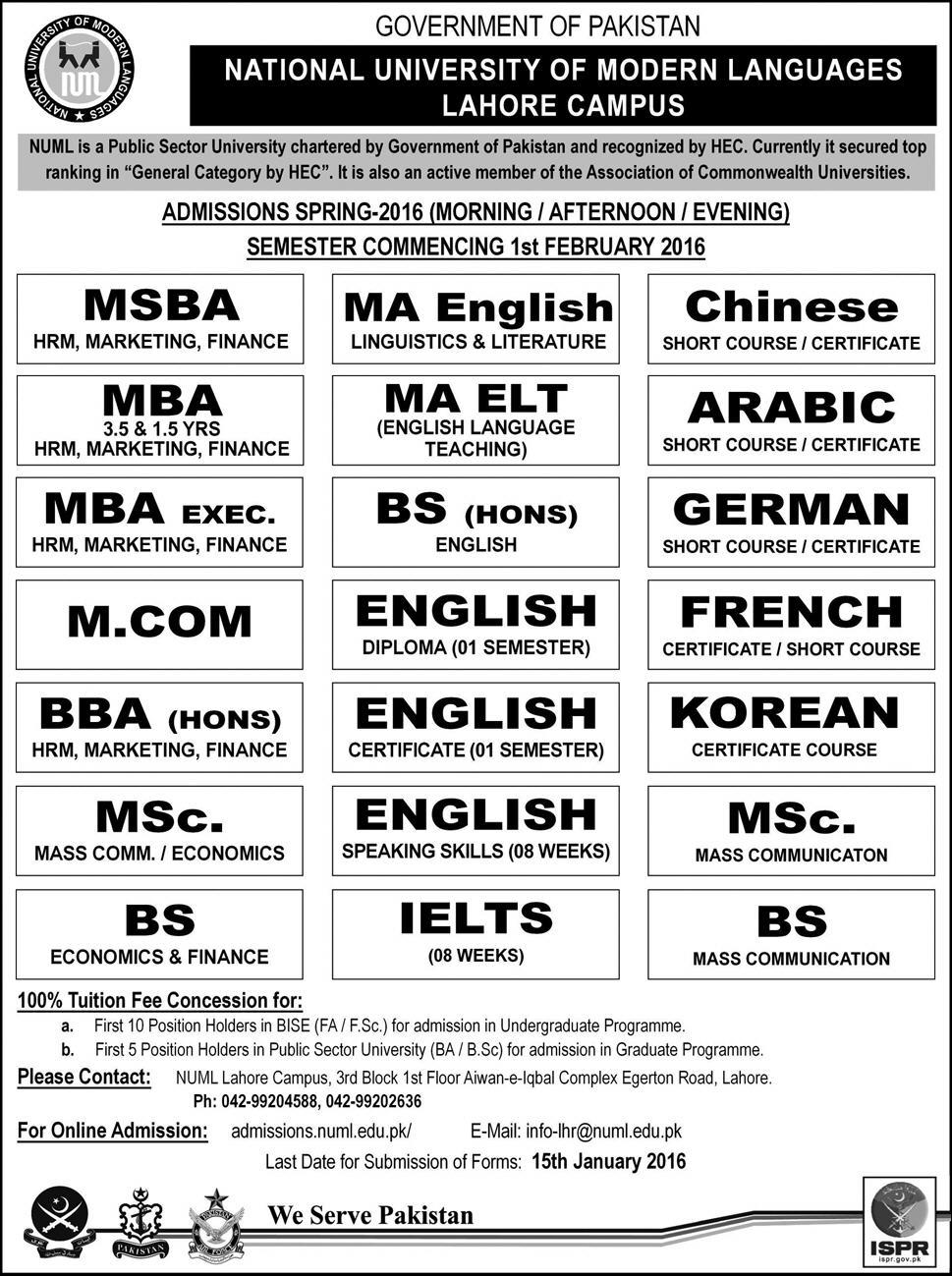 Admission in the National University of Modern Languages Lahore campus are open for different shifts like Morning, Afternoon, Evening and night so what are you waiting for go and collect your admission form today and return it back to the admin office within due date that is mentioned above on this page
For more information contact:
NUML Lahore Campus, 3rd Block, 1st Floor, Aiwan-e-Iqbal Complex Egerton Road Lahore
Ph: 042-99204588
042-99204588, 99202636