It is the page for National University of Modern Languages NUML Islamabad Admissions 2019 is open in Master in Languages, Master in Social Sciences, Functional Courses, BS Languages and Social Sciences, Management Sciences and Engineering and information technology (I.T). NUML University was established in year 1970 to help people to communicate with other in many other languages. But this college was upgraded to the University level on May 29, 2000 and since in this short spam of time this University has reach to the level where it is now offering MS/MPhil and PhD research degrees in various disciplines and courses. Applications are invited for admission to the following full time Courses (morning/Evening programme) for the session starting from year 2019 in NUML, Islamabad Campus and Regional campuses Peshawar, Lahore, Faisalabad, Multan, Karachi, Hyderabad & Quetta. Scholarship will be awarded to meritorious students subject to conditions. Need based scholarships are available. Very limited hostel accommodation is available at Main campus Islamabad. Interview for Hostel Accommodation will be held in the month of July at Main campus Islamabad.
National University of Modern Languages NUML Islamabad Admissions 2019
National University of Modern Languages, Popularly known as NUML, is a Federal University that were established in year 2000 under administrative control of Ministry of Defence. It has regional campuses at Karachi, Lahore, Peshawar, Quetta, Multan, Faisalabad and Hyderabad. Besides the regional Campuses, it also has affiliated institutions such as St Mary's College, lalazar, Rawalpindi, Grafton College, Chak Shahzad, Islamabad and institute of Business and Finance, Gulberg, Lahore. It's academic departments are grouped under six faculties namely English Studies, Engineering and IT, Languages, Management Sciences, Social Sciences and Advanced integrated studies & Research.
NUML Admissions Spring 2019
Prospectus and Application Form:
 For detail refer to the NUML prospectus or visit the official Website of the national University of Modern Languages. Cost of the Prospectus is Rs. 800/- in cash and Rs. 1000/- by post. Application form can also be download from the official page as well as from this page too and submitted (Attested copies of all educational documents, 2 passport size pictures, Copy of Domicile & character certificate) along with bank draft of Rs. 1000/- in favor of rector NUML, Islamabad / Regional Director (Concerned in case of regional Campuses).
Last date for the submission of application form is 2nd December, 2018
Related: NUML University Karachi Spring Admission 2019
Entrance test on 10 and 14 dec 2018
Venue: NUML
Main campus Islamabad and all regional campuses (Candidates to specify choice of test center and choice of campus while applying).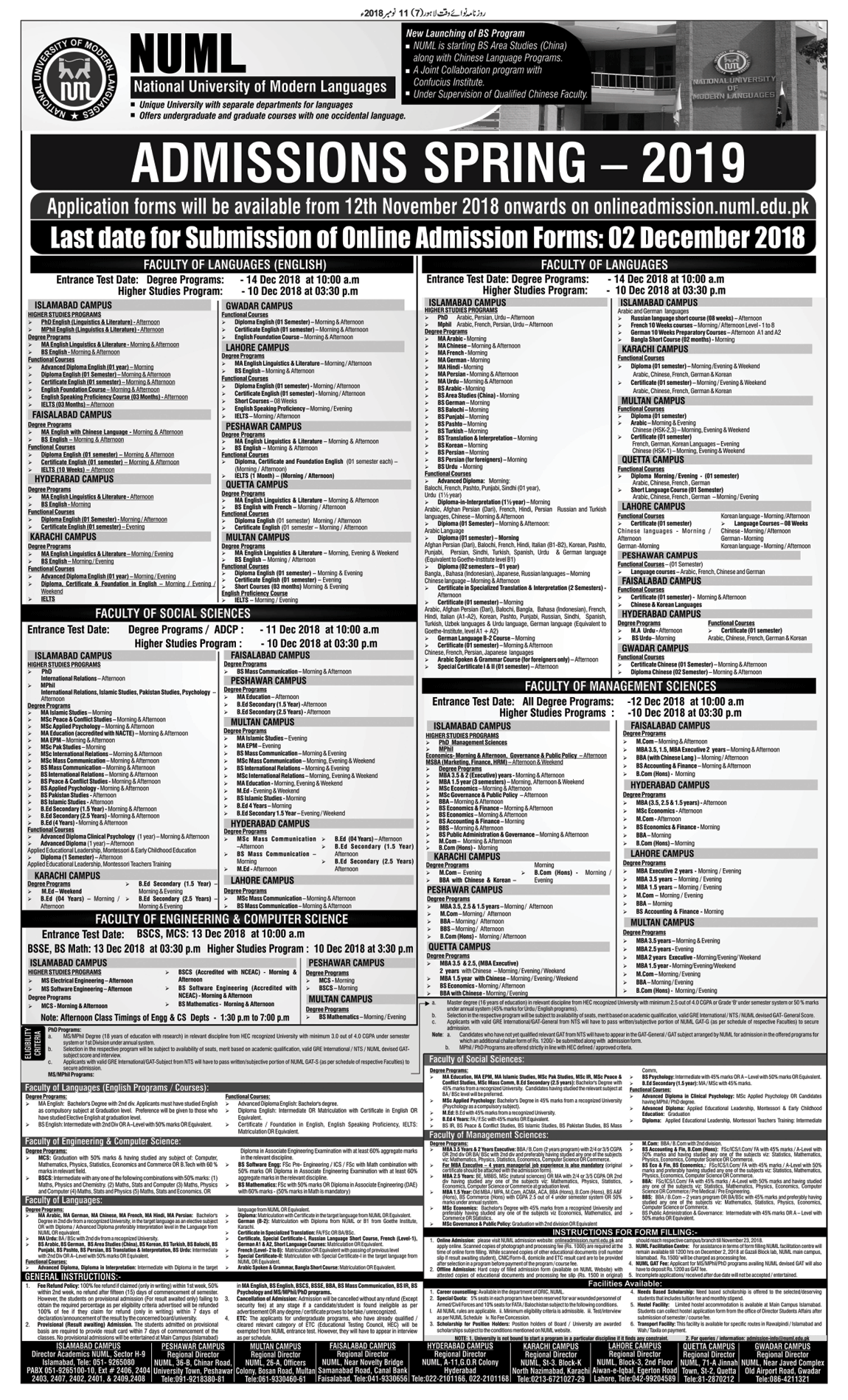 For More Information Contact:
Director Academics
National University of Modern Languages NUML
Phone: 9257677 EXT: 243, 228, 259, 308 & 319
Feel free if you have any ambiguity about the NUML Admissions Spring 2019 in your mind and write us in the comment section given below. The above given narrative and advertisement is going to take the reservation as per the student facility. The students must be get the NUML login to apply. The advertisement here is the complete encyclopedia and there is no need to get the extra information other than this.