Quaid i Azam University Islamabad M.Phil, PhD Spring Admissions 2016 Form, Eligibility criteria, Ineligibility, How to apply and Date Schedule is available here. QAU is looking for all those candidates who are self motivated and confident with their bright future and want to be a part of QAU. So if you also have a wish to be a part of QAU then you are hereby notified that this is the time to avail this golden opportunity. Candidates whenever QAU open admission for any class a huge number of applicants apply for getting admission but only the eligible and short listed candidates entertained by the admission. You also have to read this article and make sure that either you are eligible for this admission or not. If you find yourself eligible then you should follow the further admission procedure timely and accurately. Because any activity performs after passing the last date will not be acceptable by the QAU officials in any case. Quaid-i-Azam University QAU Islamabad since 1967 offering admissions in all the faculties of education, business, Management and doctoral subjects.  The teachers of QAU are highly qualified and well experienced who are departing education in the best way and producing well trained and well mannered graduates every year. QAU is affiliated with the Higher Educational Commission HEC.
So this is a short overview about QAU Spring Admission 2016 and over view about QAU. Now scroll down this page and get important points about QAU Islamabad M. Phil Admission 2016 and QAU PhD admission 2016 for spring session.
Quaid i Azam University Islamabad M.Phil, PhD Spring Admissions 2016 Form
QAU Spring Admission 2016 Programs
Quaid-i-Azam University QAU Islamabad is offering spring admission 2016 in PhD and M. Phil programs in the following faculties.
Faculty of natural Sciences (Animal Sciences, Bio-Chemistry, Bio-Instamatics. Bio-Technology, Pharmacy, Plant Science, Environmental Science)
Faculties of Biological Sciences (Chemistry, Earth Science, Electronics, Mathematics, Physics, Statistics)
Faculties of Social Sciences (Asian Studies, Defense and Strategic Studies, Economics, Management Sciences, Pakistan Studies)
QAU Eligibility for M.Phil, PhD Admission
Well students you are hereby notified that you only can get admission in QAU if you are eligible according to the eligibility criteria restricted by the officials of the QAU. The Eligibility is about your previous academic qualifications, your aggregation, and admission test which is mandatory for each candidate to pass. You are also informed that if any eligible candidate who fails in this entry test will not be entertained by the admission and will be rejected for grant admission.
Your eligibility is mentioned in the below advertisement read it carefully.
Last date for submission of Application form: 13th January, 2016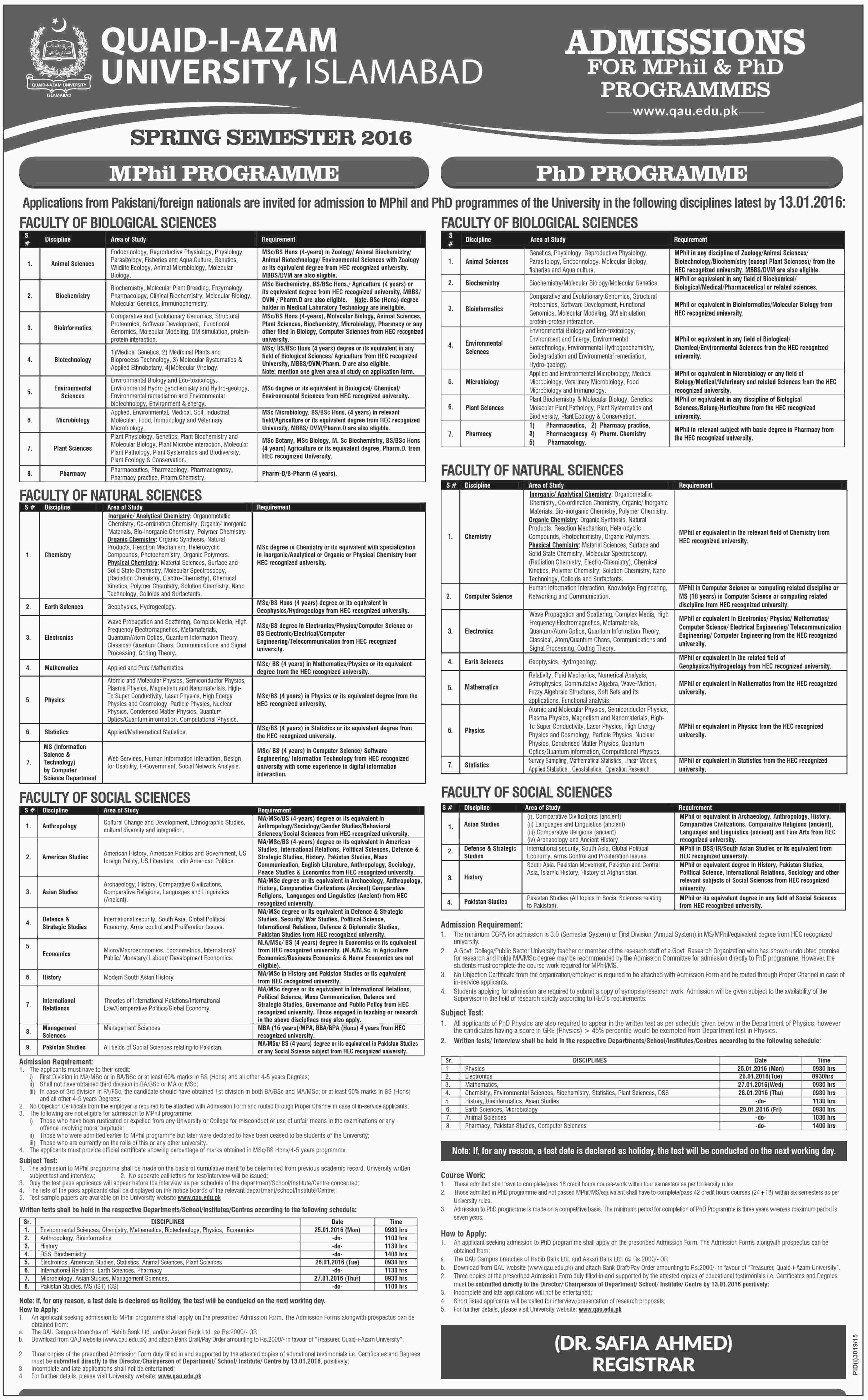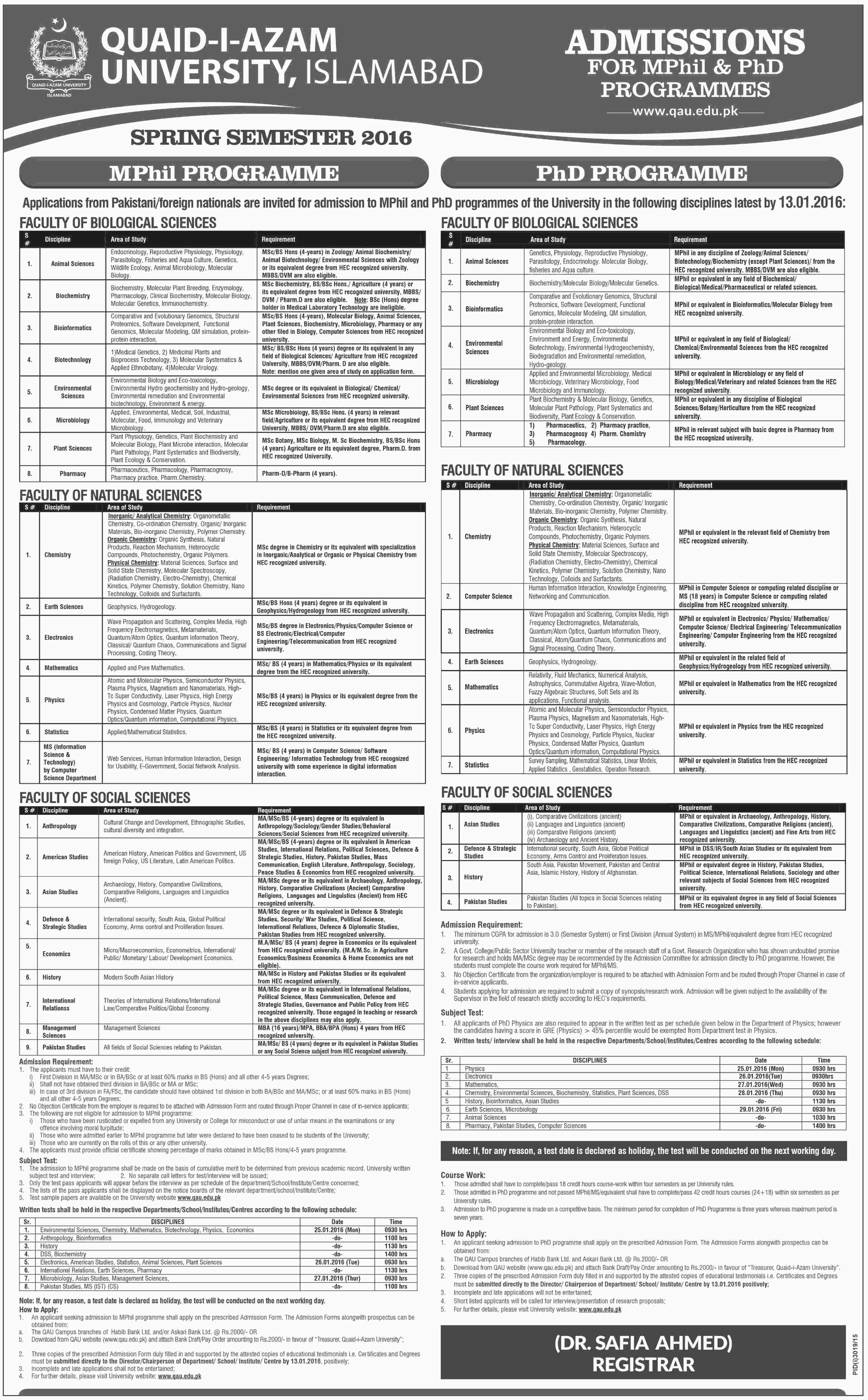 So this is all about Quaid i Azam University Islamabad M.Phil, PhD Spring Admissions 2016 Form. Now you have to download the application form and after filling it and attaching bank draft of Rs. 1500 with it resubmit it to the university admission office before last date 13th January, 2016.