There are three major programs offered by the UOG so get the idea about the University Of Gujrat UOG Fall Admission 2019 Advertisement UOG Online Admission. There are three kinds of online communities which mentioned www.uog.edu.pk , @uogpk at twitter and @universityofgujrat at facebook. These three platforms will able to communicate the same information under the online application aspect. The general admission procedure will gave idea about the current situation where admission form shall available till 19th July, 2019. Hafiz Hayat Campus is providing the opportunity of co education in the following degree categories;
Faculty of Arts
Faculty of science
Faculty of management And administrative sciences
Faculty of computing and information technology
Faculty of social sciences
Faculty of engineering and technology
University Of Gujrat UOG Fall Admission 2019 Advertisement
The terms and degrees available here at this page applicable to the three major degree including MS. MPhil and PhD. The UOG online admission form last date to submit is www.uog.edu.pk. The admission processing fee can be submitted to the HBL across the city.
Last Date To Apply Is 19th July, 2019
Advertisement
June 23, 2019
Online Admission Open
June 23, 2019
Deadline for the Submission of Online Application Forms
July 19, 2019

(Till 03:00 pm)

Medical Examination for the Reserved Seats (Special Person)
July 23, 2019
Departmental Test / Interview (Where required)
July 24, 2019
First Merit List for All Programs
July 29, 2019
Deadline for Fee Submission for First Merit List
August 02, 2019
Second Merit list for All Degree Programs
August 06, 2019
Deadline for Fee Submission for Second Merit List
August 09, 2019
Third Merit List for All Degree Programs (If required)
August 20, 2019
Deadline for Fee Submission for Third Merit List
August 22, 2019
Welcome address and  orientation by  HOD and Faculty at the respective Department at 9:00 am
Sep 02, 2019
Commencement of Classes for All Degree Programs
Sep 02, 2019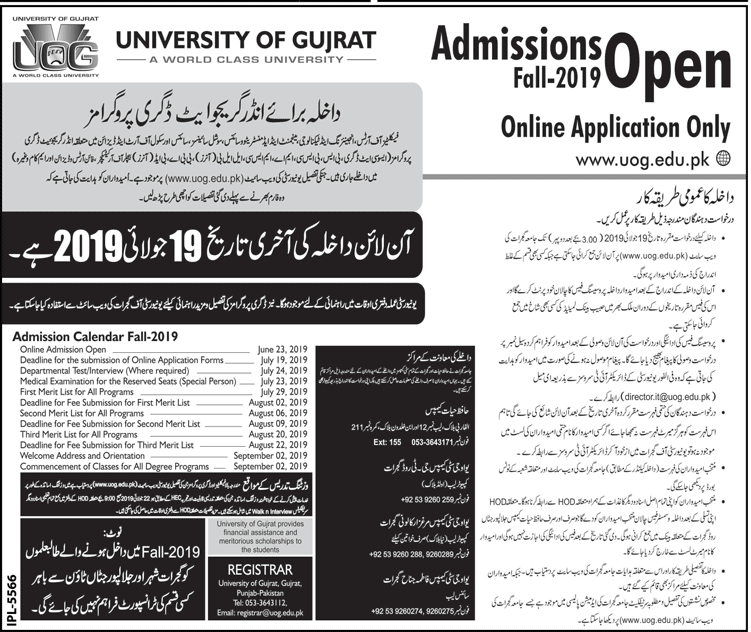 University Of Gujrat Fall Admission 2019
If submitted online form, paid challan form and attested document photocopies reach in the Directorate of advanced studies and research board ASRB university of gujrat at 19th July, 2019 till 04:30 PM then the application form will be considered. The admission policy 2019 available at the website. All admission will be based upon open merit basis. MS, MPhil and PhD.
The qualities and faculty of the university remain intact with the admission policies and way out to maintain the exact way out to remain competitive approach. The symmetry about the whole admission procedure maintain the idea about the UOG approach. The University Of Gujrat UOG Fall Admission 2019 Form Advertisement must be submit physically after online filling the admission form.