University of Gujrat UOG Hafiz Hayat Campus Admission 2019 Form, Schedule is available now on this page by the officials that is the Admissions are available for the Candidate have cleared their previous Classes and ready for the upcoming programs providing by the University. The University head office is open for the new admissions of fresh students in many fields and admission forms can buy from the head office and also download online from this page easily. The first aim of the University is to provide quality education for new generation by the highly trained and professional teachers. University is looking for those Candidates who are motivated and brilliant and like quality studies in a very convenient environment. This page is providing you all the information up to dated bout the admission, admission date and time accurately. University of Gujrat UOG Admission 2019 is open. University of Gujrat UOG Hafiz Hayat Campus Admission programs and the duration for the courses and other necessary information related to admission like last date of the form 1st, 2nd, 3rd merit lists are discussed bellow broadly. Have a look down.
UOG Hafiz Hayat Campus Admission 2019 Form, Schedule
Study Programs
Associate degree program for 2 years in hotel and restaurant management.
BS/B.Sc degree programs for 4 years.
B. Des multimedia and communication design, Ceramic design, Product design etc.
BS English
B. Sc chemical Engineering
B. Sc Computer science
BS information technology
Bs physics
And admission for all other subjects related to BS field is to be opened.
BS/BBA degree programs for 4 years.
BS banking and finance
BBA in Statistics
BS Economics
BS history
BS in Islamic studies
BS political science
BS psychology
In BS/ BBA the University is providing all the subjects which are related to business administration.
Masters degree programs for 2 years.
The University also offering admissions for the students going for master degree programs in following fields like…
Masters in business administration (MBA) for three and a half years program.
Masters in business administration (MBA) for one and a half year program.
Masters in economics( MSC)
Masters in mass communications and media
Masters in physical education and Sports sciences
Masters in statistics
University is also providing the facilities for those students doing a job or any business in morning or evening. so morning and evening classes are also available for both the boys and girls.
UOG Hafiz Hayat Campus Admission Form 2019

The admission form will available from 23rd June, 2019 and the deadline for submission for form is 19th July, 2019. So if you are among those students wants to get admission in above giving programs keep in mind the opening and the last date of admission form.
Advertisement
June 23, 2019
Online Admission Open
June 23, 2019
Deadline for the Submission of Online Application Forms
July 19, 2019

(Till 03:00 pm)

Medical Examination for the Reserved Seats (Special Person)
July 23, 2019
Departmental Test / Interview (Where required)
July 24, 2019
First Merit List for All Programs
July 29, 2019
Deadline for Fee Submission for First Merit List
August 02, 2019
Second Merit list for All Degree Programs
August 06, 2019
Deadline for Fee Submission for Second Merit List
August 09, 2019
Third Merit List for All Degree Programs (If required)
August 20, 2019
Deadline for Fee Submission for Third Merit List
August 22, 2019
Welcome address and  orientation by  HOD and Faculty at the respective Department at 9:00 am
Sep 02, 2019
Commencement of Classes for All Degree Programs
Sep 02, 2019
UOG Hafiz Hayat Campus Merit List 2019

The date for displaying of 1st merit list in master programs (MA, MSC, MBA and M.com) is 29th July 2019

Second Merit list will be displayed on 06th August, 2019 for above giving masters programs respectively.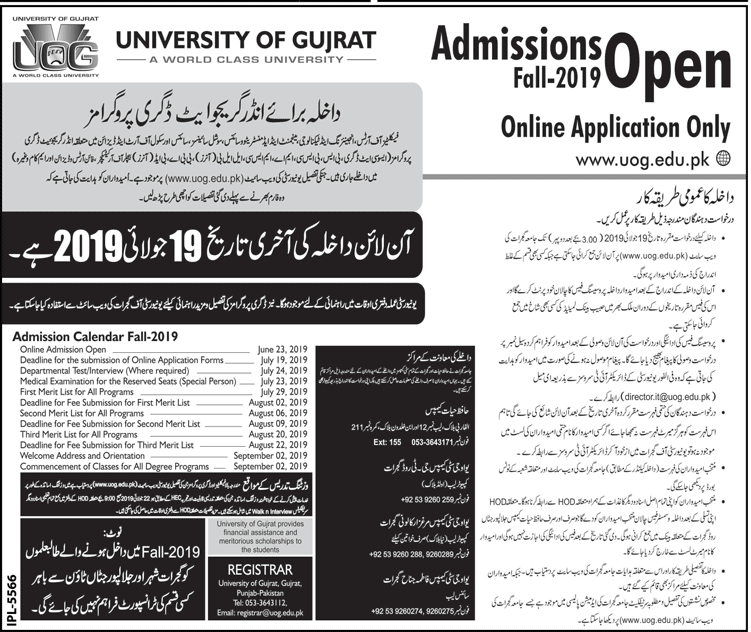 Fee Submission Dates
University of Gujrat UOG Hafiz Hayat Campus Admission 2019 Fee submission date for the students selected in first merit list is 29th July, 2019 so this date is just like the deadline for submission of fee. And the date of submission of fee for the second merit list is 06th August, 2019. So if you not submit your fesses on decided date.