University of Karachi UOK open admission in MS, MPhil, PhD for year 2017 As it is a world class institutions for higher education and research  so if you want to be a scholar from University of Karachi then you have to submit your admission application form to the administration office till 28th April, 2017. University of Karachi is the premier institutions with its 56 teaching departments and 26 research centers, the University caters to the needs of more than 25,000 students. Applications are invited from candidates interested in purchasing post graduate degree programs at University of Karachi. At present there are total six teaching faculties that provide quality education to the students of the Pakistan and that are Faculty of Arts, Faculty of Science, Faculty of Islamic Studies, Faculty of Management & Administrative Sciences, Faculty of Engineering and Faculty of Pharmacy and the number of faculty in the UOK is almost near 1700 people and all of them are highly qualified and experienced in their relevant fields.
Admission Eligibility Criteria:
The admission will be granted on the basis of Test/Interview by Departmental Research Committee (DRC) in accordance with the instructions given in the admission prospectus which is available on this page.
University of Karachi UOK MS, MPhil, PhD Admission 2017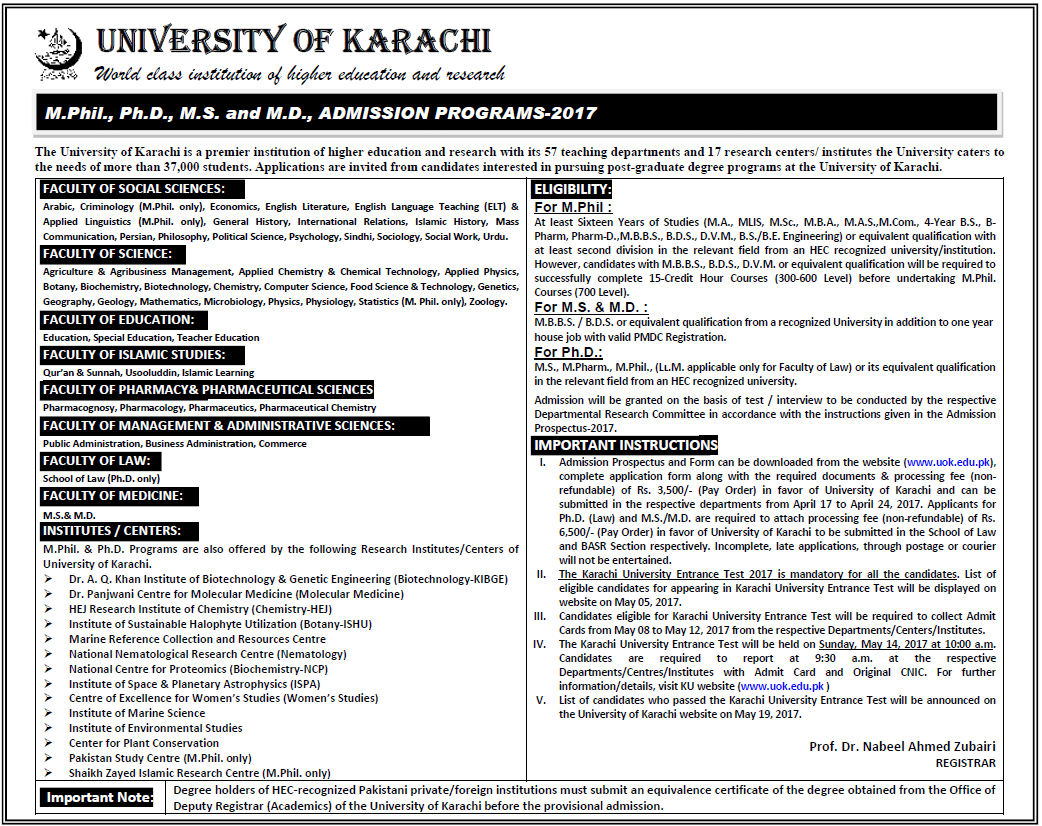 Important Information:
The admission prospectus and Karachi University Entrance Test Form can be downloaded from this page easily what you have to do is just complete the application form along with required documents and processing fee Rs. 2500/- pay order in favor of University of Karachi and submit it in the respective departments from May till 28th April, 2017. Applicants for MS/MD and Ph.D are required to attach processing fee of Rs. 5000/- in favor of University of Karachi to be submitted in the BASR Office. incomplete and late applications will not be entertained.
List of eligible candidates for Karachi University Entrance Test will be displayed on website and department notice board on 23rd May, 2017.
Eligible Candidates for Karachi University Entrance Test will be require to collect admit cards from the relevant department
The Karachi University Entrance Test will be held on 15th May, 2017 at 10:00 am. The candidates are required to report 9:30 am at their respective department along with the admit card the original CNIC for further information please contact the official website.
Admission Form:
Admission Form: CLICK HERE
Important Dates:
LIST OF ELIGIBLE CANDIDATES FOR KU ENTRANCE TEST, DISPLAY ON WEBSITE AND DEPARTMENTAL NOTICE BOARDS 10 May, 2017
COLLECTION OF ADMIT CARDS BY THE CANDIDATES ELIGIBLE FOR KU ENTRANCE TEST FROM THE OFFICE OF THE DEPARTMENT CONCERNED 10 to 11 May, 2017
KARACHI UNIVERSITY ENTRANCE TEST for M. Phil., Ph.D., Master of Surgery & Doctor of Medicine 15 May, 2017 (Sunday)
DISPLAY OF LIST OF SUCCESSFUL CANDIDATES OF KU ENTRANCE TEST ON WEBSITE. 23 May, 2017
INTERVIEW OF SUCCESSFUL CANDIDATES AT THEIR RESPECTIVE DEPARTMENTS/CENTERS/INSTITUTES Date/time will be announced by the respective departments/centers /institutes
DISPLAY OF FINAL MERIT LIST OF SUCCESSFUL CANDIDATES FOR PROVISIONAL ADMISSION ON WEBSITE 16 June, 2017
ISSUANCE & SUBMISSION OF PROVISIONAL ADMISSION FORMS & PAYMENT OF FEE DOCUMENTS ETC. 16 June to 18 July 2017
SEMESTER STARTS 21 July, 2017
Eligibility Criteria:
For M.Phil:
At least sixteen years of studies (MA, M.Sc, MBA, MAS, M.Com, 4-Years B.S, B.Pharm, Pharm D, MBBS, BDS, DVM, BS/BE) or its equivalent qualification with at least second division in the relevant field from a recognized University. however candidates with MBBS, BDS, DVM, B.Pharm will be required to successfully complete 15 credit hour courses before undertaking 24 crdit hours M.Phil Courses
For M.S
bachelor of medicine and bachelor of Surgery (M.B.B.S) & BDS or Equivalent Qualification from a recognized University in addition to one year house job with a valid PMDC registration
For Ph.D:
M.S, P.Pharm, M.Phil, LLM or its equivalent qualification in the relevant field from a recognized University.
For More Information:
University of Karachi
Main University Road Karachi – 75270 Sindh, Pakistan
Ph: 92.21.99261300-07