NOTE: Lahore board 11th Class date sheet 2023 announced and exam start from 05 June and will remain closed on 20 June 2023. Candidates can download date sheet from this page.
Date
Morning Group
Evening Group
05 June 2023
English
English
06 June 2023
Civics

Philosophy
Business Mathematics

07 June 2023
Urdu
08 June 2023
Economics
09 June 2023

Chemistry
Fine Arts
Library Science
Commercial Practice

Chemistry
Statistics
Geology
Nursing

10 June 2023
Islamic Education
Islamic Education
12 June 2023

Mathematics
Biology
Music

13 June 2023

Punjabi
Arabic
Pashto
French

Punjabi
Persian
Urdu
English
German
Principle of Commerce

14 June 2023

Physics
Education
Principle of Economics

15 June 2023

Tarjuma-Tul-Quran-ul-Majeed

Tarjuma-Tul-Quran-ul-Majeed
Ethics
Civics

16 June 2023

Islamic History
History of Pakistan
History of the Modern World
Islamic History and Culture

Geography
Elementary Anatomy and Micro techniques
Basic Medical Sciences

PTO
17 June 2023

Computer Science
Home Management
Military Science

Health and Physical Education
Microbiology
Dental Hygiene
Physiotherapy
Radio Graphics Techniques

19 June 2023

Psychology
Clothing and textile

Outline of Home Economics
Elementary Chemistry and Chemical Pathology
Applied Sciences

20 June 2023
Islamic Studies

Islamic Studies
Principle of Accounting
It is to inform you that Lahore Board 11th Class Date Sheet 2023 is going to announce by the officials of the board so keep in touch with this page if you want to get it before others. According to the notification issued at the time of form submission for enrollment in the final exams of 1st year, it is said that the finals of the intermediate class will commence in May 2023. So as this is official news nobody can deny it and according to that if you have registered for appearing in the annual examination this year then students let me tell you that you just have a few months that would be almost 3 so if you really want to get good marks in the Intermediate level examination then you should start your preparation from today.
Lahore Board 1st Year Date Sheet 2023
Lahore Board 1st Year Date Sheet 2023 is still under process when they will declare the official then we will mention it on this page. As time is a golden chance for all of you and if you cash this time out then you will be the luckiest person as only then you can secure your future so students do not ever take your studies for granted as getting good marks in the Inter exams is the only way that you will be able to get admission in the top-ranked universities of Pakistan so stay in touch with us to get the complete schedule of exams from this page easily.
| | |
| --- | --- |
| When Lahore Board 11th Class Exam Start? | 5 June 2023 |
Also Check: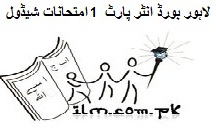 Lahore Board 1st Year Date Sheet 2023 is still under process. On the other hand, Lahore Board is considered to be one of the biggest boards in the whole of Punjab as there are a total of 9 educational boards excluding the Federal Board that are working in Punjab and covering all 36 districts of Punjab.
Its aim is to provide the best facilities for the students. From the first day, it is promising to complete all the responsibilities with full effort.
That is why the passing ratio of the students appearing in 1st-year exams is increasing day by day.
Management of the Lahore Board HSSC Part 1 date sheet will announce in the last week of April or the first week of May.
So all the candidates who are waiting would check the date sheet when they will announce. Students start the preparation because they will take the exam within a few days.
Punjab Board Inter Date Sheet 2023
Lahore Board 11th Class Date Sheet
After the Matric finals, the officials will start preparation for the exams of HSSC Part 1 and Part 2.
They will then release the BISE Lahore Board 11th Class Date Sheet 2023 11th Class.
Then just after this, they will issue the roll number slips to students. In the end, the exams will start under this board.
If you also want to appear in exams, then first register for them and then move forward. So, this was all about the schedule of Inter exams.
Hopefully, you are confident with this post. If you have any questions then ask in the comment.
Hopefully, after reading the content you can understand the situation. Further, they will take to start the examination in June 2023. So a few months are available for the preparation for the exam. So don't waste time. If you ask more questions about Lahore Board Inter Part 2 date sheet 2023 F.A, FSc then you can visit the official page where all information is mentioned.
FAQ:
What is the date of the 11th class exam 2023?
All the schedule of the 11th class exam is mentioned on this page and people will follow this schedule. On the other hand, the exam for the 11th class is going to start on 5 June 2023.
What is the date of the 1st Year Paper 2023?
The majority of the people are looking at the 1st year paper date. So Lahore Board is going to take the exam from 5 June 2023 onward.