Board of Intermediate and Secondary Education Gujranwala officials has announced Matric (9th, 10th) Supplementary Exams Date Sheet 2018 for all those students who have appeared in the annual examination of the Matric 10th class but due to some genuine reason or just for taking studies for granted got supply in 9th or 10th class in one or more than one subjects. So according to the notification and the supply Exam Date Sheet 2018 the exams will commence from the September 2018. The supplementary examination will be held in two timings as there are many students so that is why there will be two shift as the first shift exam will start from 8:30 whereas the second shift exam started on 1:30 pm so candidates have to reach to their examination center before the starting time so that they could easily be settled down till the examination starts. BISE Gujranwala board 9th, 10th class Supply Exams Date Sheet is announced today on September 2018 by the chairmen of the Board of Intermediate and Secondary education So students this is your golden chance to clear your supply and take admission in some college to get your further higher education to fill your future dreams with education.
BISE Gujranwala Board Matric Supplementary Exams Date Sheet 2018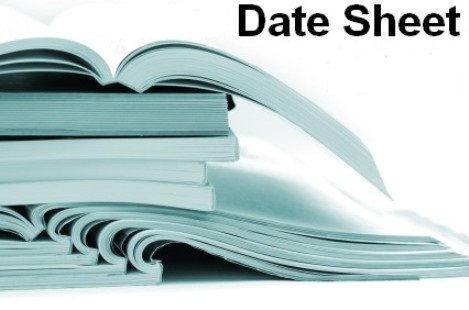 Gujranwala board 9th Class Supply Exams Date Sheet:
As you can see in the given below 9th class Supply Exam date sheet that the examination will start from the September 2018 that Monday, here is the complete date sheet have a look
Gujranwala board 10th Class Supply Exams Date Sheet:
As 9th class supply exams will start from the 7th September but before this student of 10th class will be free from their written examination as the 10th class supply exams will start from 7th September 2018 and practical exams will be from September 2018
DOWNLOAD 9th AND 10th SUPPLY EXAM DATE SHEET HERE
Annual examination of the Gujranwala Board for 9th and 10th class were held in the month of March and April and in the annual examination there are thousands of students who appear but all of them did not clear their all subjects so those students who got supply to have a second chance to clear that supply by appearing in the supplementary examination. This is the second chance for students as if they still do not make this time then there is one more and the last chance will be given to the students that is also in supplementary examination but after that students if does not clear its supply then he or she is declare to be failed and then students have to reappear in all the subject of the 9th or 10th class again in the next year annual examination with their juniors. So students keep in touch with this page to stay up to date from the BISE Gujranwala Board Matric Supplementary Exams Date Sheet 2018.