Federal Board on Intermediate and secondary education FBISE Federal Board SSC Matric Supplementary Exams Date Sheet 2018 for Secondary School Certificate SSC as for Matric Class 2018 in morning and evening batches. So if you are among those candidates who have been appeared in the annual examination of class Metric which was held in the month of March 2018 but unfortunately failed due to some reasons, then your search is just going to be ended here as you are on the right page for this purpose and this page has updated for you and providing you all the related information about your supplementary exams. You are advised to do hard work and avoid all the time wasting and ridicules tasks because there are very few days left behind to prepare for your supply. Here you must be familiar with this fact that the Metric level in Pakistani educational system is considered as the foundation of your educational career after which you have to select the subjects according to your taste and mind to study at a higher level. But for that, you first have to clear the Metric level that is yet pending due to your supply.
FBISE Federal Board SSC Matric Supplementary Exams Date Sheet 2018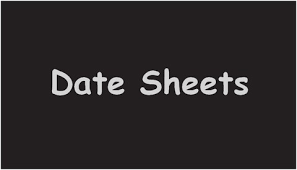 FBISE federal board SSC Matric supplementary exams date sheet 2018 has been given above. So now the upcoming step is to submit your fee according to the fee structure decided by FBISE and obtain your roll number for your relevant paper in which you remain unsuccessful. The Federal Board of Intermediate and Secondary Education (FBISE) was established in 1975 by the Federal Education and Professional Training Division. FBISE is an authority which affiliates all the Secondary Schools and Colleges and authorizes to organize, regulate, develop and control Intermediate and Secondary Education in general and conduct examinations in the institutions affiliated with it. From its establishment, FBISE contributes toward the progressive attainment of educational need according to the new needs of the age at Secondary and Higher Secondary School level.
FBISE federal board Matric supplementary exams date sheet 2018 has been announced by the officials as the Examinations are started from September 2018. So there is a little time period left behind so be well prepared for these supplementary examination. Best of Luck for this time…