The National University of Science and Technology NUST Entry Test 2019 Dates Registration of NET 1, Net 2, Net 3 For Medical and Engineering courses is announced by the National University of Science and technology. In a very short time spam NUST has touched the height of the ranking in the educational institute of Pakistan now you can get education from the well experienced and highly qualified faculty of NUST in Islamabad, Karachi and Rawalpindi. Rules for the NUST Entry Test (NET) has been revised for the present year 2018 so that students can be well aware from the all rules and regulation. So all those students who want to take admission in the top rank University of Pakistan must have to clear this NUST Entry test as the admission will be totally based in the score of the NET although there are some percentage divided for other result like intermediate result got 15%, Matric result got 10% bu the main percentage is of the NET that is 70%. To clear this NUST entry test is compulsory on every student who wish to take admission in NUST University. As recently the officials of the NUST announce NUST Entry Test Registration Date 2018 for NET 1, 2, 3 so here we have provided all these on this page so stay in touch to get the complete information. Also check NUST Entry test Sample Paper and Past Papers.
NUST Entry Test 2019 Dates Registration
NUST Entry Test Venues:
In 2019 NET test should be taken two times in a year and both are in the mid of the year and students have choice to select the entry test mood in which they feel comfortable and the modes are
Computerized Based Entrance Test
Paper Based Entrance Test
Computerized entrance test will be conducted in the NUST main campus Islamabad while the paper based entrance test will be conducted in Karachi as well as Quetta.
Note: For each series, separate online registration form is required to be submitted for NUST entry test 2019
Commencement of Undergraduate Programmes – 2019 (Tentative)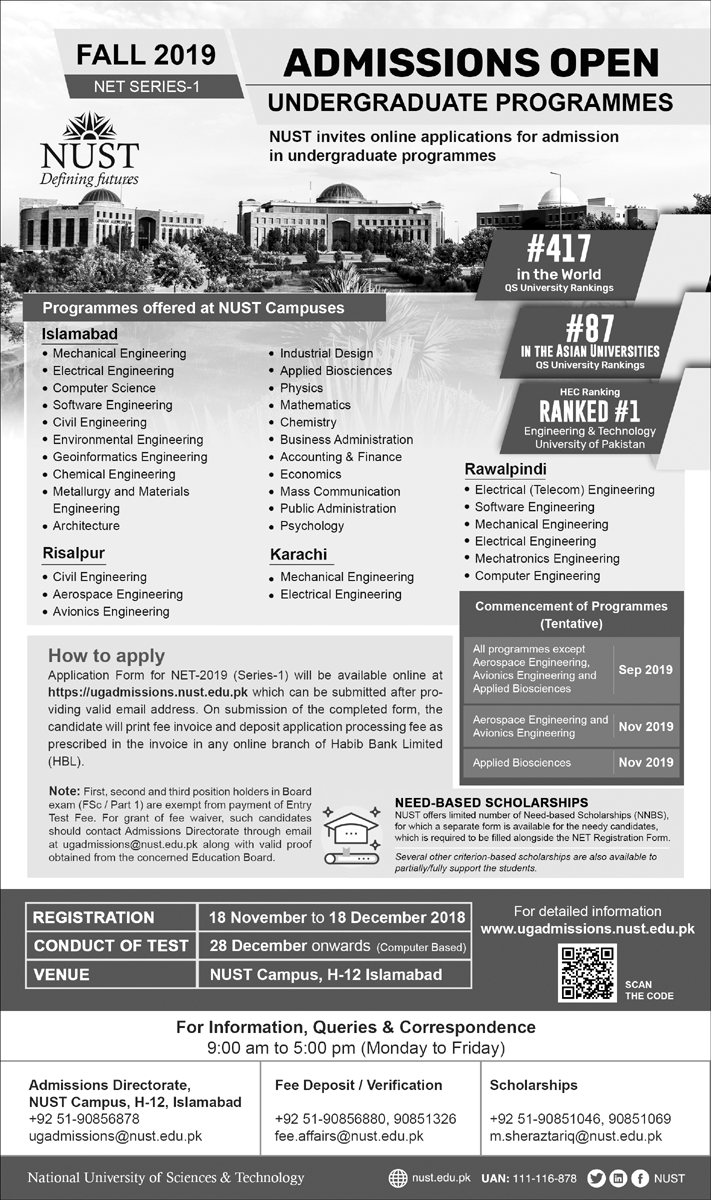 Selection of Candidates
Selection of candidates for Engineering / Computer Science / Mathematics / Business Studies / Social Sciences /  Architecture and Industrial Design will start in August 2018 and Applied Biosciences in October 2018 as per given dates. Selections will be based on NUST entry test 2018.
NUST Entry Test 2019 Dates
Registration 18 Nov 2018 To 18 Dec 2018
Conduct Of Test is 28 Dec 2018
Venue NUST campus H-12 Islamabad
Online Registration for NET-2019 (Series-1) will remain open from 18 Nov – 18 Dec 2018. Tests will commence from 28 Dec 2018 onwards.
Entrance Test Fee:
For NUST Entrance Test

Entrance Test Fee (per exam)

Rs. 2000/- or USD 25/-

Admission Processing Fee (per programme)

Rs.1000/- or USD 12/-

For SAT Candidates

SAT National

Rs.3000/- or USD 35/-

SAT International   

Rs.6000/- or USD 70/-
Subjects Included in NET Engineering with Weightings:
Mathematics: 40%
Physics: 30%
Chemistry:15%
English: 10%
Intelligence: 5%
Subjects Included in NET Medical with Weightings:
Biology: 40%
Chemistry: 30%
Physics: 15%
English: 10%
Intelligence: 5%
Computer Based Test Timings:
Morning: 0900-1200 hrs                                                                                 
Afternoon: 1400-1700 hrs

NUST Test Sample Paper
NUST University Islamabad Admission 2019
For More Information Regarding Entry Test Contact on these Numbers if you face any problem regarding NUST Entry Test 2019 Dates Registration
Phone # 051-90851414
051-90851414 and 051-90856878
051-90856878.
National University of Sciences and Technology. NUST Campus, H-12, Islamabad, Pakistan