If you are looking for Spirit Academy MCAT, ECAT Entry Test Preparation 2020 then you are on the right page. It is a clear thing for the students after the completion of Intermediate, the students have to take admission to any Higher education institute for further education, for this, they have to pass the entry test of that institute. This test is the main way to get admission. Medical students have to give an MCAT test that is taken by UHS and NUMS. Similarly, the engineering students have to appear in ECAT. Well, students, this is not enough to appear in this Pre-admission entry test but the thing is you really have to get good marks in that test in order to get your name in the list of those candidates who are eligible to take admission. And for this, you really need to work hard. For this, Spirit Academy is providing the preparations. So, have a look down for it.
Spirit Academy MCAT, ECAT Entry Test Preparation 2020
It mostly happens that students do get good marks in the FSc but they are not able to get good marks in the MCAT or ECAT Entry test and for this reason the could not get admission to the best Universities. Do you know that why this happen just because of the change in the pattern. As in the annual examination there are three parts that are MCQs, Short questions and then long questions. But in the MCAT and ECAT entry test, there are only MCQs Questions that are ignored by most of the students.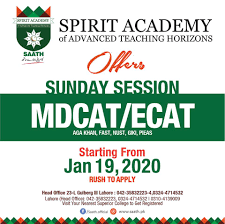 It is providing Sunday classes in the first session. The main reason behind it is to give the facility to the students so that they can prepare for Entry test and board exams simultaneously. Just after the exams, the full classes of entry test will commence.
Spirit Academy Campuses:
Spirit Academy has many campuses in different cities of Punjab that are Lahore, Sargodha, Faisalabad, Gujranwala, Sialkot, Multan, Jauharabad, Bahawalpur, Mianwali, Khanewal, Pattoki and Depalpur
Spirit Academy MCAT, ECAT Fee, and Notes:
The positive edge of the Spirit Academy MCAT, ECAT Entry Test Preparation 2020 Fee, Notes on all the other academies of Punjab is their vast database of the MCQs and well-qualified faculty member so that is why if you wanted to know about the Spirit Academy Fee and Notes details then you have to visit the academy campus that is nearby you.