Do you know that How to Become Air Hostess in Pakistan if no then no worries here on this page we will guide you that how you can be an Air Hostess? In Pakistan, there are so many airlines which are rendering their services in the field of air transport and for that reason, the vacancy and the requirement of the Air hostess and the flight stewards are getting more and more common and for that purpose, many female candidates are looking forward to carrying their career as the air hostess in any of the leading airlines in Pakistan. Today the most common and airline in Pakistan is PIA (Pakistan International Airline), Air Blue and Bhoja Airlines. Another very common and significant reason which has attracted the females in this field because it just doesn't require any specific qualification and academic background but what it requires is a presentable personality with a humble and good hospitality attitude.
How to Become Air Hostess in Pakistan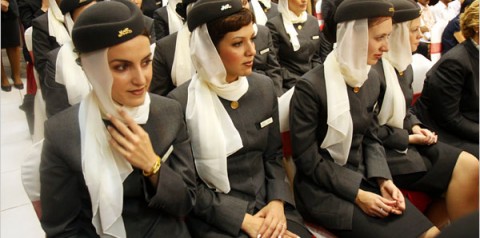 The airlines in Pakistan are currently revitalization plan needs qualified team players and for that reason, they have a large demand of talented, energetic and self-motivated persons especially in fact it is compulsory that it should be a female that may become a part of their team to perform their duties in these airlines as the air hostess or flight steward. The candidate who is willing to join any such airline for the purpose of being hired as the air hostess in this regard, they should send their applications for the positions according to their need and availability.
Here is the guide for those people and women who are looking forward to joining the air hostess career and this will show them the basic necessities and requirements which are present in this way and most importantly the procedure to become a good and devoted air hostess. The candidates which are considered to be eligible for the post of an Air Hostess must possess the qualifications and other requirements mentioned below;
Airhostess:
should be bright, smart and talented young girls to take up the exciting and rewarding career of Air Hostess in the various airlines working in Pakistan.
If you meet the following requirements, you might become what you wanted and can open the gates for you for a successful air hostess career in Pakistan.
Eligibility to Become Air Hostess
Qualification: Intermediate or Equivalent, minimum 2nd division.
Martial Status: Unmarried candidates will be preferred.
Maximum Age: 25 years
Height: Minimum 5 feet and 2 inches and maximum 6 feet.
Weight: Proportionate to height as per the general standards, but not over 75 Kgs.
Languages: Should have the ability to speak and write English / Urdu fluently.
How to Become Air Hostess in Pakistan
Such candidate should send their resume to the head offices of the respective Airlines in Pakistan when they do possess any vacancy as per your interest and requirement and then appear for the interview in the best possible presentable manner.