Tomorrow Higher Education Commission (HEC) has issued a complete list of Unrecognized Universities of the Pakistan and in that list there are four Universities from Islamabad, Four Universities from Karachi and one University from Hyderabad. These are all private Universities that are taking dues for teaching to the students of the Pakistan but have no recognition from the HEC which is the only governing body for the educational system of Pakistan. Now do check before taking admission in any of the Universities in Pakistan that whether it is recognized or not because if it is not recognized then it's degree have no value in the market it will be just a wastage of time and money. So here down are the complete list of all Unrecognized Universities in Pakistan.
Tomorrow it has been decided in light of the judgement passed by the honorable supreme court of Pakistan, That HEC will not recognize the degrees issued by the Universities/ institutes which are operating without having the formal NOC from HEC. The students and their parent are requested to ensure the status of the Universities from the website of the higher education commission before seeking admission.
HEC Unrecognized Universities List issued
Further, the list of private Universities which have been granted charter by the respective authorities without filling the cabinet criteria for the establishment of new University/Degree Awarding institute including NOC from Higher Education Commission is given below. These institutions are advised to approach HEC for grant of NOC before initiating any academic activity including admission in any degree programme.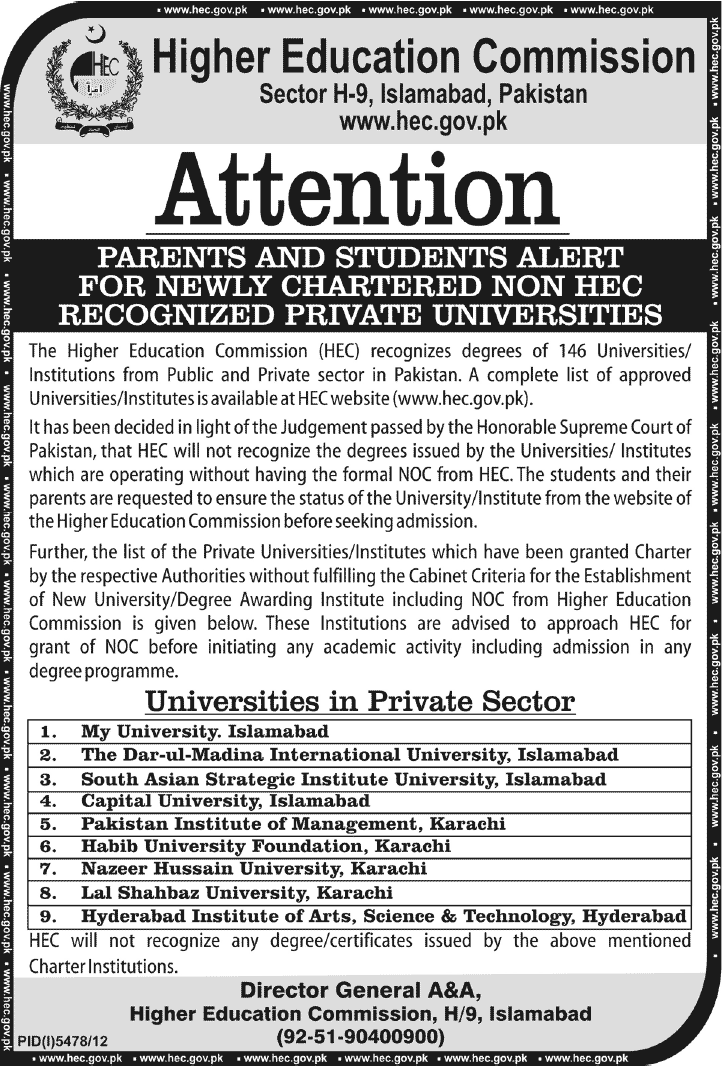 If you want to check that which are the Public and Private Universities in the Pakistan that are recognized from the Higher Education Commission then the detail of that Universities is also available here
CLICK HERE
In the above given list of Unrecognized Universities HEC will not responsible for the degree so this is to advised all the students and their parents that check before taking admission about the University that whether it is recognized from the HEC or not.