Are your Interested in Supreme Court Decision on Private School Fees then it is good news for the parents and that is Supreme Court of Pakistan on 13th December, 2018 Thursday has ordered to decrease the student fee by 20% and they will also have to return the half of the fees which they have charged for them on this Summer vacations. Let me clear here that this order is only applicable on those Private School whose fees per student is more than Rs.5000/-. The file case cased during the month of October for the Supreme court for extra fee of private school and then the court order the private schools to complete their audit report and present it in front of Honorable judge. Court has also formed a committee whose responsibility is to find a solution which is beneficial for both the parties that is students as well as private school.
Supreme Court Decision on Private School Fees
The Private School whose audit report is presented in front of Court of December are Bayview Academy, Roots Schools System, Lahore Grammar School, The City School, Beaconhouse School System and 15 other private Schools. In the report it is clearly mentioned that the top management of the School has received 62 Millions as a salaries in year 2017. Total amount of 512 Millions are for the employees as a salaries. The Chief Justice of Pakistan Saqib Nisar was really wondered and said that either these schools have gold mines that they are paying so much to their Directors so they are charging it from the students.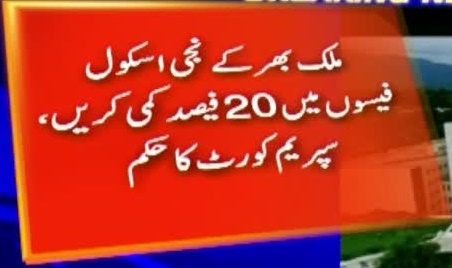 The fees of a single students is so much that not every student are in a state to get education while on the other side each director of these school got 8.3 Million each month as a salary. Students did not have a relief of even 2 Rupees then how could you say that education is for all. More added by the chief justice is that i have seen many private schools who are performing thier duties in Rented Banglow and getting a really huge amount in sense of fee from students. Faisal Siddiqui who is the counsel for students Parents say that these school did not approved their fee from any regulators they charge whatever they want. The other side Beacounhouse School System counsel said that they have paid a tax of 764 Millions and there are 54000 private schools in Punjab so how much tax government collect from us. In Answer the Chief justice reply that you may have pay a lot of taxes but in sense of education a student are not getting any benefit from these taxes.
Supreme Court Decision on Private School Fees in Punjab
The secretary Law and Justice told supreme court that the Schools has increased their fees so much in the last 5 years. Then the court ordered the BSS Counsel Ayesha Hamid that either you are ready to decrease your school fee by 8 % on the same time the top judge mentioned that this reduction of fee is to low to be considered so Justice Ehsan suggested that all private School should consultant they either they are ready to reduce their fee to 20% and more added by Chief Justice Saqib Nisar that they also have to return the fee they have collected from students on Summer Vacations. This is the Supreme Court Decision on Private School Fees. In the next time we will decide this thing that how much you are increase the fees of students annually. They can only increase their Fees annually by 5% and we will notice that no private school should be shut down and if this happen after this order then we will take serious action against the management.