Officials of the UOS BA Admission Form 2019 UOS BSC Annual Exams Admission Form 2019 Fee, Schedule Download and if you want to appear in the BA or BSc Annual examination under the supervision of the Punjab University then you can download the admission form from this page easily. University officials start collecting admission form from the students now and keep one thing in your mind that is you cannot able to submit the admission form in the given schedule then you are not enrolled for the annual examination and then you will not be able to appear in the examination. The admission forms are accepted in three phase the first phase is with single fee that means if you want to register yourself to appear in the UOS BA Annual examination 2019 then you have to only submit the original fee what is decided for both BA and BSc but if you not able to submit form in that date then phase 2 starts where you have to pay double fee to submit your admission form and then 3rd phase you where have to pay three time of original fee to admission form submission but after that you have no time and then your application will not be accepted in any case.
UOS BA Admission Form 2019
All the students are invited for submit the UOS BA admission form 2019 for Regular, Late College and Private students who want to appear in the annual examination of 2019. well students can submit the admission form with single fee till November, 2019 as the Original Fee for BA is Rs. 3350 and for BSc is Rs. 3850. Donot relay on these charges ..Stay with page so you will get the charges accurate and updated one.
Not Announced Yet
Previous dates and schedules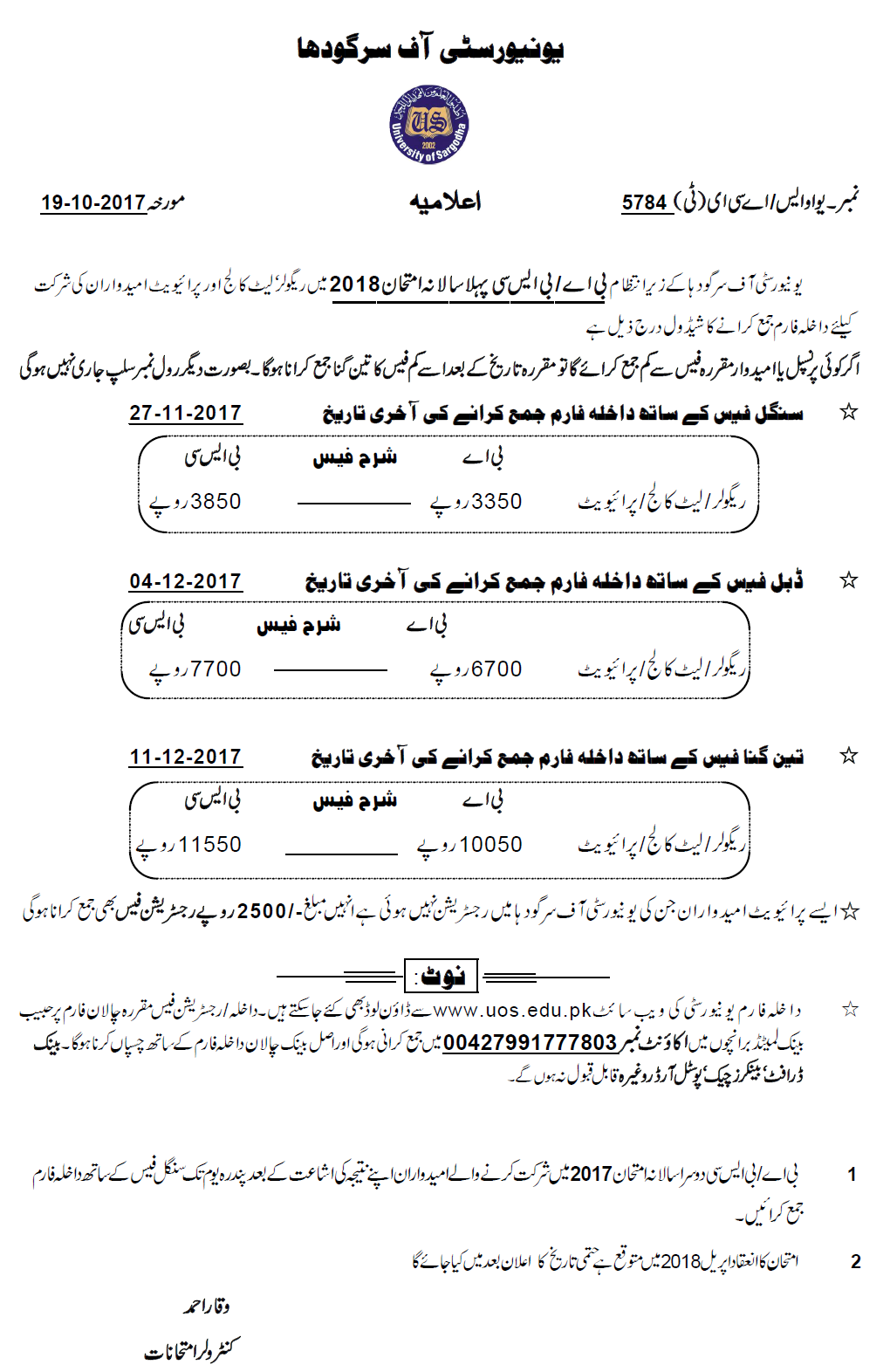 UOS BSc Admission Form 2019
If you miss that dates then you can submit the admission form till December, 2019 but with the double fee of the original one as at that time the BA Form fee will be Rs. 6700 and BSc fee is Rs. 7700. The last chance to submit the application form starts after 7th December till 11th December but in these 5 days form will be accepted with three times more of the original fee and on these days BA fee will be Rs. 10050 and BSc Fee will be Rs. 115500. These are scheduled for UOS BSc Admission Form 2019
Original Admission form can be collected from the University administration office other than that you can also download the UOS BA, BSC Admission Form 2019 from this page by clicking on the links below. The admission fee can only be submit in some specific banks as the list of all banks are listed below in the advertisement from the University of Sargodha Officials.