It is the page that defined the designation about the Deputy Commissioner Office Chitral Jobs 2018 PTS For Junior Clerk Advertisement Apply through the focused aspect to know the latest material binding. The job is recent and everyone is going to make the possible measure through the possibility undder the same advertisement. The recent job opening has two openings one is termed as Junior Scale Stenograher and the second one is the Junior clerk. It means now you have the complete information because PTS jobs 2018 in Chitral are relevant to the degrees to make sure about the every approach that is possible and make sure about the relative approach.
Deputy Commissioner Office Chitral Jobs 2018
The Junior Scale Stenographer is the BPS 14 scale and available in open merit. There are two vacancies available and intermediate or equal education is important for the complete typing and equal education aspect.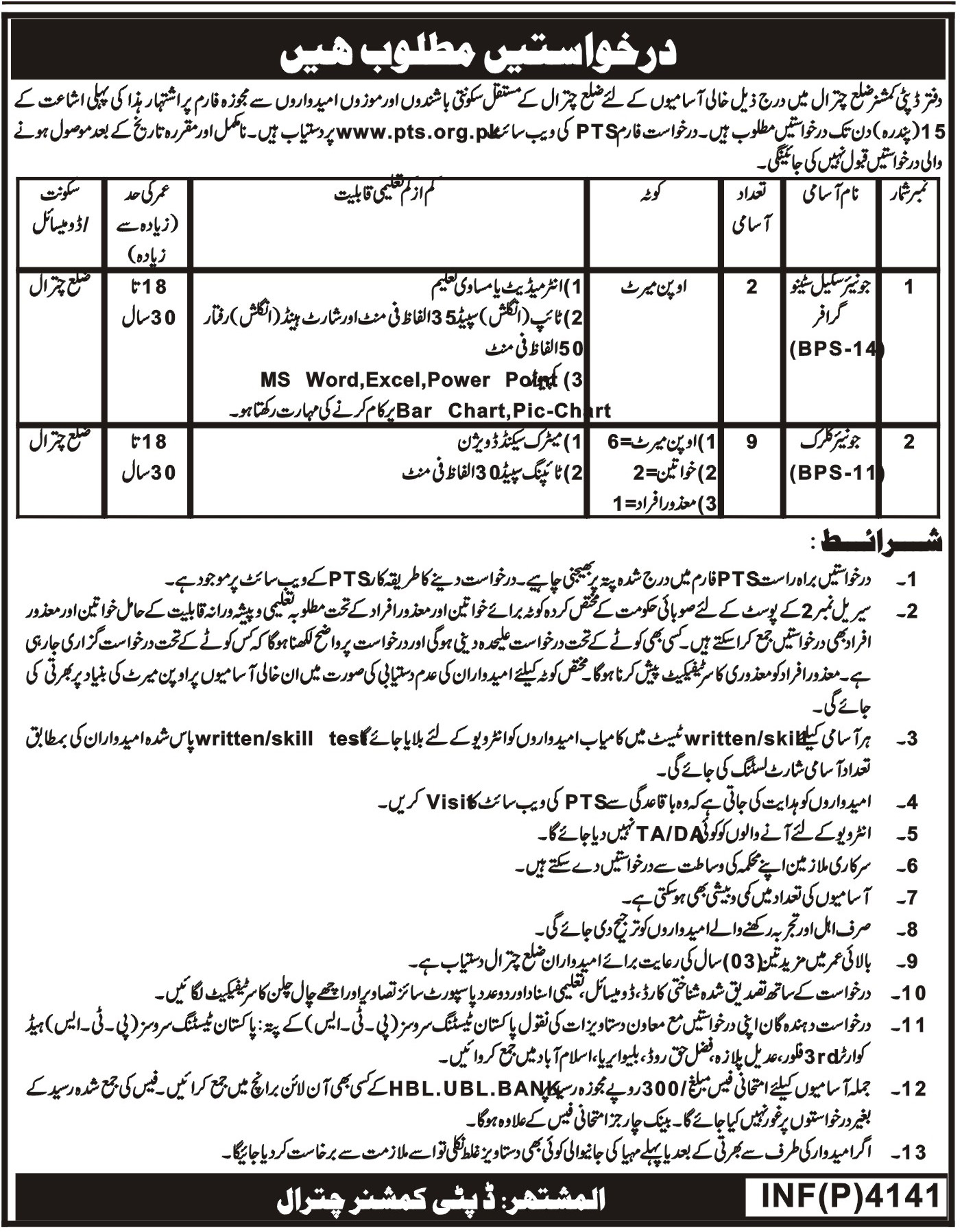 The English typing is the approach that shows the 35 words per minute and short hand english with 50 words per minute consider as the eligibility criterion. MS word, excel power point even bar chart Pic chart are some other factors that completes the eligibility criterion.
Last Date To Apply is 12 Nov 2018
The second job title available under Deputy Commissioner Office Chitral Jobs 2018 is the Junior clerk jobs that is 9 in total.
Download Online Application Form And Apply
It means there are 9 Junior clerks are required. It means everyone must be stay in touch with the regular updates about the junior clerk kpk jobs 2018 In Chitral are available to apply.
Deputy Commissioner Office Chitral Jobs 2018 For Junior Clerk
It means that if you are resident of chitral and looking for the Deputy Commissioner Office Chitral Jobs 2018 you can apply freely. The PTS is the formal way that can makes the possible measures through defined process for the application of junior clerk and eligibility criteria is similar to the matric second division. Typingg speed is 30 words per minute that is available for 6 seats on open merit, 2 for ladies and 1 for disabled person. The 18 to 39 years is the age limit.