Jobs in Lahore 2018 for Gourmet Bakers are now looking for the eligible and competent candidates so if you are eligible according to the eligibility criteria which is mentioned in the advertisement below on this page then do send you CV to the given address. This is the best chance to be a part of the Gourmet Bakers as this is a leading Bakers chain in Lahore Pakistan. The first gourmet Bakery opened its branch in Ichra Lahore. This is a small bakery so provide the Fresh, healthy and Hygienic food to the customers in really affordable prices. Then in very short period of time Gourmet Bakers got much popularity all over the Lahore so later on many more branches are opened in different parts of Lahore. Now on almost every road of Lahore you can find a Gourmet Bakers. This Gourmet is a project of Chaudry Muhammad Nawaz Chattha who is Founder and Chairmen of this bakery. Before this bakery he worked in Shezan Bakers for almost eleven year so after that he is much expert to provide the hygienic food in very affordable prices to the customers. Now Gourmet Bakers have some jobs for the eligible candidates so here is the complete information and eligibility criteria to apply for the vacant posts.
Gourmet Bakers Jobs in Lahore 2018
Jobs that are vacant are
Assistant Manager Quality control
Senior Chemist
Chemist
Assistant Production Manager
Electrical Engineer
Electrical Formen
Electrical Supervisor
Electrician
Instrument Supevisor
Mechanical Line Supervisor
Machine Supervisor
Blue molding Incharge
Blue Molding Machine operator
Supervisor hisky Injection Molding System
Opeartor hisky Injection Molding System
Mechanical Formen
Ammonia Chiller operator
Bioler Engineer
Electrical Engineer
Turbine Engineer
Milk Collection Officer
Milk Collection Supervisor
Lab Supervisory
Human Resource Manager
Assistant Human Resource
Area Sales Manager
Territory Sales Manager
Accountant
Sales Support Executive
Ware House Assistant
Transport Manager
Transport Officer
Auto Electrician
Fork Lifter Mechanic
Fork Lifter Driver
HTV/LTV Driver
Store Keeper
Computer OPerator
Cook
Security Officer
Security Guard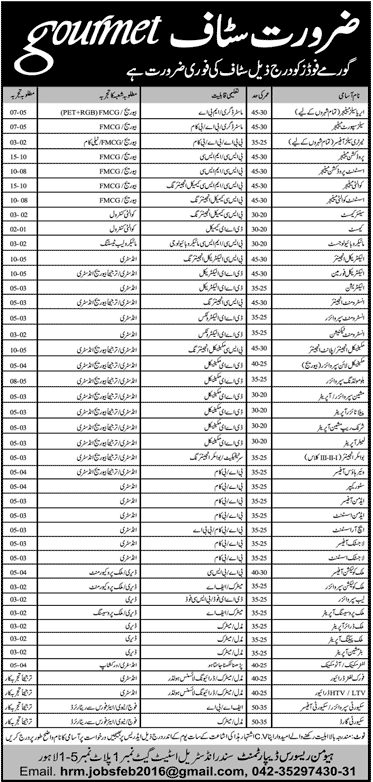 So all those candidates who laid down on the eligibility criteria of the Gourmet Bakers jobs 2018 according to the given advertisement can send their CV's Along with all the documents require and 2 recently taken photographs to the address given below. On the paper candidate should have to mention the post for what he or she is applying for.
Send your CV to this Address:
Manager Human Resource Sundar Industrial Estate Gate No. 1 Plot No 1 Lahore
Phone Number: 042-35297430-31