If you want to Join Pak Army as Female Nursing AFNS Admission 2019 Registration then the Registration is started and the test will be from 15th July, 2019 Till 02nd August, 2019.This is the golden chances for all those Female who wants to be a part of the Pak Army as to serve their nation is in the blood of every human specially when it is Pakistani. So this option in best to capture so ladies you can be a part of the Pakistan Army as a lieutenant. Pak Army Nursing admission 2019 online Registration is open from 15th July, 2019 Till 02nd August, 2019 as no application will be entertain after the last date to the submission of the application so it is compulsory to submit the application form on time. Candidates can register them self through two ways one is through Internet and second is going to AS&RCs.
Note for BSc Nursing:
Those candidate who gets 50% marks in the First year can also apply by submitting a hope certificate from the college of Institutions attested by the Principal of that institutions and after the part 2 result candidate have to submit result card as soon as possible.
Note for Trained Nurse:
Candidate must be register in Pakistan Nursing Council (PNC)
Candidate have done course like ICU, OT, CCU From any affiliated Hospital or Institutions of the Pakistan Nursing COuncil PNC
Qualification and Age For Join Pak Army as female Nursing Service :

Type of Commission
Qualification

Age

(1)
AFNS – BSc Nursing
Matric  with  Science    –  60%  Marks

Minimum

F.Sc  (Pre-medical)      –  50%  Marks

Minimum

17-25 years
(2)
Trained Nurse As Lieutenant
Nursing Diploma

BSc Generic Nursing

Post (RN) BSC Nursing

18-28 Years
Join Pak Army as Female Nursing AFNS Admission 2019 Registration
BSC Nursing: Female  unmarried  /  widow  /  separated  divorcee  without encumbrances.
Trained Nurses: Female  unmarried / Married
Nationality:
Citizens of Pakistan and domicile holders of Azad Kashmir/Gilgit- Baltistan.   Upon final selection candidates with dual nationality will have to surrender nationality other than Pakistani.
Physical Standard:
Minimum Height: 5'- 2" (157.5cm)
Weight: As per the Body Mass Index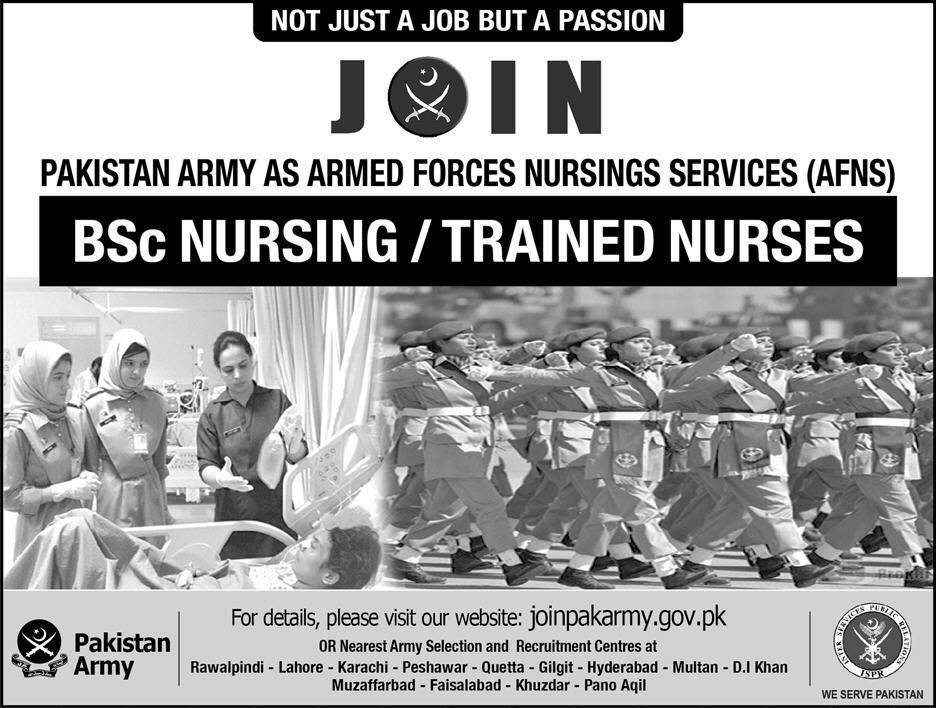 Ineligible Conditions:
Twice rejected by the GHQ Selection Board.
Declared Medically Unfit by Appeal Medical Board.
Individual withdrawn/resigned/discharged from Armed Forces (Army, Navy and Air Force) training academies institution on the ground of discipline, characters, medical inefficiency, weak profile or declared unsuitable.
Individual dismissed/removed from any other government service. e.       Candidates already registered with Pakistan Nursing Council.
Convicted by a Court of Law for an offence involving moral turpitude.
 AFNS 2019 Online Registration:

Candidate must have to submit these documents listed here for the registration in AS&RCs
Original certificates/detailed marks sheets along with two attested photocopies of each educational certificate/degree..
Candidates  serving  in  Government's  institutions/departments  will  render  No
Objection Certificate (NOC) of the concerned establishment. c.        Attested photocopy of domicile.
Photocopies of computerized national Identity Card. e.       6 x Coloured photos duly attested (front & back).
Crossed  postal  order  of  Rs.  100/-  in  favour  of  Director  General  Personnel
Administration (DGPA), GHQ Rawalpindi.
[button color="red" size="medium" link="https://joinpakarmy.gov.pk/" icon="" target="false"]click Here for Online Registration[/button]
Training Period to Join Pak Army as Female Nursing AFNS Admission 2019 Registration:
4 years BSc Nursing Training at AFPGMI Rawalpindi. After successful completion of training, shall be granted Commission in the rank of Lieutenant.
For further details visit
nearest Army Selection and Recruitment Centres at
Rawalpindi, Lahore, Karachi, Peshawar, Quetta, Gilgit, Hyderabad and Multan