Online Registration Form is now available for Join Pak Navy Through Short Service Commission 2018 B Online Registration Form. PAK NAVY is inviting application forms in eleven different branched with the coordination of inter selection service commission ISSB. PAK NAVY has restricted some eligibility criteria for all willing candidates and there is a physical and written test which will be conducted by ISSB and according to PAK NAVY enlist policy only those candidates will be hired who meet these eligibilities and also qualify the ISSB entry test. Beside these eligibilities, there is an ineligibility criterion which is also restricted for candidates those who meet the eligibilities will be hired while those who lie on any ineligibility will be rejected to proceed to further process that is physical test and interview.  If you want to join Pakistan naval force through short service commission B then this is accurate time to apply through a proper channel. You are also suggested that you must perform all the application procedure within due date and time so that you can be entertained by the enlist procedure. Now scroll down this page to get Pakistan NAVY Jobs through short service commission 2018 online registration form.
Join Pak Navy Through Short Service Commission 2018 B Online Registration Form
Join PAK NAVY Through SSC 2018
Operation Branch – Marine and SSG (N)
Marine Engineering Branch
Supply Branch
Weapon Engineering Branch
Ordnance Branch
Education Branch
Education Branch – Psychologist
Special Branch – Industrial Manufacturing Engineering
Medical Branch
Medical Branch – Specialists
Special Branch – IT Specialist
Selection Process/ Online Registration
Only Online Registration is acceptable for Join Pak Navy Through Short Service Commission. Application form other than online will not be entertained in any case. You have to click on the link and fill in the online registration form accurately and then click on submit button. After this administrative will analyze your application form and call you for ISSB entry test. Those who pass the entry test will summon for the physical test in which pushups, chin up and sit-ups are included also running a decided distance in the fixed time period. One who full fill all these steps will be sent for the training session to Pak NAVY academy for one year where the candidate has to prove his self to hold his duties in a proper way.
Join Pak Navy Through Short Service Commission 2018 B Eligibility Criteria
Entire eligibility criteria are written in the below-given advertisement for each branch in front of each branch. You can click on the advertisement to view it clearly or zoom. You are also informed that one who does not meet these eligibilities or he is on ineligibility criteria will be rejected to proceed.
PAK NAVY Important Dates
Last Date Of Online Registration: — 23rd September 2018

Entrance Test Date:  10th October 2018

Result Date: Not Announced

Online Registration Form
PAK NAVY Interview  
All eligible candidates will summon for an interview on the time of interview candidates have to bring their original documents for verification. Show your documents when demanded. After verification official will hire candidates in different branches they have applied.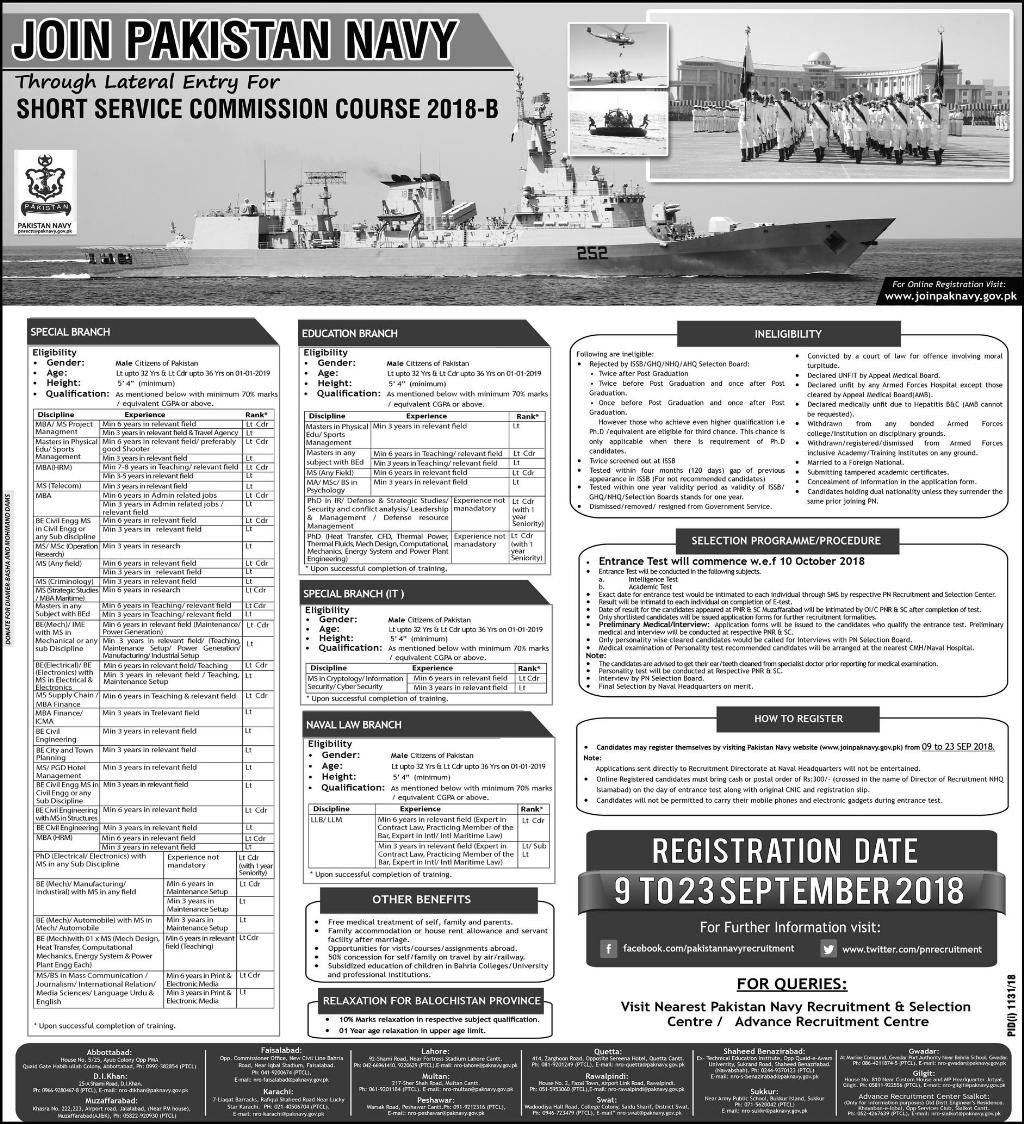 So all about "Join Pak Navy Through Short Service Commission 2018 B Online Registration Form" is written here in details with eligibility advertisement. Despite you have any type of confusion you can contact us through comment box we will reply you as soon as possible.