Note: Now, Join Pak Navy Short Service Commission 2023 announced as well as 28 May is the start date for registration, and the close date is 11 June 2023. Written test date, interview schedule, and list of selected candidates will show available soon.
joinpaknavy.gov.pk Online Registration Form are now available for Join Pak Navy Short Service Commission 2023 A Online Registration Form. PAK NAVY is inviting application forms in eleven different branches with the coordination of the inter-selection service commission ISSB. PAK NAVY has restricted some eligibility criteria for all willing candidates and there is a physical and written test that will be conducted by ISSB according to PAK NAVY enlist policy only those candidates will be hired who meet this eligibility and also qualify for the ISSB entry test. Besides this eligibility, there is an ineligibility criterion which is also restricted for candidates those who meet the eligibility will be hired while those who lie on any ineligibility will be rejected to proceed to further process which is a physical test and interview.  If you want to join Pakistan naval force through short service commission A then this is an accurate time to apply through a proper channel.
Application Start Date
28 May 2023
Last Date to Apply Online
11 June 2023
Gender
Male / Females
Height
Update Soon
Weight
Update Soon
Nationality
Pakistani
Join Pakistan Navy Through Short Service Commission 2023 B
Students can apply online for Pak Navy Short Service Commission as well as visit www.joinpaknavy.gov.pk and then download the application form. In addition, the last date, how to apply, eligibility criteria, and education is mentioned in detail.
Join Pak Navy Online Registration 2023
Candidates who are going to apply now can check the application submission criteria.
Candidates who were waiting for this course now can visit www.joinpaknavy.gov.pk and download the application form online.
Don't send the application form to the Navel headquarter because it can be rejected.
The last date for application registration will update soon.
The entrance test will be announced as soon.
Courses
Operation (Aviation & SSG (N)
Mechanical Engineering (Surface, Aviation)
Supply (Surface)
Weapon Engineering (Surface, Aviation)
Ordnance
Medical Branches
Education
Naval Law
Special (Information Technology)
Public Relations
Special
Pak Navy Short Service Commission Eligibility Criteria
Before applying one time must check the eligibility criteria and then apply.
Both genders Male and female are eligible to apply.
Nationalization of Pakistan is necessary because if you live in a foreign country then you cannot apply.
PAK NAVY Interview
All eligible candidates will summon for an interview at the time of the interview candidates have to bring their original documents for verification. Show your documents when demanded. After verification, officials will hire candidates for different branches they have applied for.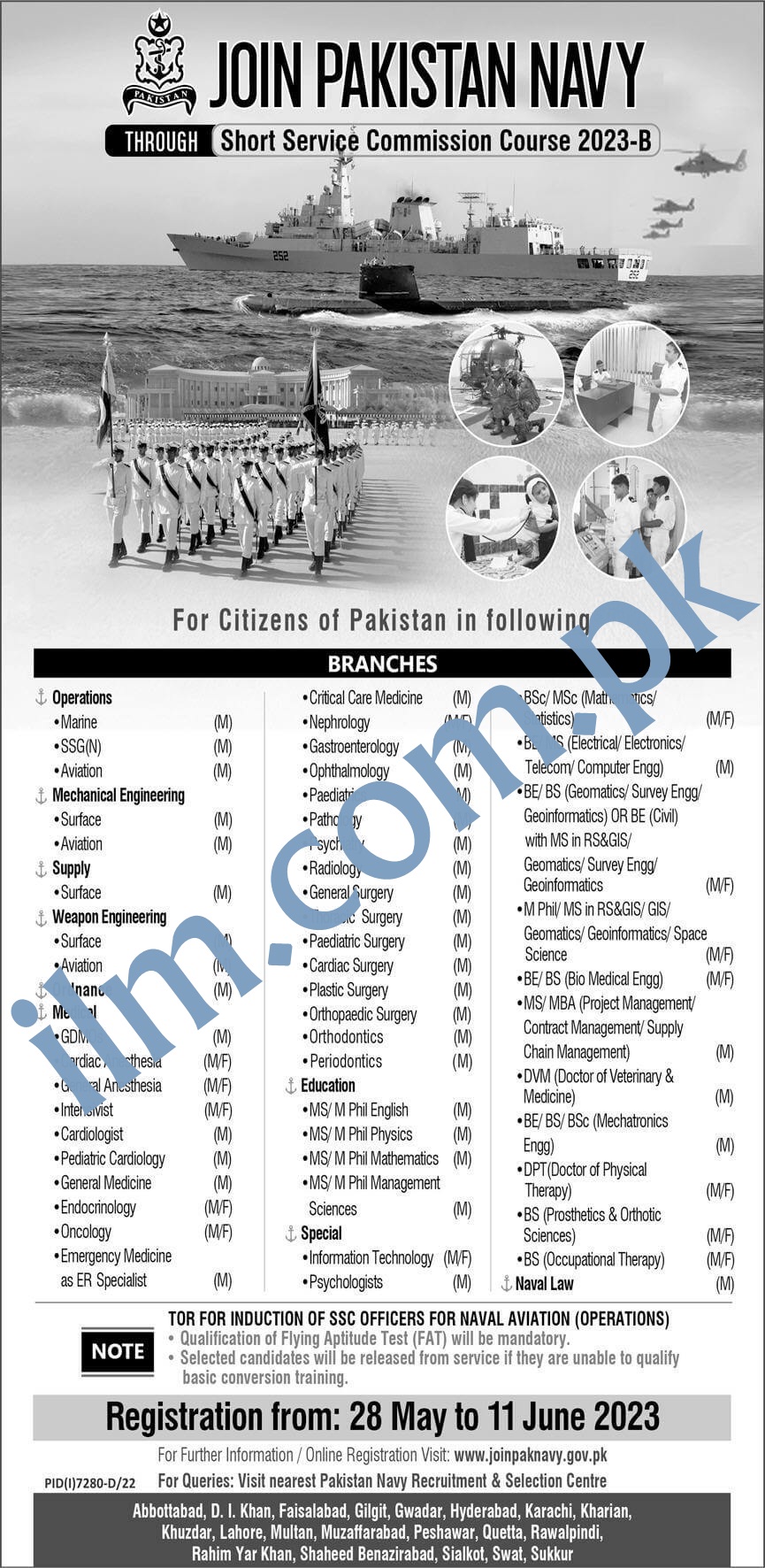 So all about "Join Pak Navy Through Short Service Commission 2023 B Online Registration Form" is written here in detail with eligibility advertisement. If you have any type of confusion you can contact us through the comment box we will reply to you as soon as possible.
FAQ:
How to join Pak Navy as commissioned officer?
Applicants must be done Metric with FSC along with above 60% marks. Further, the Pak Navy announced a short service commission, and then candidates must apply and start a new journey with Commissioners.
How to join Navy Pakistan?
Visit www.joinpaknavy.gov.pk and select the designation.
What is the last date of join Pak Navy?
11 June 2023 is the last date for application submission.