From November 2023, Lady Cadet Course 2023 registration going to start and will close on December 2023. Moreover, the maximum age limit is 28 years old on 1st July 2023. Furthermore, you can do registration online at joinpakarmy.gov.pk as well as visit the nearest army recruitment center that is located in different cities of Pakistan. It is the chance for the females who were in search to join the Pak Army. Now they can join the army through LCC-22. Every year, there is a special quota for the females of Pakistan to join the army. Those who have completed Bachelor's or Master's are allowed to apply for the specific category. So, to Join Pakistan Army as a captain, this page will be the best source and you can get all the important info. To join Pak Army is a passion. If you want to serve your homeland, then joining the Pak army is the best thing you can do. There are also other jobs or professions that you can do. But having a part of these forces is one of the best. Here on this page, you can check all the important points easily. So, have a look down for it.
Join Pak Army as Captain Through Lady Cadet Course 2023
Lady Cadet Course 2023 Registration As a Captain has been announced by the official as well as the last date and the entry test date officially declared. So those women who are interested now can apply before the last date while no application will process by the management. On the other hand, they will conduct the 1st entry test as soon. The expected date of commencement of classes is May 2023.
"Old Advertisement because Army official has not issued new advertisement but lady cadet course announce".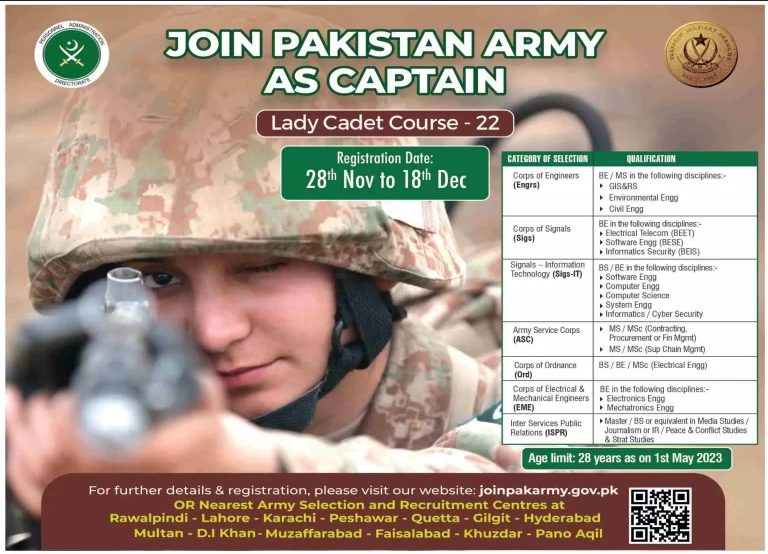 Lady Cadet Course 2023 Requirements
Category 
Educational Qualification
Corps of Engineers
BE/MS in Transportation Engg.
Corps of Signals
BS in Software Engg.
Army Services Corps
BSc (Hons.) in Food Sciences and Human Nutrition
Corps of Ordinance

MBA in Supply Chain Management
BSc/BE Textile Engg.

Corps of Electric and Mechanical Engineers
BE in Bio-Medical Engg.
Judge Advocate General
LLB- Minimum 2 years of experience in advocacy and is a member of the bar
Inter-Services Public Relations
MS/BS in the following programs
Mass communications, International Relations, Film and Drama Production, and Peace and Conflict Studies.
Moreover, the candidate has the following educational qualifications:
The candidate has a minimum of 2.5 CGPA out of 4 or 60% marks in the programs above explained.
For LLB candidates, a minimum of 2nd division will be accepted.
The candidate must have graduated from an HEC/PEC-recognized institute.
Eligibility for Lady Cadet Course
The age of the candidates must be 28 years or less on 1st November 2020.
Unmarried Female candidates Pakistani Citizens are eligible. Those with dual nationality have to surrender to other nationalities upon the final selection.
Height: 5′ (152.4 cm)
Weight: As per body mass index
Vision: As per PAO 11/82.
Ineligibility
Those who are twice screened out by ISSB.
Declared unfit by Appeal medical board.
Candidates withdrew from any bonded Armed Forces institute on disciplinary grounds.
Convicted in a Court of Law for any moral offense.
Online Registration for Lady Cadet Course
Click www.joinpakarmy.gov.pk to apply online.
First of all, complete the application. The date and time of the test will be sent to the email address.
Take all the required documents along and the fee of the prospectus will be paid at the time of the preliminary test.
The registration and test will be computer-based.
The candidates can also apply for registration by visiting the nearest AS & RC center with the required documents.
The prospectus fee will be paid at the moment.
Bring the roll number and other documents on the test day.
Schedule for LCC
| | |
| --- | --- |
| Registration | November 2023 |
| Preliminary Test | December 2023 |
| Written/Intelligence test at AS & RC | Will Announce Soon |
Test and Selection Method
First of all, a medical test will be conducted at AS & RC.
After this, the Female candidates have to cover a 1.6 KM area in 14 minutes.
The successful candidates will go for the ISSB test.
After all these tests, the final selection will be made and shortlisted candidates on their performance will be called by GHQ Selection Board.
Selected candidates will go for 6 months of training at PMA.
The selected candidates have to sign a bond and have to serve in the Army for a minimum of 7 years.
Documents Required at AS & RC
All the original mark sheets/certificates of each educational degree.
The Government officers have to render the NOC from the concerned establishment.
Photocopies of domicile, National Identity Card.
Recent colored photos (6x front and back).
Send a Crossed posted order of Rs. 100 in favor of Director General Personnel Administration, GHQ, Rawalpindi.
Old National ID cards will not be accepted.
So, if you are also interested, then this is the time to apply for it. Joining the Pak Army is a passion and those who have love in their hearts for their homeland have a dream to be a member of the armed forces. That's why every year a huge crowd applies for it. The selection procedure is totally on merit. So, only those passing every test can be shortlisted. So, this was all about Lady Cadet Course 2023 Registration As a Captain. Hopefully, you are confident about the post. Stay connected with us for more information regarding Pak Armed Forces.