Karachi Police Constable, Lady Constable Jobs 2017 NTS Form Online, Eligibility Criteria, How to Apply for NTS Application Form, and the last date to submit the application form hence each and every information you required for this job is available to this page. Karachi is the biggest as well as the beautiful city of Pakistan but due to terrorist activities, Mafia and the target killing this city is the most dangerous city of the Pakistan as well. These days rangers are helping police in arresting all those who are responsible for all this in Karachi. Some of the political parties in Karachi are also involve in this act. Now to secure this City Pakistan People Party has come in front to make this city more secure for every single person and for this jobs in the Karachi Police for Constable and Lady Constable are open these days. There are total 2500 vacancies are announced for the Karachi Police Jobs 2017. So that is why if you are eligible as mentioned in the eligibility criteria below on this page as well as the advertisement then do submit you application form. All the applications would be submitted through NTS and the last date is 12th August, 2017
Karachi Police Constable, Lady Constable Jobs 2017
Eligibility Criteria:
Karachi Police Jobs Eligibility Criteria for both Male, Female Constable are same as both have Karachi division domicile.
Qualification of the candidates applying for Karachi Police Jobs 2017 should be Matric or above
Age of the candidates should be 18 to 28 years old on 12th August, 2017
Height of the male candidates should be 5 feet and 5 inches and for female height should be 5 inches
Male candidates have to run 1.6 KM in 7 minutes in physical test whereas female candidates have to walk 800 meters in 14 minutes
NTS Application Form for Karachi Police Constable Jobs 2017:
NTS Application Form for Karachi Police Constable Jobs 2017 will be available to this page as just click on the link below and one file of application in PDF format will be saved to your computer. You can took print of this NTS application form, fill it with the required information and then submit the processing fee in the bank which is just 150 Rupees and after that send it to the National testing Service NTS headquarter Islamabad.
DOWNLOAD NTS APPLICATION FORM
Last Date to Apply: 12th August, 2017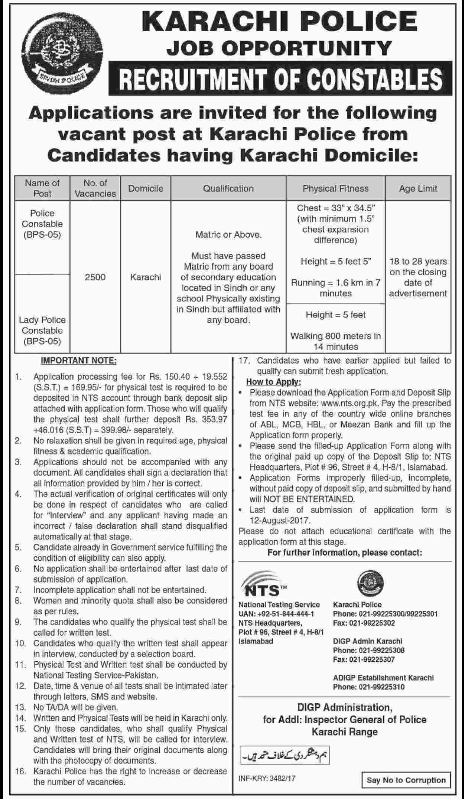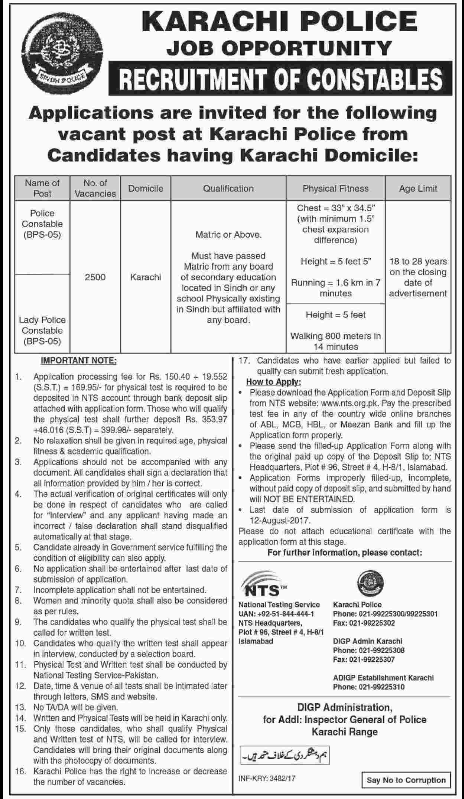 Last date to submit the Karachi Police Constable, Lady Constable Jobs 2017 NTS Form Online is clearly mentioned in the advertisement that is 12th August, 2017. So that is why candidates if you are interested to be a constable in the Karachi Police then you have to submit the application form before the last date because after this date your application form will not be entertain in any case.