Here down on this page we are going to explain 14th August Independence Day of Pakistan Information and History in Urdu as Independence Day of Pakistan is annual national festival which we celebrate as annual anniversary of national independence to commemorate Pakistan's independency. British Empire had siege the Sub-continent through a planed propaganda, power and bullying. The last war against British was fought in 1857 as an independence war. Due to lake of planning and poor management, sub-continent was gone under the supervision of British government. Hindus had also participated in independence war but British have taken revenge from only Muslims. During the British reign, Muslims of sub-continent bore cruelty of the English government, who has totally changed the entire system of the sub-continent. The British had replaced board of control with secretary of State for India, who was also the member of British Cabinet. Later British government made an advisement council which was named as Council of India. Following are some importance points which are directly connected to Independence day of Pakistan.
Independence Day of Pakistan Information and History in Urdu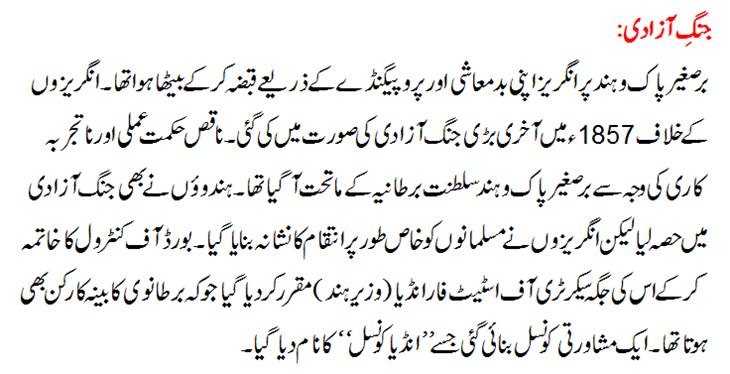 Sir Syed Ahmed Khan: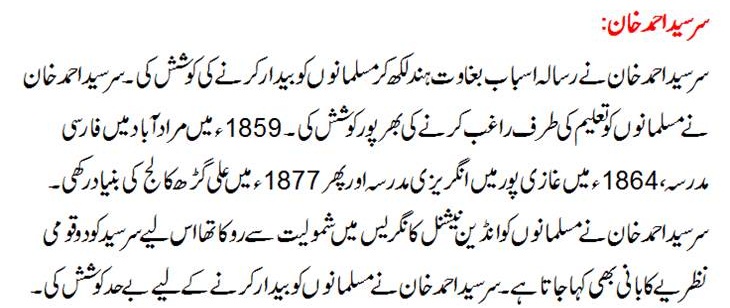 Sir Syed Ahmed Khan wrote book "The Causes of the Indian Revolt" through which he tried to awake the Muslims of sub-continent. He tried to involve Muslims to education and for this purpose he has established different institutes, like Ali Garh College, English school on Ghazi pur and many others. He also advised Muslims to not join Congress party so he is also famous as the pioneer of two nation concept.
Indian Congress:

A British civilian has made Indian Congress party after reading the book of sir Syed Ahmed Khan, The Causes of the Indian revolt. Indian congress party consisted upon 72 members, was established on 28th September in 1885 under the supervision of Womesh Chunder Bonnerjee. Congress was failed to become national party due to discrimination between Hindu and Muslims.
Muhammadan Educational Conference, Darul Uloom Deoband, Nadwatul Ulama: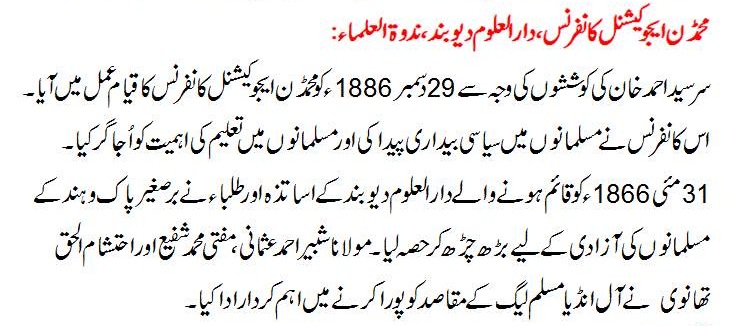 Muhammadan educational conference was established on 29 September in 1886 due to struggle of Sir Syed Ahmed Khan. This conference created Political awareness among Muslims and told Muslims about the importance of education. Many other leaders like Maulana Shibli Nomani, Mufti Muhammad Shafi and many others have participated to fulfill the cause of Muslim League.
Partition of Bengal:

Bengal was the one of the biggest province. British Government had participated Bengal into two, east Bengal and west Bengal on the reference of Lord Curzon. Hindus was against the partition and English government had ended the Bengal partition on 12th December in 1911.
Simla Conference: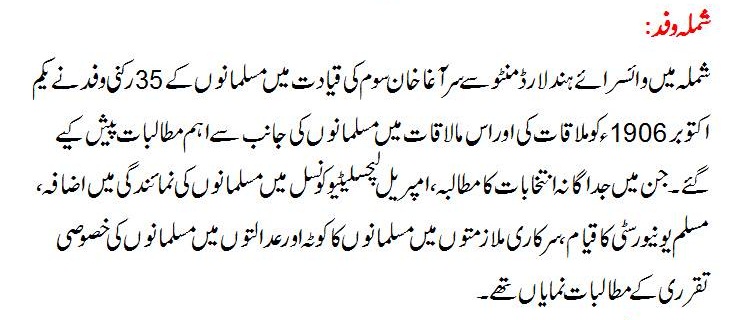 Sir Aga Khan met with 35 Muslim to Secretary of State of India Lard Minto in 1906 and represented the important decisions, like separate elections, Muslim Quota in government jobs and Formation of new Muslim Universities.
All India Muslim League: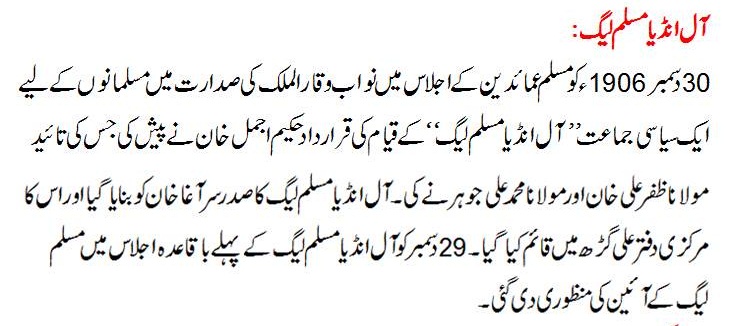 On 30 December in 1906, All Muslim leaders was gathered under the supervision of Nawab Waqar Ul Malik to form a new Muslim political party "Muslim League". Its resolution was presented by the Hakeem Ajmal Khan and Mulana Zafar Ali Khan, Mulana Johar Ali Khan and other muslim leaders supported this resolution.
Lackhnow Pact:

Quaid e Azam Muhammad Ali Jinnah Joined Muslim League in 1913. In 1915, procession of Muslim league and Congress was held together on same date. Both parties confirmed that the Muslim will get separate elections right.
Rowlatt Act, Jallianwala Bagh Incident, Khilafat Movement: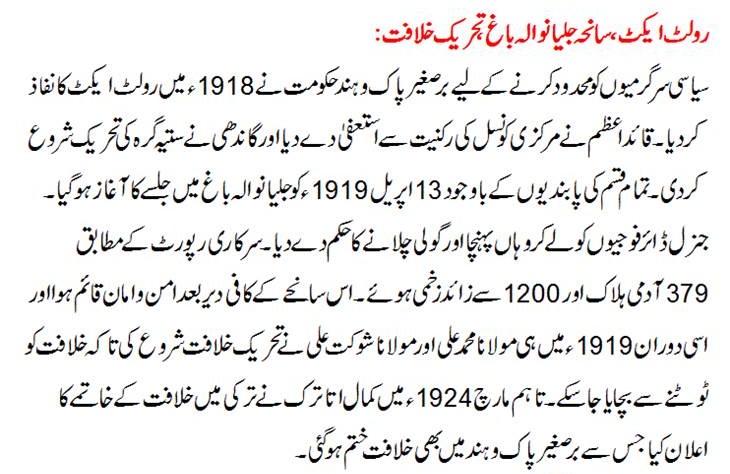 In Independence Day of Pakistan Information and History in Urdu now we are at Rowlatt Act, Jallianwala Bagh Incident, Khilafat Movement. To control the political actions, government of sub-continent implement Rowlatt Act. Quaid e Azam resigned from the central council and Gandhi started a new movement. Aside from all restrictions, procession was held on 13 April in 1919 in Jallianwala Bagh, General was reached there and order to fire. According to government report, in this incident more than 379 people were killed.
Nehru Report and 14 Points of Quaid e Azam:

in 1928, a committee has submitted their references under the supervision of Pandit Nehru which are also known as Nehru reports. Quaid e Azam was against the Nehru report and submitted his 14 points on 31 March in 1929.
Allahabad Address:

On 29 December in 1930,the annual conference of All india Muslim League was held in Allahabad in which Allama Iqbal gave the idea of separate land for Muslims. He told that to make a separate home land by joining Punjab, Sindh, Balochistan and NWFP.
Round Table Conference:

British Government arranged a round table conference to develop confidence of politician of sub-continent. In round table conference, important political leaders were invited.
Elections of 1937: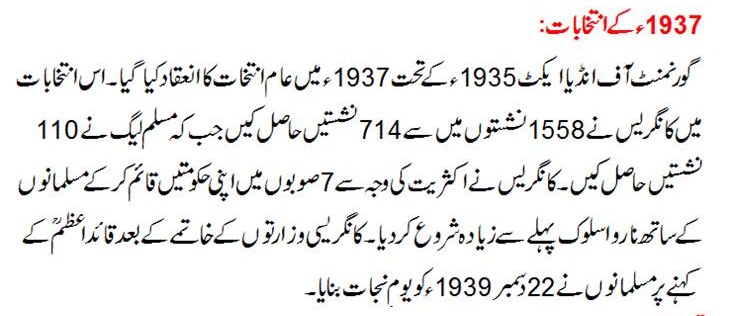 According to the government of India act 1935, elections were arranged in 1937. In these elections, congress won 714 seats while Muslim league won only 110 seats.
Lahore resolution: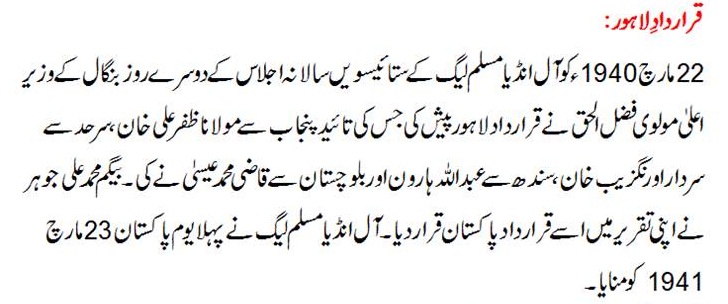 In the 27th Annul procession of All India Muslim League on 22nd March 1949, the prime minister of Bengal declared Lahore resolution and many leaders admired the resolution. On 23rd March in 1941, Muslims celebrated first Pakistan Day.
Cripps Mission, C. R. Formula, Jinnah Gandhi Meeting: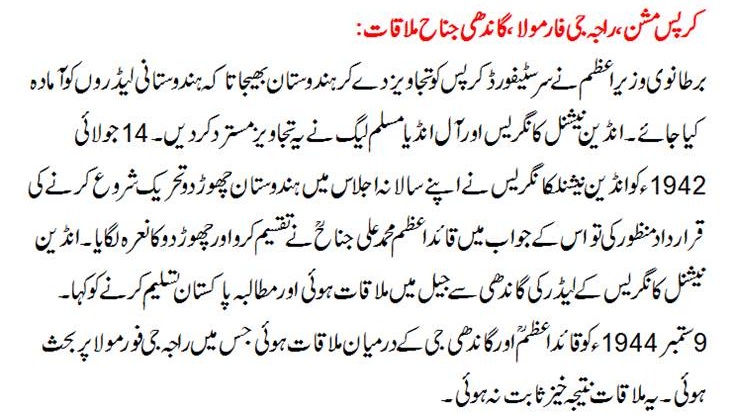 British Prime minister sent Sir Stafford Cripps to India, so that he agreed the Indian leaders. Indian National Congress and Muslim league rejected the advices. Indian congress started a moment, leave the india while Quaid e Azam started a moment to participate and leave the india. Muhammad Ali Jinnah and Gandhi were meet on 9 September in 1944 and talked on C. R. Formula.
Elections of 1945-46:
On December 1945, elections were held and Muslims won 30% seats. in province parliament elections on 22 February, Muslims won 446 seats from 495.
Cabinet Mission Plan:
On 24 March in 1946, Cabinet Mission reached Delhi and meet with the leaders of Muslim League and Congress and gave formulate. Muslims accepted these formulates while congress rejected these formulates.
Plan of 3 March 1947:
In March 1947, Lard Mount Batten met with the Muslim League and Congress and decided to participate India. British government approved these formulations and decided that till 15 August 1947 they will announce government.
Creation of Pakistan: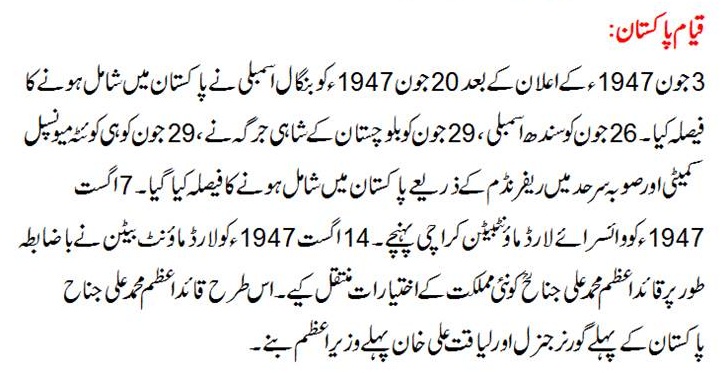 After the announcement of 3 June 1947, Bengal parliament has announced to become the part of Pakistan on 20 June in 1947. On 26 June, Sindh Parliament, 29 June Balochistan Jarga, and municipal comity has decided to join Pakistan through referendum. On 7 August, Lard Mount Batten was reached Karachi and gave rights of new country to Quaid e Azam on 14 August in 1947. Quaid e Azam Became the first Governor General and Liaqat Ali Khan became the first Prime Minister of Pakistan. Well this is all about the Independence Day of Pakistan Information and History in Urdu hope you like our effort.