Government Ministry Of Climate Change MOCC Jobs 2019 are laying vacant through Pakistan Environmental Protection Agency, Islamabad. Interested candidates have to send their application form along with CV before till the last date of submission of admission form that is mentioned in advertisement of MOCC jobs 2019. Here in this post we have put on click all these criterion according to the officials so that you can avail this job officials and accurately within a proper channel that is been prescribed by the administrator of this agency. Moreover you are all suggested that the information you write in your application form should be accurate and your application form is received before till the last date of submission of job application form otherwise any application form that is not properly filled or received after passing the last date will not be entertained on any case. Ministry of Climate Change MOCC is a government agency that is responsible for protecting and improving with the naturally changing climate.
Ministry Of Climate Change MOCC Jobs 2019
MOCC is a department that is coordinating with all the departments that are working in Pakistan to provide protection for example the department of weather forecast, department of public health and department of disaster management. So the area of its responsibilities is so vast and if you also want to join MOCC Pakistan then keeps reading this post below for more details about this job.
Name & Number of Posts
Last Date for Submission of Application Form: 22 Jan 2019
Eligibility Criteria
Eligibility criteria and all terms and conditions are written in the advertisement of Ministry of Climate Change Pakistan MOCC jobs 2019 and it is to be suggested and advised you that you must read this advertisement by click on it to make it large.
MOCC Jobs 2019 Advertisement
The below given advertisement is provided here at this page. The purpose of the page is to make sure recent changes. government of Pakistan ministry of climate change vacancy announcement new advertisement is available. The sustainable land management to combat desertification in Pakistan phase II is thee public sector development project of minister of climate change which offers employment on open merit against the following posts for MOCC Jobs 2019 Advertisement.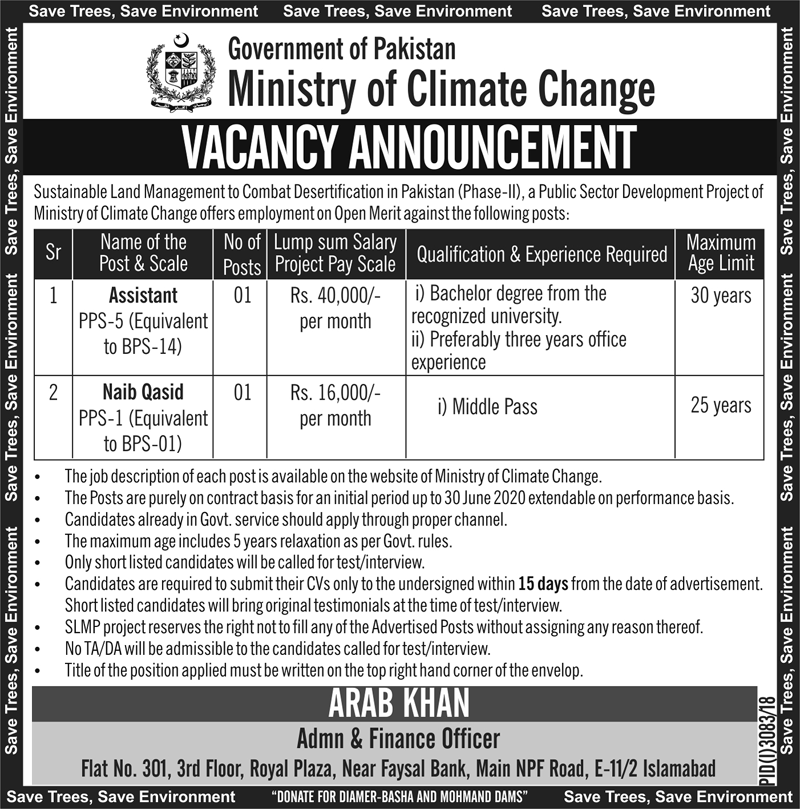 Check Also: PTS Motorway Police Jobs 2019
Ministry Of Climate Change Jobs 2019 Application Form
Submit Your CV At address mentioned on official Portal
So this is all about Ministry Of Climate Change Jobs 2019 Application Form and we have write down all the information and instructions along with advertisement and form for this job and we hope that you are all now fully aware with all the details for this job if it is not then leave your comment to us for further inquiry or visit the officials website of ministry of Climate change MOCC. The application form is going to make as per the decided way out. The apply procedure explained here all about the Ministry Of Climate Change MOCC Jobs 2019.