Now, every person is seeking the Ministry of Defence Jobs 2022 as assistance, Stenotypist, UDC and LDC are available here for all those nationals who are eligible for this relevant job. So if you are eligible and want to take a part in this department then this is the time to avail this golden opportunity by undertaking the appliance procedure. Here this page is providing you with the Job Post and the Eligibility Criteria and all jobs relating information. The Pakistan Ministry of Defense was formed on 14th August 1947 at the time of Pakistan's establishment. The main aim of the establishment of this department is to provide the defense budget and Pertains military exercises to Pakistan Army, Pakistan Navy, and Pakistan Air Force. The MoD is functioning under the set forth in Part XII, Chapter II of the Constitution. Khawaja Muhammad Asif is the current Defense Minister who is responsible for defending Pakistan from external military and nonmilitary threats. The General Combatant Headquarter GHQ, Navy Combatant Headquarter NHQ, and Air Force Combatant Headquarters AHQ are the major cooperator with the Mod Ministry of Defense department. Hence Jobs are available here in this department and if you want to get it now have to look down.
Ministry of Defence Jobs 2022 Assistant, Stenotypist, UDC, LDC
Ministry of Defence Jobs 2022 has announced different positions as well people can apply before the last date that 02 October 2022. Moreover, people are looking at the application form that is available on this page. Furthermore, the eligibility criteria of the jobs are mentioned below the page.
MOD Jobs Test Preparation 2022
MOD Job Post and Eligibility Criteria
Post of Job
Scale
No. Of Seats
Eligibility
Age
Domicile
Assistant
14
05
Graduation
18 to 33 including (5 years of general relaxation)
Sindh -1

Disable-1

Steno Typist
14
0
Inter. including shorthand typing 40/80 WPM
18-30 (Including 5 years of general relaxation)
Balochistan-1

Punjab-1 for Female

UDC
09
01
Intermediate
18-30 (Including 5 years general relaxation)
Punjab-1
LDC
07
03
Metric Including Typing Speed 30 WPM
18-30 Including 5 years of general relaxation
Merit-1
Driver
04
01
Primary, Attested Driving License, well known with rules
18-35 including 5 years general relaxation
Merit-1
Naib Qasit
01
08
Primary
18-30 Including 5 years of general relaxation
National
Labor
01
01
Primary
18-30 Including 5 years of general relaxation
National
Eligibility Criteria of Job
Criteria of the application submission are written on below the advertisement and all the candidates first read the criteria of the application and then apply. Becasue sometimes people do not meet the criteria of the job and then apply. So the administration will cancel your application.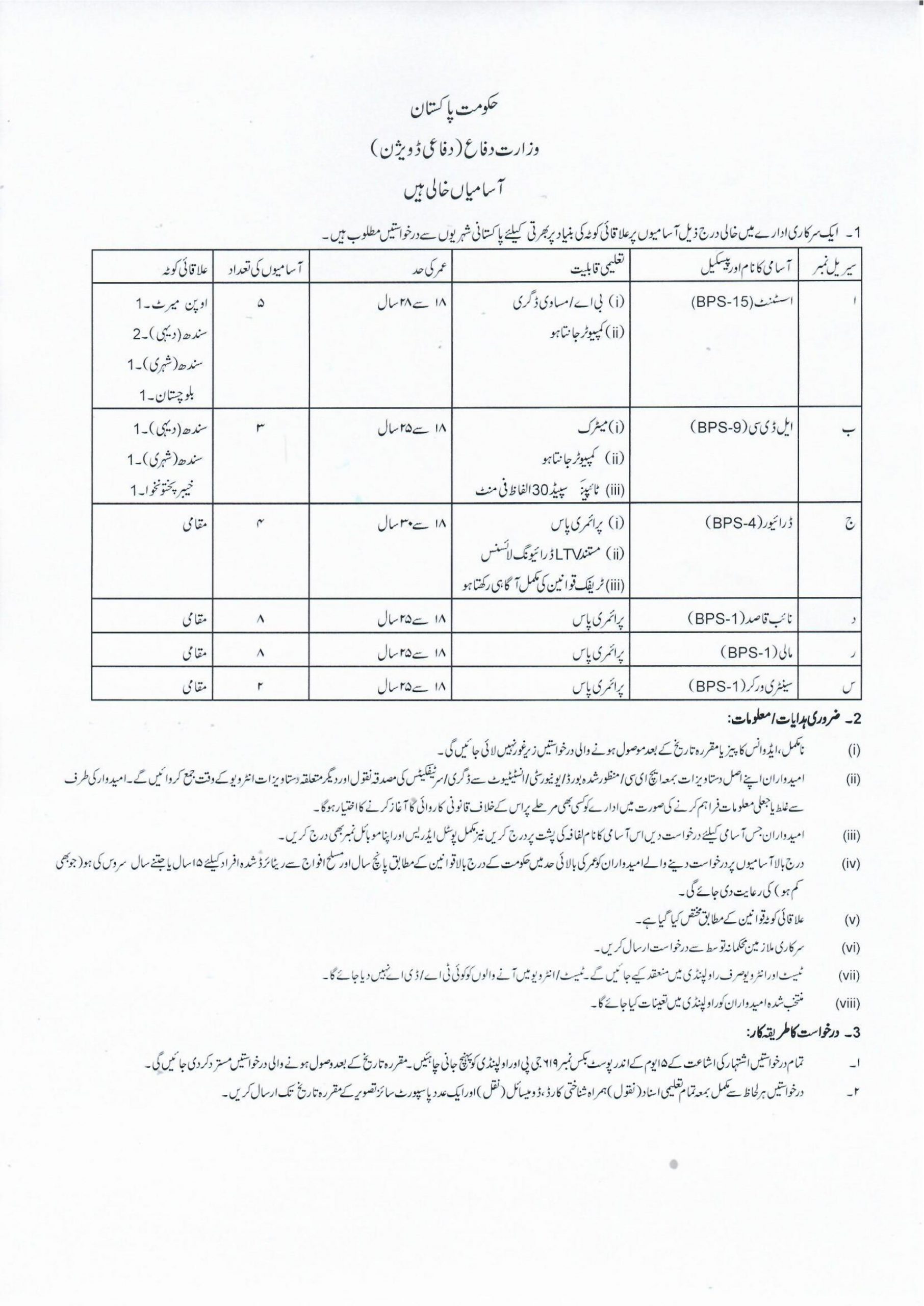 MoD How to Apply
Firstly download the MOD Jobs application.
Fill with complete valid details.
Send the application to the given address within 15 days after the advertisement is issued.
Ministry of Defence Jobs 2022 Assistant, Stenotypist, UDC, LDC Advertisement is available here above this page. You have to write the application on a simple page within 15 days of advertisement. All the eligibilities written above are extendable according to the different provinces in Pakistan. No TA/ DA will be provided for this so you are advised to complete the application procedure by the given instruction restricted by the officials of the Ministry of Defense Pakistan MOD.
For More Details Please Contact
Pak. Secretariat Number II, Rawalpindi
Tel: 9271431