National Data Base and Registration Authority NADRA Jobs In Pakistan 2018 Karachi, Islamabad Apply Online is now Announced by the officials. NADRA is inviting applications from all over Pakistan on the contract based jobs. NADRA will grant these jobs only to those candidates who meet the eligibility written here below and enlisting process will be perform according to the establishment division set for hiring new staff. So here on this page you will all eligibility criteria, how to apply, last date and application required documents. If you want to secure your future even in your disability then this is the time to get benefit from NADRA jobs 2018. You just need to read this entire page and response against the instructions within due date and time because if any application submitted after passing the due date will not be entertained in any case by the officials.
National Database and Registration Authority NADRA was established on 10th March, 2000 by the government of Pakistan. Purpose to form this authority is to keep the data base of all mature nation of Pakistan. In order to keep complete data base of any person in its record NADRA issue Computerized National Identity Card (CNIC). To perform all of its tasks NADRA hire responsible and eligible residents on all of its posts. So this time this well managed department is going to hire officers ranks staff. So scroll down this page to read about NADRA Jobs In Pakistan 2018 Karachi, Islamabad Apply Online.
NADRA Jobs In Pakistan 2018 Karachi, Islamabad Apply Online
NADRA Jobs 2018 in Islamabad
Management Associate
Assistant Management Associate
Registration Supervisor
Registration Executive
How to Apply in NADRA jobs in Pakistan 2018
To apply for NADRA Jobs 2018 process is very simple as you just have to make your complete CV in which your Name, Father Name, Contact Number, Address, Qualification and all expertise are broadly written. Put your CV into an envelope and write the name of post you are applying. Send this envelop on the NADRA Address written below within 15 days of advertisement.
Last Date For Submission of Application Form: 17 September 2018

Nadra Jobs 2018 Eligibility Criteria:
Well candidates the eligibility for both the cities either for Islamabad or Karachi is written in the following advertisement. Read the NADRA jobs 2018 advertisement.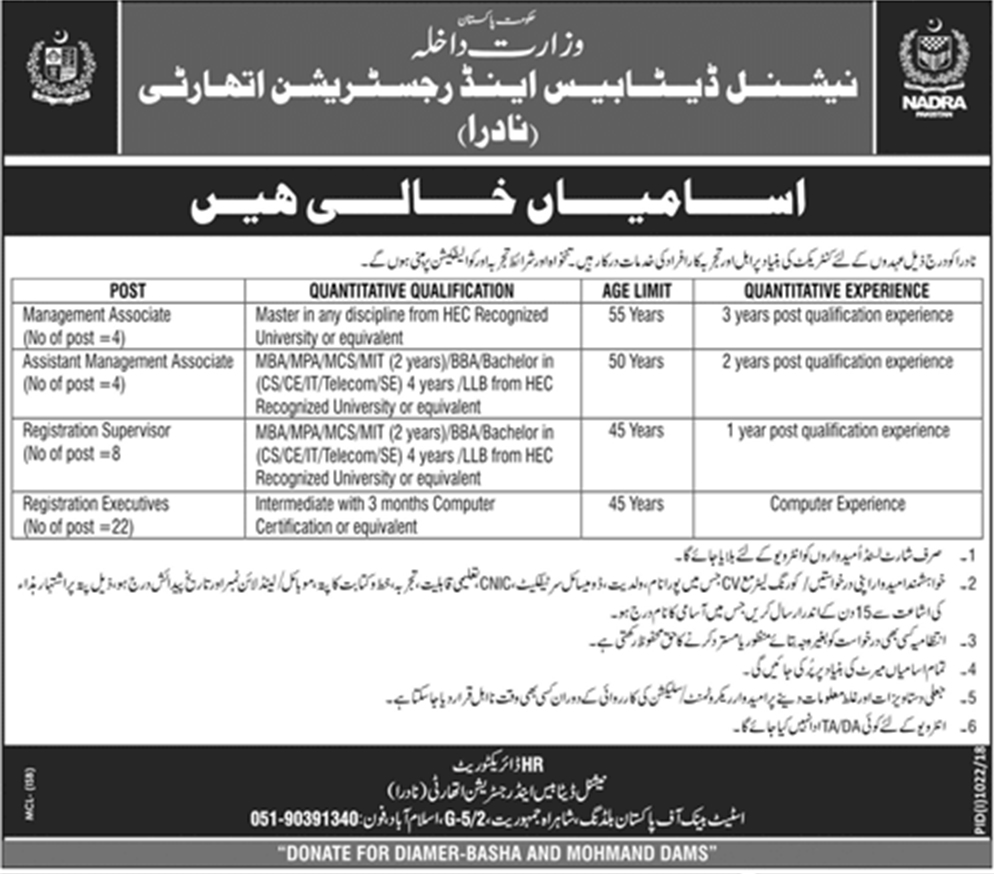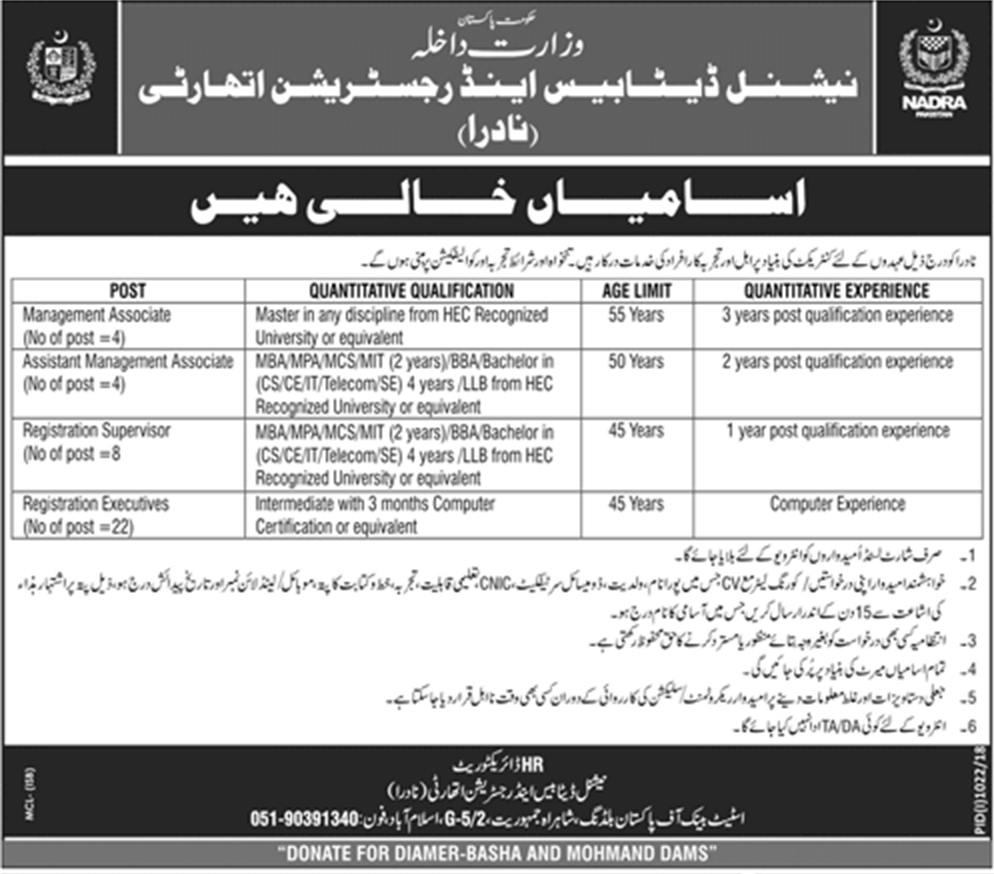 Hence this is all about "NADRA Jobs in Pakistan 2018 Islamabad procedure". Hope you all satisfy about NADRA jobs 2018 and ready to apply before the last date. Any application received after the last date will not be entertained. So as soon as possible submit your CV at the address of NADRA written in the advertisement for NADRA jobs 2018 Pakistan.