PMU LRMIS board of revenue jobs 2015 is lying vacant for the post of service centre official land records management. PMU-LRMIS, BOR, Punjab is inviting applications for 241 posts from all the districts and Tehsils of Punjab Province. If your qualification is minimum bachelors and and your age is between 20 to 35 years also typing speed in 40 W.P.M then you are eligible for this job but only when your application form is submitted before till the last date and it is dully filled and all the required documents are attached with it. So in order to get PMU LRMIS Board of Revenue Jobs 2015 you have to read this entire post carefully and complete all the process within last date for submission of application form so that your application can be entertained with the job enlisting process. Officials has divided the posts in quotas for disabled persons, minorities, for women and the quota for children of serving/ retired government employees. It is informed to disabled individuals that they have to submit their disability certificate which is approved by provincial council for re-habilitation of disable person of social welfare department. So overall we can say that it is innovative job opportunities for eligible candidates you must be apply for this job after reading the following advertisement for PMU LRMIS Land Records Management board of revenue jobs 2015 Service Centre Official.
PMU LRMIS Board Of Revenue Jobs 2015 Service Centre Official Land Records Management
PMU LRMIS Board Of Revenue Jobs 2015
Service centre Official
No. Of Posts: 241
Salary Package: Rs. 20, 000/- per months
Eligibility Criteria
Qualification: Minimum Bachelors with at least 2nd division form a HEC recognized University/ Institute
Typing Speed: Minimum 40 words per minute
Computer Skills: Six Month Diploma or Certificate in IT
Preferences will be given to those candidates who have at least 1 years experience in data entry and having basic knowledge of computer and internet.
Last Date For Application Submission: 13th – 07 July, 2015
PMU-LRMIS, BOR, Punjab       
How To Apply For PMU LRMIS BOR Jobs 2015
If you are eligible for this job then you have to send your application form along with CV by attaching all the required documents including SSC, HSC and Bachelors degree, CNIC, Domicile of Punjab with your application form latest by f 13th July, 2015. Photos copies of all the documents are to be attached with the form and bring the original forms on the time of interview.
PMU LRMIS BOR jobs 2015 Advertisement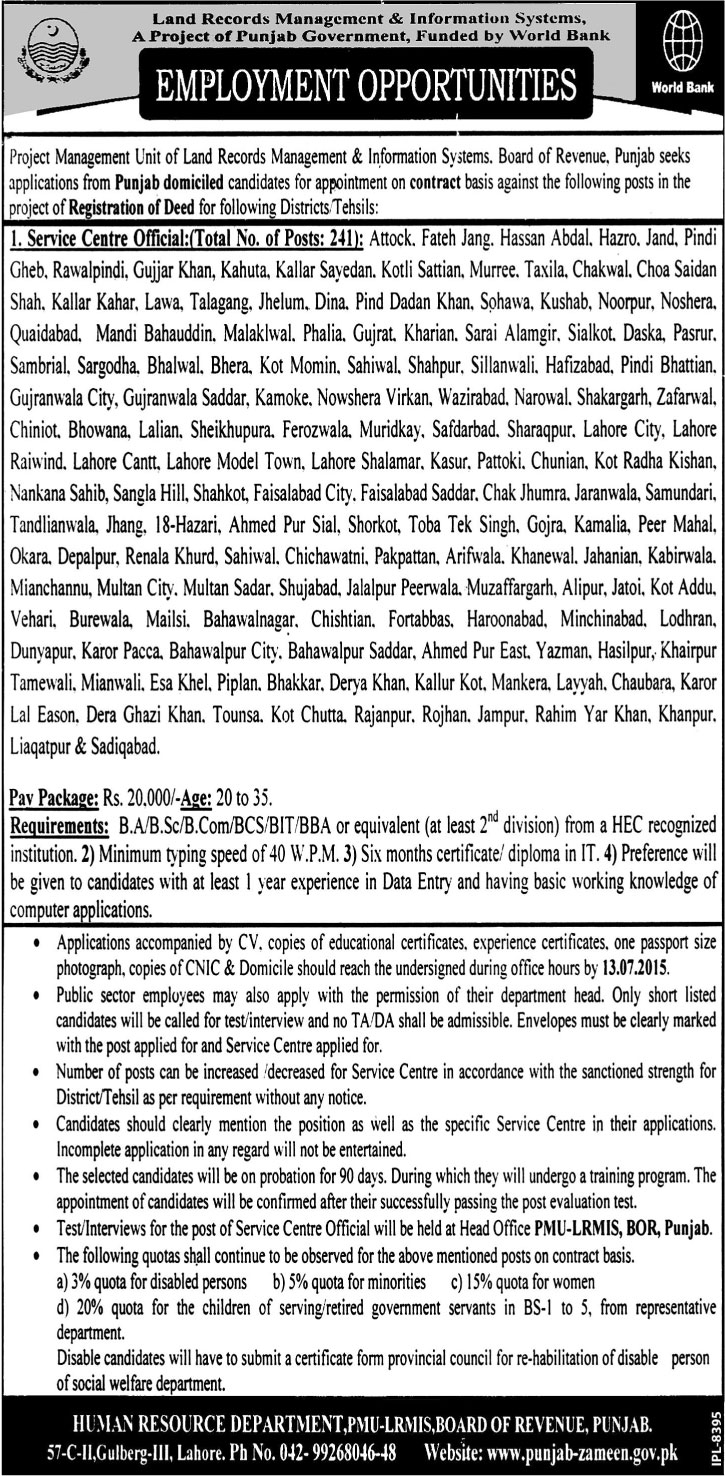 PMU LRMIS Land Records Management board of revenue jobs 2015 Service Centre Official are written here along with advertisement. You must read the advertisement and read the terms and conditions for how apply and quota for disabled, minorities, women and for children of serving and retired employees. In case of any further query you can leave your comment in the following comment box.