Punjab Public Service Commission(PPSC) announces 16 scales Jobs of Tehsildars has been announced in which including 02 Posts one is for Minorities and 1 is for Disabled Persons. PPSC Board of Revenue Punjab Tehsildars Jobs qualification is a must for the Graduation 2nd Division from a recognized University In Pakistan. In these Jobs, Law and Parliamentary Affairs are also included. PPSC Board of Revenue a well-reputed department of Punjab is offering jobs as follows. The Age limit, Qualification, and also Written exams is a must for getting these PPSC Tehsildars Jobs 2021.
As we all know that these Jobs are preferable in Punjab especially for Punjab's resident's Graduation.PPSC Board of Revenue is going to announce these jobs. Both males and females apply. Board Of Revenue announces these jobs as below given Schedule. The whole Criteria how to conduct written exams and what are key content follow up in that written exams are here discussed in detail. The Written exams as per history remind us is a tough job to complete it so be attentive while applying and giving this Written exam.
PPSC Board of Revenue Punjab Tehsildars Jobs 2021
PPSC Board of Revenue Punjab Tehsildars Jobs 2021 will release as soon because these jobs are under pipelines but when management will release then we will share on this page. On the other hand, according to the official page of PPSC 58 posts will come in the coming month.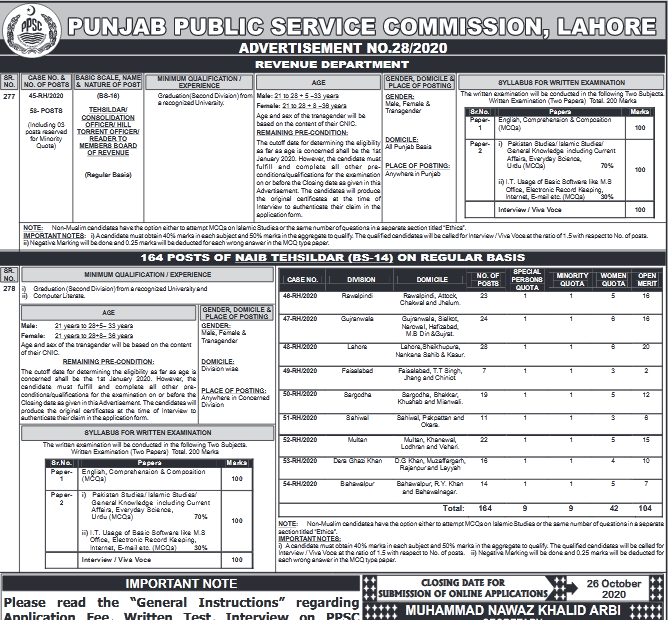 According to the advertisement, in the coming month, they will announce the 58 posts for Tehsildar and people would apply.
PPSC Board of Revenue Punjab Tehsildar Jobs 2021 applyOnline
Most of the people are finding the procedure to apply online because those people students who are living in urban areas are searching the method. So now we are going to write the all procedure to apply online.
Firstly, you will open the official page of PPSC
secondly, you will click on apply online
thirdly, the form will appear on your screen.
then you will select the designation in which you want to apply
you will provide all valid information about academic detail, personal information and click on submit.
after complete this procedure, you will receive an online fee slip.
you will pay fee dues in a recognized bank.
Eligibility Criteria.
Just only graduate people can apply for this post while the PPSC organization has decided the age limit above this age people can not apply. so becare full on the time of application. Because sometimes people cannot read the instruction and do apply but when he reached the examination center then management will not allow you and you will not give the paper.
Every year thousand pf the jobs will come through PPSC and many of the people apply but those people will succeed who attempt actively. So now the coming month is very important and the government will announce the PPSC Board of Revenue Punjab Tehsildars Jobs 2021 and when announce then people can apply.