Punjab Public Services Commission, Lahore PPSC is now offering in the Veterinary related fields so for all those candidates who have been qualified their qualifications in Veterinary educations from any Institute Recognized by University of Health and Sciences UHS. So if you are among those candidates who are searching for a reason able job to grow their future under a well motivated team i.e. PPSC Veterinary officers and Additional Principal, then you are on the exact page to get all related information as this page is updated for job according to the PPSC authority. PPSC is an authority which is responsible to grant jobs in Punjab to the provincial civil Services and management services. The Punjab Public Service Commission PPSC was founded with the establishment of Pakistan in 1947 under the provision of Government of India Act 1935. In 1973 the PPSC was functioning under article 242 accordingly to the Islamic Rules after this it has been provided the Business rules Autonomy in 1973.The Federal Public Service Commission FPSC is coordinating with PSSC to implement of rules and regulations according to the Act. Jobs are open in the following fields, Scroll down this page to apply online.
PPSC Veterinary Officer, Additional Principal Jobs 2014 Apply Online, Past paper
PPSC Available Jobs
Jobs are available under the rules and regulations decided by the Government of Pakistan of Veterinary Department for male and females candidates and their educational qualifications and Eligibility Criteria is Shown in the Following displayed Image.
PPSC Health Department
Job for Health Department will be allowance under the Serial Number of 175, Case number 301- RC / 2014.
PPSC Home Department
 Job in PPSC Hoe Department is allowed under the Serial Number 176 and Case Number 22- RG / 2014.
Live Stock and Dairy Development Department
Job for Live Stock and Dairy Development Department will be granted according to the Serial Number 178. Case Number 24. RG / 2014.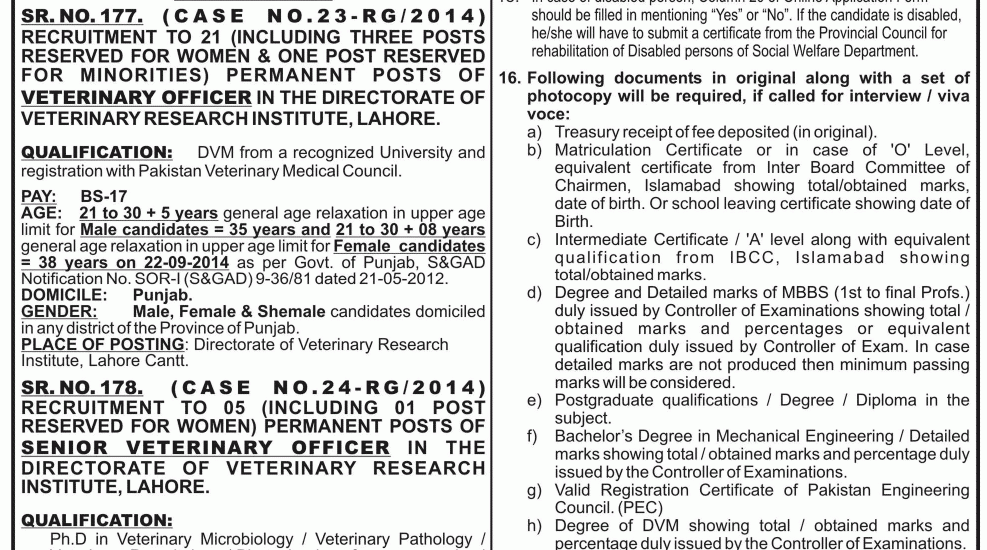 PPSC veterinary officers, Additional Principal Jobs 2014 jobs are available now and every willing candidate have to apply online from the official web side of PPSC. All related information like educational qualifications, Eligibilities, Age Limits and Basic Salary is mentioned in above giving image. Last date of submission of application form is also given i.e. 22nd September, 2014. So you are advised that if you are eligible and can chaise the required Merit then this is the time to pane about PPSC job in Veterinary fields. About this job any other information if the officials declared you will be able to get all that information on this page frequently so stay connected with this page.