Jobs are available now in Punjab Police for engineering related fields for all the Nationals of Punjab Province. Job will be granted only if eligible for that job. If you are among those who have qualified your qualification or have an experienced from any government institute and now willing to get some job in a reasonable rank then the opportunity is now available that jobs in a reputed public sector organization requires of qualified, energetic and self motivated candidates on the contract basses for one of its projects LCS-001. So if you have a wish to get job in Punjab Police then you have to read this entire article with attention. As job will granted on contract bases that if you choose according to the given eligibility criteria then you have to sign for a contract that you have to complete that contract in any of the case either you satisfied this job or not. According to officials that candidate has to apply that is more efficient and more regular in his work as he can perform well and gain a reputed name in his job rank so if you think that you have these abilities then you are advised to apply according to the given schedule.
Punjab Police Communication, IT, CCTV Engineer Jobs 2014 Apply Last Date
Job Positions
Following jobs are available in Punjab Police Sector for all those who are eligible for this vacancy.
Communication Engineer
CCTV Audio-Visual Engineer
IT Engineer (Network)
IT Engineer(Software)
 Available Punjab Police other Jobs 
Eligibility Criteria
Those candidates are only eligible who have experience in the related filed in which they are going to join as a contract.
Minimum qualification is Bachelor degree required for any position.
For all Positions Age Limit is Till 35 years old.
Other detailed Eligibilities are shown in this following officials providing Image. Have a look down.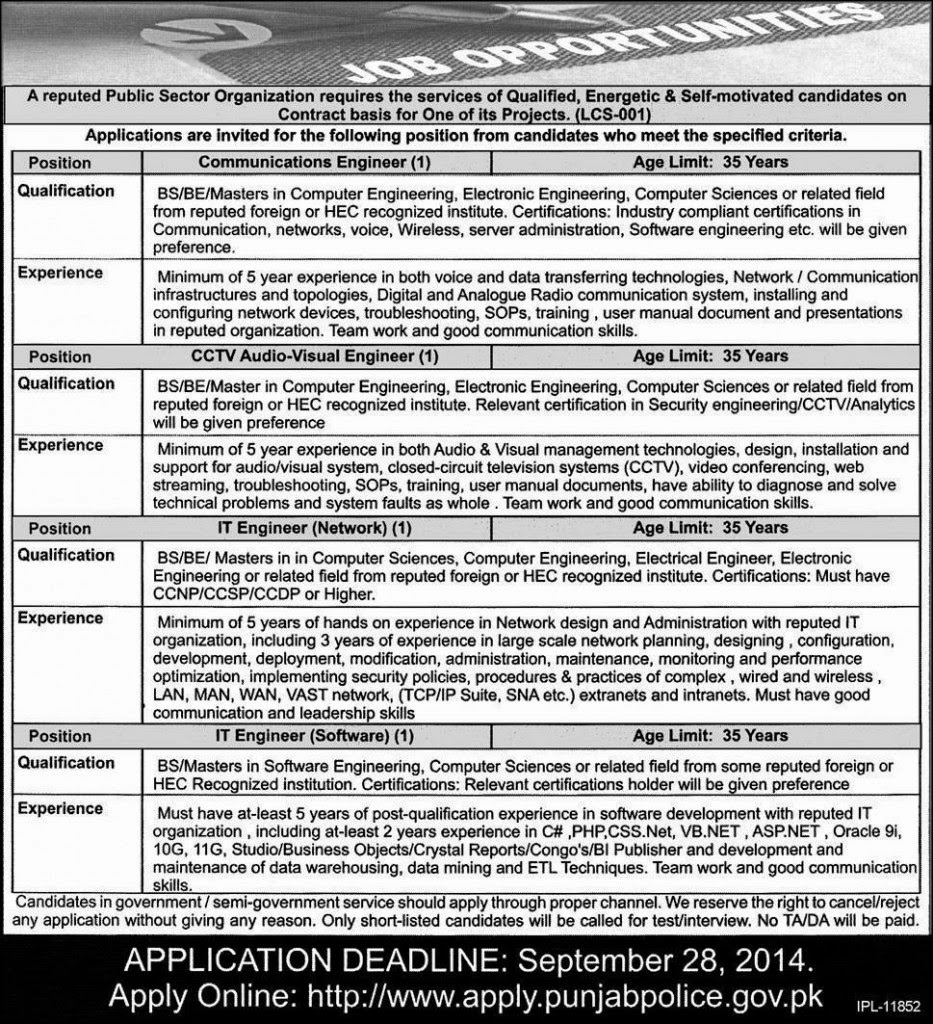 Apply Online Here
Punjab Police Communication, IT, CCTV Engineer Jobs 2014 Apply Last Date is available as the last date for appliance is 28th September, 2014. So you are advised to apply for your admission before the last date because any application submitted after this deadline will not be accepted in any case or any application submitted during date but there is any problem or missing will also be rejected without giving any reason. Punjab Police is a department which is providing the safety to its national from any of the crime according to the policy decided by the Government of Punjab. The motto of Punjab Police is serving and protect so it is working day and night for to prevent peoples from any misdeed. Its more the 180,000 active employees are working for it to make this department strong against crime.
Punjab Police Communication, IT, CCTV Engineer Jobs 2014 Apply Last Date has mentioned in the above schedule so you should follow the instructions before the deadline so you can be entertain for this job.