Government of Pakistan Ministry of Inter Provincial Coordination IPC Islamabad has announce the China Government Cultural Exchange Scholarship 2018 so students if you want to apply for this Scholarship then download NTS Application Form online from this page. Government of Pakistan and the China Government has given all the rights to the National Testing Service to conduct a GRE test from all those candidates who have completed their 16 years of education and now want to complete their Masters and Phd Degree from the China. This Cultural Exchange Scholarship 2018 are expected from China and Other countries. These Scholarships are funded as the donor countries provide tuition fee, Accommodation and monthly living allowance which are different from country to country as decided by the officials. The last date to apply for the Cultural Exchange / China Government Scholarship is 14th November, 2017 so that is why till then all the application form should be received to the officials and after the last date your application form will not be entertain in any case.
China Government Cultural Exchange Scholarship 2018 NTS Application Form
IPC Cultural Exchange Scholarship Eligibility Criteria:
All those candidates who have completed their sixteen years of education that must be MA, MSc or they have must hold four years degree programs BSc/ BS (Hons) in any subject, BSc (Engg), MBBS in the relevant Field.
Age of the candidates must not exceed above 35 years on the closing date of the Applications for this China Government Scholarship.
All the applicants must hold 1st class master degree or equivalent. Those applicants who have more than one second division in their all academic career are not eligible to apply for Scholarship
All the academic Certificate from Matric to onwards should be attested and then attached with the application form and send to the NTS Headquarter before the last date to apply.
This Cultural exchange Scholarship 2018 are awarded on merit determined on the basis of NTS written test score
If applicable then the selected candidates have to take the respective country language course too.
Those students who are waiting for their result are also not eligible to apply.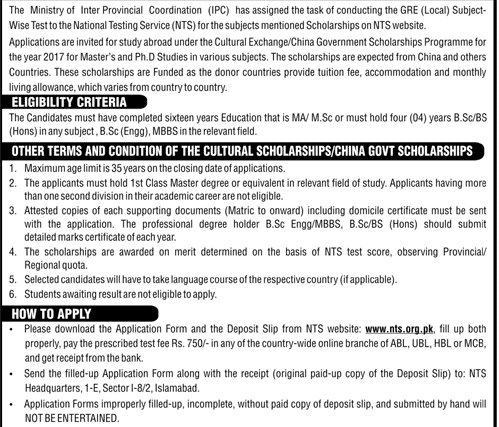 NTS Online Registration for Cultural Exchange Scholarship:
All the applicants can register themself online where an application form is full filled and download with the Deposit slip which you have to pay Rs. 750/- om any online branch of ABL, UBL, HBL and MCB.
CLICK HERE FOR REGISTRATION ONLINE
Your fully filled application form along with the Original fee deposit slip of NTS will be reached to the NTS headquarter 1-E, Sector 1-8/2, Islamabad before the last date.
Last Date to submit the NTS is 14th November, 2017
Al those form who received late or not fully completed will not be entertain in any case by the National Testing Service NTS officials.