CM Punjab Special Quota PEEF Scholarship 2016 8th Class Application Form by CM Punjab Mian Shahbaz Sharif Registration has been started so students can get scholarship to get Secondary Level Education. The Scholarship will be truly given on the merit basis as the eligibility criteria is given below in detail but here let us tell you about some important dates. As if you want to get the Scholarship for Secondary level education then the last date to submit the application form is listed below in the advertisement and the last date to submit the application form to the PEEF Office is 28th September, 2016. The Special Quota Scholarship is offered by PEEF which is The Punjab Educational Endowment Fund. The main aim of the organization is to provide scholarships to the eligible, talented and deserving students so that they also can get the higher education as the scholarship is divided into two categories that is Out reach Scholarship and Special Quota Scholarship, Then there are different four level of education where you can get scholarship under these two categories that are Secondary, Intermediate, Graduation and Master.
CM Punjab Special Quota PEEF Scholarship 2016
PEEF Special Quota Scholarship are awarded to
Orphan Childrens
Children of government servants in BPS 1 – 4
(children of both serving and retired Govt. servants are eligible)
Children belonging to minority religion
Special Children
Download Application Form
Download Affidavit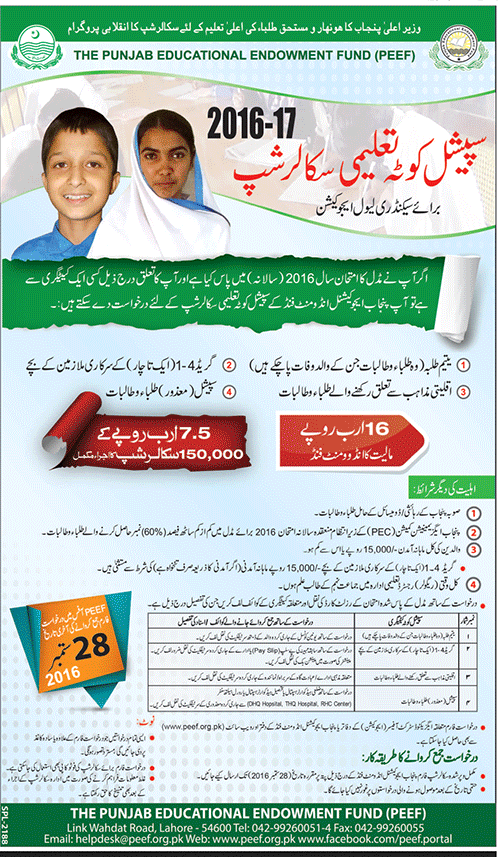 Process for the Secondary Level Special Quota Scholarships:
All the process will be received though the office of Executive District Officer (EDO) Education, District Focal Committee (DFC), Directorate of Special Education and partner institutions that are the part of this scholarship
All the applications received will be checked and then the shortlisted candidates will get their scholarship against each category they are applying.
It is requested to all the eligible candidates that the completely fill the application and submit this application form back to the PEEF Office before the last date of submission.
Then Management will prepare a list of the candidates whoa re deserving for this scholarship
Scholarship will not given directly to the students but will be given to the institution where the candidate is enrolled and is getting education.
Process for the Intermediate Level Special Quota Scholarships:
Dates for the final scholarship program will be given through the newspaper ad and then candidates have to submit their application form
Scholarship application form with the letter will be send to the residential address that is given on the application form
After filling the application form candidates have to return this form within due dates to the PEEF office
All the forms received at PEEF Office will be verified and checked
After that a merit list will be prepared  in which the eligible and deserving candidates will get the scholarship for the intermediate level.
Send Application form to the given address:
The Punjab Educational Endowment Fund (PEEF)
Link Wahdat Road lahore
PH: 042-99260051-55