Scholarships are available for the faculty members of HEC recognized universities present in Pakistan. All applicants who are eligible for this scholarship can check HEC Faculty Development Program 2019 Advertisement Online Application Form Date from this page. This scholarship is for those members, who have Masters degree or 18 years of education from any recognized institute. Through this scholarship, the candidate would be allowed to travel abroad for the period of 6 months to 12 months for research purpose. It helps candidates who are non-PhD to pursue their PhD program. Those applicants who are interested in HEC faculty Development program 2019 must have to apply before the last dates to get scholarship. This scholarship is being provided by the Higher education Commission HEC. Applicants can also check HEC indigenous Scholarship for PhD 2019 from this page too. In this article, you will learn about the HEC Faculty Development program 2019.
HEC Faculty Development Program 2019 Advertisement Online Application Form Date
The below given latest advertisement is going to consider here at this page which means the advertisement has all aspects to consider as per the foundation where it applies throughout the way out. The online application form can makes the truth about the perfect material approach and focused enough for the latest implication as per the justified way.
HEC Faculty Development Program overseas Scholarships for Public Sector Universities

Faculty Members of specified universities who are the natives of Pakistan or AJK are eligible
It is compulsory for applicant to hold at least 18 year of education such as MS, MPHIL or equal degree
It is must to have first division or 3.00 CGPA out of 4 or 4.0 out of 5.0 CGPA
Only those applicants will consider eligible who have maximum 2 2nd division and no 3rd division throughout his academic career.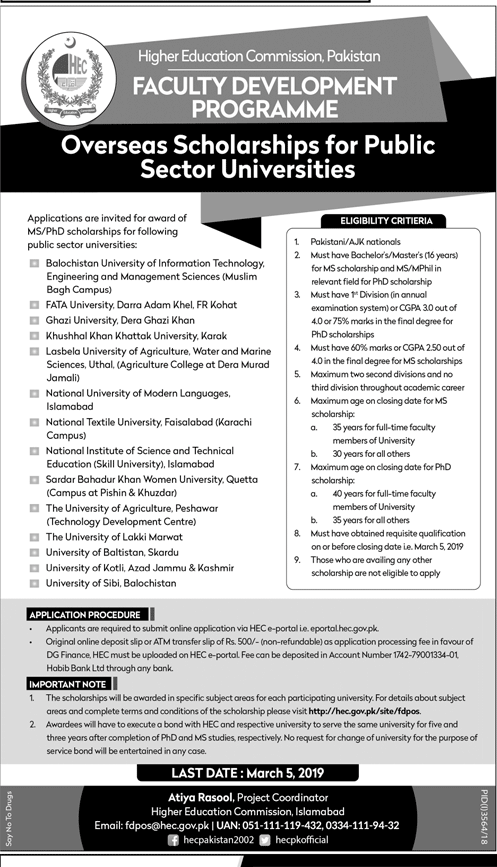 Maximum age limit is 40 years for regular employees and 35 years for others
An Aptitude test HAT test is compulsory to pass with at least 50% marks
Applicant who are already obtaining any other international scholarship are not eligible
Applications will receive from those applicants who are the member of these following universities which are mentioned in below latest advertisement
Faculty Development Program 2019 Advertisement Last Date:
Last Date to apply for this scholarship program is 5th March, 2019

The date is final and advertisement has final approach to know the best way out. If you found the advertisement and page details not enough and wants to get more knowledge about the program then click below and you can find all details including Faculty Development Program 2019 Advertisement Last Date.
HEC Faculty Development Program 2019 Application Procedure:
As you reader know that HEC Faculty Development Program has just started by the Higher Education Commission. Applicants are allowed to submit online application forms through HEC site. Those who want to do online registration at eportal.hec.gov.pk/ofdp. It is also mandatory for applicants to submit 500 in Habib Bank Limited. It can also be submitted through ATM transfer slip. Those applicants who will not submit their application till 5th March, 2019 will not consider eligible. Please check the latest advertisement from this site too.