Khyber Medical University KMU Peshawar Admission 2017 Undergraduate, Postgraduate for the programs of M.Phil, PhD,  Masters in Public Health, MS, BSc, Nursing, DPT, MBBS and BDS is annouced so all those candidates who wanted to be a part of the KMU Peshawar have to respond according to the given schedule as the University officials are very strict in the dates and schedule so all those admission application form that will be received after the last date will not be entertain in any case so make sure that your admission form will receive within the due date. Khyber Medical University KMU does not need any introduction as this is one of the best and the biggest Medical University of the KPK Province so that is the reason all those students who have completed their Intermediate in FSc Pre Medical wish to take admission in the KMU Peshawar but for this wish comes true these students have to go through a entry test which is being taken by the ETEA which is an testing agency of all the medical and engineering colleges of the KPK province so stay in touch with this page and get all the latest updates which may be useful for all of you in order to take admission in the KMU Peshawar.
Khyber Medical University KMU Admission 2017 Undergraduate, Postgraduate
Admissions are open in different institutes of the KMU Peshawar as these are listed below
Institute of basic medical science (IBMS):
M.Phil program in Anatomy
M.Phil program Pharmacology
M.Phil program Hematology
M.Phil program Physiology
M.Phil program Microbiology
M.Phil program Histopathology
M.Phil program Biochemistry
M.Phil program Molecular Biology
Institute of Public Health & Social Sciences (IPH&SS)
Master in Public health program
Master in public health (maternal & child health) program
Master in Public heath (non-communicable disease) program
Master in epidemiology & Bio-Statistics program
Institute of Health professions Education & Research (IHPE&R)
Masters in health professions education (MHPE)
Masters in health research (MHR)
Institute of Physical Medicine & Rehabilitation (IPM&R)
MS Physical Thraphy
Transitional DPT
Institute of Nursing Sciences (INS)
Master in Nursing Sciences
Institute of Paramedical Sciences (IPMS)
Doctor of Physical Therapy
BS Nursing
BS Paramedics
BSC nursing post RN
Eligibility Criteria and Admission Schedule:
Khyber Medical University KMU Peshawar complete eligibility criteria along with the admission Schedule is available down in the official advertisement. This advertisement is officially announce that is why there is no doubt on the authentic information put into it. The official advertisment is also uplaoded to this page so what you simply have to do is just click on the image below and then the image will be open in front of you in larger size so that you could read everything easily.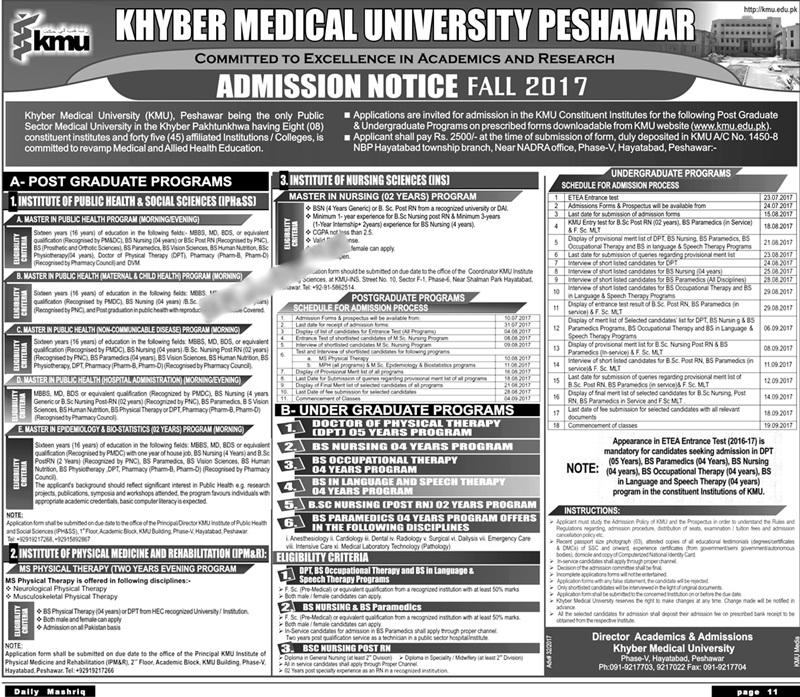 Khyber Medical University KMU Peshawar being the only public sector medical university in the KPK having seven constituent institutes and twenty seven affiliated institutes is committed to revamp medical and allied health education so applications are invited for admission in the following program according to the given schedule on  prescribed form which can be download online. All the applicants shall pay Rs. 2500/- at the time of form submission of form duly deposit in KMU A/C No 1450-8 NBP Hayatabad township branch Phase 5 Hayatabad Peshawar.