Cadet College Okara Admissions 2018 1st Year Form Entry Test Result, date and complete admission procedure is written here with details. Cadet College or Military College Okara is inviting admission form from the eligible students. Here in this post we have arranged complete eligibility criteria, selection procedure and admission date schedule is written in this post. This is the 4th entry for admission in class first year 2018 in which only those candidates will be attended who will pass the entry test and their age till on 1st August, 2018 should not more than 17 years. Alongside the age and criterion, there is a written entry test form all the matriculation passed candidates in the subjects of Physics, chemistry, Mathematics and English. Those who will meet the eligibility criteria and will pass the entry test will be call for a physical checkup at CMH hospital Okara. A candidate who will pass from all these procedures will only be entertained with the Cadet College Okara Admissions 2018 1st Year. So keep on reading this post to get further details about this admission including admission prospectus and its fee, selection procedure and other terms and conditions for taking admission in cadet College Okara in first year intermediate.
Cadet College Okara Admissions 2018 1st Year Form Entry Test Result
Cadet College Okara Admission 2018 Programs
Cadet College Okara has announced the advertisement of the admission sin first year intermediate 4th entry admissions 2018. It has write the complete admission criterions in this advertisement and you are all have to read this advertisement…
Admission Procedure
Before taking admission you have to make sure that you are eligible or not. After that you have to obtain the admission prospectus along with admission from in Rs. 1000/-. You can download the admission form from the below given link, or you also can obtain the prospectus and form from the college admission form. After that, fill in the form with full concentration and attach all the documents with it. Resubmit your form to the admission office before till the last date of submission of admission form 7th May, 2018. After receiving admission form officials will analyze your form and will send you a call letter for a written test on 12th May, 2018. Those who will pass this test will be call for medical checkup and interview and that's it.
Download Cadet College CCO admission Prospectus
Download Admission Form
Last Date For Submission of Admission Form: 7th May, 2018

Entry Test Date: 12th May, 2018
Admission Eligibility, Requirements
Complete Cadet College Okara Admissions 2018 1st Year Form eligibility criteria and requirements are written in the advertisement below of this passage, so you must click on the advertisement below to make it bigger so that you can read the lines clearly.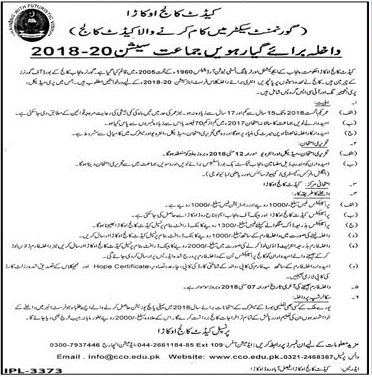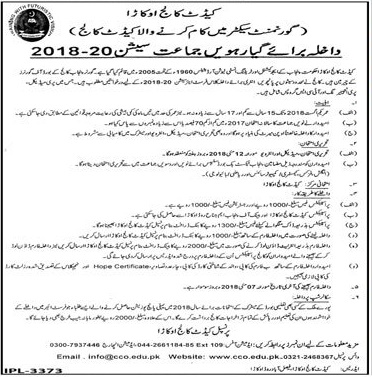 Hence this is all about Cadet College Okara Admissions 2018 1st Year Form Entry Test Result. Admission prospectus, military, cadet college okara admissions in 4th entry – 11th class admissions 2018 eligibility criteria is written here. Or for any further query or inquiry send your FAQ via comment box.