EVS Lahore Admission 2019 Fee Structure Form and other details is now open in different courses so id you want to be a part of EVS then apply Now. EVS Professional Training Institute Lahore is the one of the best institute that offered the different professional courses. their staff are too competitive which one are deliver the knowledge and where people become originally professional. Evs offer different courses all courses admission are open for upcoming session. Evs Institute is famous in web related courses, like php, mysql.web designing etc
Courses Offered in EVS:
Certified .NET specialist
Certified Project Management Professional
Certified SQL Server Specialist
Certified java Specialist
Certified Network Administrator (PHP+MySql)
Managing Projects Using Microsoft project
Windows Presentation Foundation
Microsoft Sharepoint server
Windows Communication Foundation
Certified Graphics Designer
EVS Lahore Admission 2019 Fee Structure
EVS is the leading professional IT Training institute of Pakistan. 10,000 plus students got training at our training centers in Lahore, Rawalpindi / Islamabad and Faisalabad. EVS are associated with Microsoft as Microsoft IT Academy, with CISCO and CISCO Network Academy and Prometric INc. USA as Authorized Prometric Testing Center. EVS is also two time winner of the "Brand of the Year Award" in "IT training" category.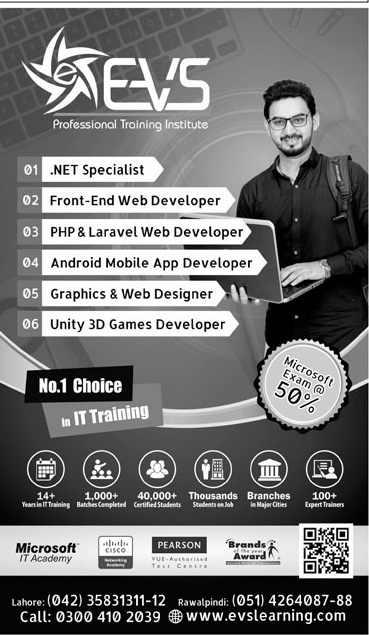 EVS has designed several professional courses to fullfill requirements of software industry of Pakistan. Some of the courses are designed for individual and some are designed for organizations, Professional IT Courses for Indiviual are offered in the form of regular courses at EVS institutes in Lahore and Rawalpindi/Islamabad. Courses for organizations are designed to meet their requirements and may be delivered at thier sites. Every course is designed and developed by experts from industry and covers theoretical and practical aspects of the subjects. EVS courses are also supplemented by especially designed material for the course. for other information of EVS Lahore Admission 2019 Fee Structure contact on below given address.
 For More Information Contact:
Lahore: 0300-4102039
Rawalpindi: 0333-8885779
Faisalabad: 0333-490907