Hazrat Bari Imam Sarkar HBS medical and Dental college Islamabad admission is open for MBBS. All candidates having at least 70% marks are allowed to apply for the HBS Medical And Dental College Islamabad Admission 2022. It is a private medical institute that was established in 2015 in the memory of great Sufi saint Hazrat Bari Imam Sarkar. It is recognized by the Pakistan Medical and Dental College and the Ministry of National Health Services, Regulations, and Coordination. This medical institute is also affiliated with the Shaheed Zulfiqar Ali Bhutto Medical University. HBS Medical and College Islamabad offers MBBS and BDS admission every year for students who want to pursue their careers in these fields. It is also enlisted in the World Directory of Medical Institutions. This college has also its affiliated hospital named HBS General Hospital for medical training. This college has made its place in the list of best Private Medical Colleges in Punjab for MBBS. In this article, you will learn about the HBS Medical College Islamabad Admission.
HBS Medical And Dental College Islamabad Admission 2022
HBS Medical and dental college are located in Islamabad but they are doing the admission according to PMC guidelines because before admission PMC conducts the entry test then they decide about your admission. While if you pass the entry test then your admission will confirm.
| | |
| --- | --- |
| HBS Medical and Dental College Admission Last Date | November 2021 |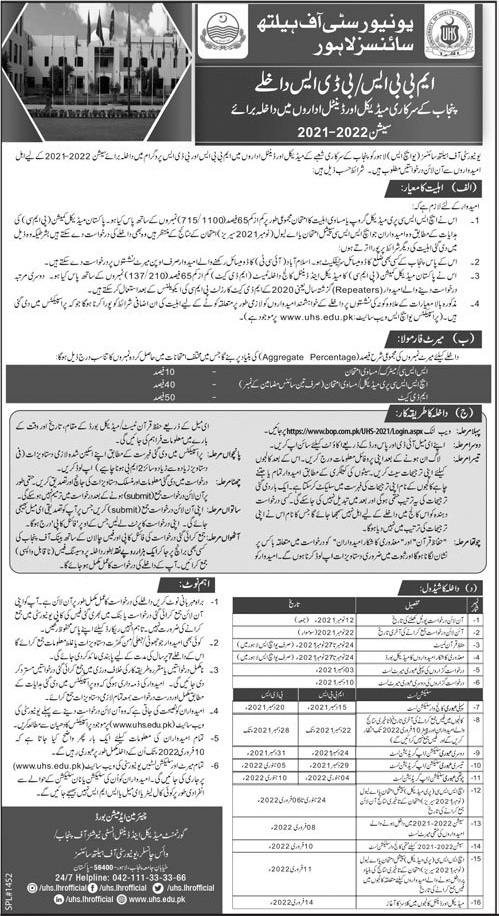 How to Apply
Visit www.admissions.szabmu.edu.pk/privatefor online application.
Register with a valid email address and CNIC/Smart card.
After registration, the applicant can complete his admission form.
The admission fee is Pkr.3000/- per category of the seat.
Incomplete application can't be considered by the University.
Those applications which will receive after 30 November 2021 will not consider for admission.
HBS Medical and Dental College Admission Eligibility Criteria:
Students having at least 70% marks in FSC pre-Medical are allowed to take admission in HBS Medical and Dental College
Applicants should pass the MDCAT-2019 with a minimum of 60% marks to apply for HBS College.
Students having A levels or other international programs are also allowed to take admission after submission of equivalence certificate which is obtainable from IBCC.
Foreign students have to pass the SAT exam with a minimum of 550 marks in each subject i.e. Biology, Physics, and Chemistry.
There is no reserved seat and all admission will be on a merit basis.
All regional and provisional medical entry test is also acceptable
Documents Required
1 Copy of each SSC/HSSC official board result and for Foreigners copy of O-Level/A-Level issued by IBCC.
1 Copy of MDCAT-2019 results for local students.
1 copy of Domicile certificate, applicant's CNIC/Form B, Father/Guardian's CNIC, Passport size photograph and If the applicant is Hafiz then a copy of Hafiz-e-Quran certificate.
Copy of SAT-2 exams for Foreigners.
Merit Formula for Admissions:

50% Marks from FSc.(Pre-Medical)/HSSC/Equivalent
50% Marks from the Admission Entry Test
All information about HBS medical college is mention for the knowledge of the people who were seeking and people can apply online but when they will apply then they will mention valid information because if they provide invalid information then management will reject your application.