Admissions are now open in Yusra Medical and Dental College for the programs of MBBS, BDS for the session of 2017 so all those candidates who have clear the Intermediate examination with Science subjects, F. Sc (Pre-Medical) or equivalent can apply for admission. So all the Candidates who wants to continue their studies in Medical fields and want to be a doctor in future, then the chance is now available they get admission in YMDC this time. Wishing Candidates have to complete the process of admission respectively within the valid date and time, so they can entertain and treated by the officials for taking admission in YMDC. The YMDC is providing the best quality education for all its enrolled candidates ad this was established in July 2010 with the missionary fever to cater the needs of the society by team of extremely dedicated and committed health professionals who have vast experience in the field of medical education to establish a center of excellence at national and international level. The Yusra Medical College is recognized by the Pakistan Medical and Dental council PMDC, Government of Pakistan. It is affiliated with the Bahria University BU is a well known University in all the fields of Medical and Dental Faculty. So if you are among those Candidates who want to get admission in the Yusra Medical and dental college has to complete the following given process of taking admission. Have a look down for it.
Yusra Medical College MBBS, BDS Admission 2017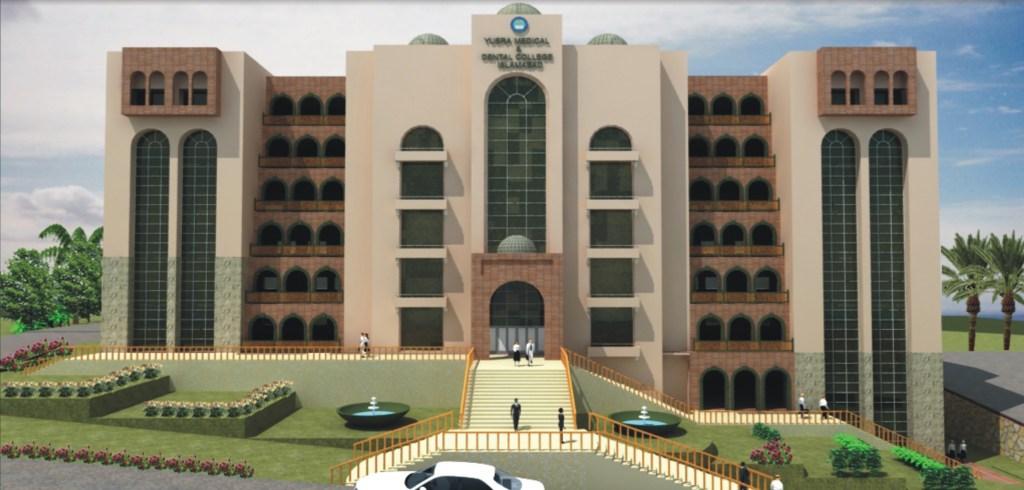 Admission Form
The admission form is a document through which you can apply on first hand for your admission. Candidate who wants to get admission in YMDC can buy the prospectus along with the application form from the college main office. So buy the prospectus read it carefully and fill it dully with correct information and resubmit it to the same office before the last date. The availability of forms is continue from the college main office but the last date of submission of admission form is not yet declared by the officials. So visit the college accounts office for admission, because any application submitted after the last date will not entertain in any case.
Eligibility Criteria for Pakistani Students
Pakistani Students possessing any of the following qualifications are eligible for consideration.
Both male and female candidates are eligible for admission.
Candidate should secure minimum 60% marks in pre-medical group on intermediate certificate (F. Sc) in Pakistan.
Candidate securing more than 60% marks will prove competitive.
Eligibility Criteria for foreign Candidates
All foreign qualifications must be supported by an equivalence certificate issued by the Inter Board Committee of Chairmen (IBCC).
Candidates from British advanced level certificate should secure minimum 60% marks in Biology, Chemistry and Physics, Certified from IBCC.
US Grade-12 or Canadian Grade-13 Diploma(minimum 3.0 GPA) accompanied by an equivalence from the IBCC of the Least 60% F. Sc Pre-Medical ( Biology, Chemistry , Physics)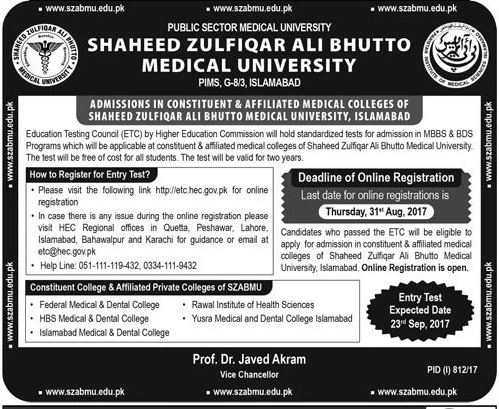 Entry Test
The entry test for Yusra Medical College MBBS, BDS Admission 2017 Form, Last Date is an objective type of examination with multiple choice questions (MCQs) based on the standard of F. Sc (pre-Medical).Each MCQc is followed by four possible answers from which the candidate have to select the one correct.  The Entry test will conduct in Physics, Chemistry and Physics Subjects in the ratio of.
a)      Biology 45%
b)      Chemistry 25%
c)       Physics 20%
d)      English 10%
Entry test will not conduct from those candidates who have already appeared in SAT by the Government of Pakistan with 550 marks.
Interview
After the entry test, an interview is the final step of taking admission in Yusra Medical and Dental College. Selected candidates will call by the official for interview then finally they get admission in YMDC.