SKANS School Of Accountancy Lahore Admission 2023 is open so all those candidates who want to take Admission to the Skans School can apply with their application form today.  and along with that, you can also have a chance to save Rs. 50,000. If you have cleared your Matric class and thinking of what will do next then do not waste your time taking admission in the ACCA in SKANS to secure your future. In the field of Account, ACCA is a highly regarded qualification. ACCA is an abbreviation for Association of Chartered Certified Accountants and this is the largest accountancy body right now as it got members in 170 countries all over the world with more than 432,000 students and 154,000 members. When you have an ACCA degree in your hand then you can get a job anywhere in the world whether in industry, financial services, or the public sector. ACCA offers four core qualifications.
SKANS School Of Accountancy Lahore Admission 2023
SKANS was established in the year 1992 and since its first day of inception, this institution totally focused on delivering quality education to the students of Pakistan. SKANS is famous and known for its accounts courses. The current CEO of the SKANS School of Accountancy is Sajid Hussain.
A suite of awards, including certificates, diplomas, and a revised Certified Accounting Technician (CAT) qualification – (Foundations In Accountancy)
A Professional Qualification enabling members to reach the highest level in accountancy – (ACCA)
A Bachelor of Science in Applied Accounting which is centered on the needs of employers for practical, professional accounting – BSc (Hons)
A Masters's in Business Administration designed to broaden business understanding and enhance strategic decision-making – (MBA)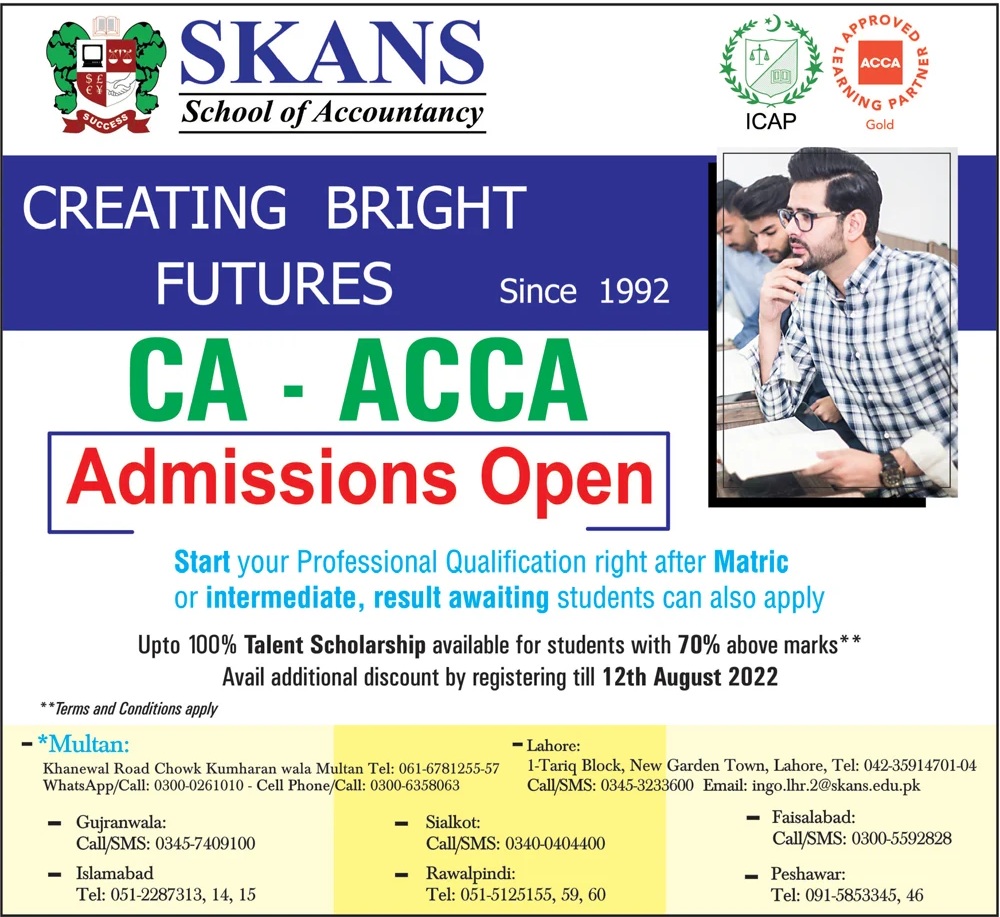 SKANS Admission 2023 Last Date
When SKANS announces admission for a new session then the last date for application submission announce by the official. All candidates will submit the admission form before the last date.
Since the first day of the inception of SKANS School Of Accountancy Lahore Admission 2023 this School is focusing just to provide quality education to the students this is the only reason why this college got so much fame in such a less period of time. CEO of the Skans School Sajid Hussian said that the vision is not just to provide the professional accountant manager but also to train them so that they should be a responsible citizen of the nation and eligible enough to capture a position as Finance luminaries and strong leaders in the business world.
For More Information:
Centralized Admission Office:
1-Tariq Block, New Garden Town, Lahore