FA, FSC Admission for the session of 2018 is open in Kinnaird College For Women Lahore as the Kinnaird College is the best educational Institute at the intermediate level for Women of the Punjab. Intermediate class at the Kinnaird College were started before the independence in 1913 and then after four year the bachelor classes in simple Arts BA were started. The recent building of the Kinnaird College near Canal were brought up here in 1933 and as after the independence the college came in the portion of Pakistan so it becomes the responsibility of the Pakistan Government to run this college and to provide education to the women of the Pakistan. Motive of the Kinnaird College For Women Lahore is to provide the quality education to the students of the Pakistan with the most efficient, well educated and experienced faculty members and management staff. Every year there is a crowd of women who wants to take Kinnaird College For Women Lahore FA, FSC Admission 2018 but not every single women can do so as the admission will be allocated totally on the merit basis so if you lies in the merit criteria only then you will be able to get admission in the Kinnaird College For Women.
Kinnaird College For Women Lahore FA, FSC Admission 2018
Eligibility Criteria:
Applicants with Matricultaion:
85% marks in Matricultaion for admission in FSC pre-Medical and Pre-Engineering
75% marks in Matriculation for admission in ICS (Physics), ICS (Statistics), ICOM, General Science and FA Humanities
Applicants with matriculation in science can apply to both FSC and FA, whereas applicants with matriculation in arts can only apply to FA.
Applicants with 'O' Level/Equivalent Examinations:
Applicant whose send up results indicate that they are likely to obtain 6 as or more in O levels can apply for admission to FSC while those with 3 As, or more can apply for admission in FA
Applicants who have done O levels will apply at the same time according to admission deadlines with provisional certificate from their school.
Copy of the marks sheet must be submitted to the college as soon as the result is declared.
Kinnaird College For Women Lahore FA, FSC Admission 2018 Merit list:
Kinnaird College For Women Lahore FA, FSC Admission 2018 Schedule:
Complete Schedule

Availability of admission forms
July 24, 2018
Last date for submission of admission forms
August 01, 2018
Announcement of Merit List (Open Merit)
August 04, 2018
Last Date for payment of Fee
August 09, 2018
Sports Trial
August 13, 15, 2018
Interview for Extra Curricular, Kinship, Minorities, Disable
August 13, 156 , 2018
Announcement of Merit list (Categories)
August 17, 2018
Last date for payment of fee
August 30, 2018
Result Verification (O Level)
August 16, 17, 2018
Announcement of Merit List (O Level)
August 29, 2018
Last date for payment of fee (O level)
September 04, 2018
Orientation of New Students
September 10, 2018
Kinnaird College For Women Lahore FA, FSC Admission 2018 Advertisement: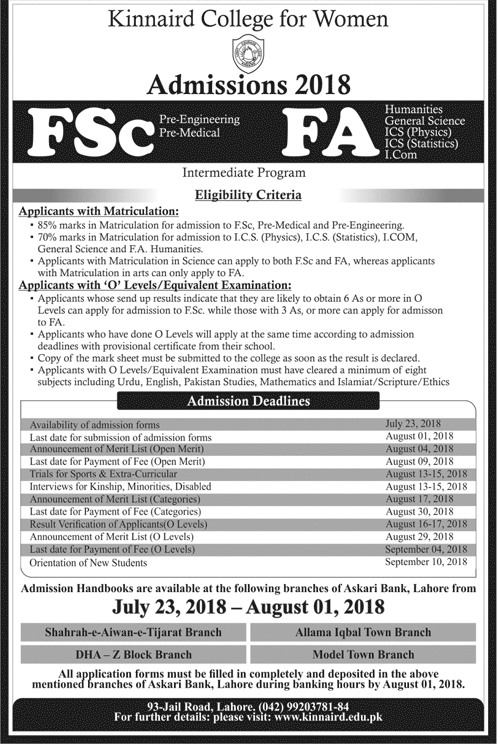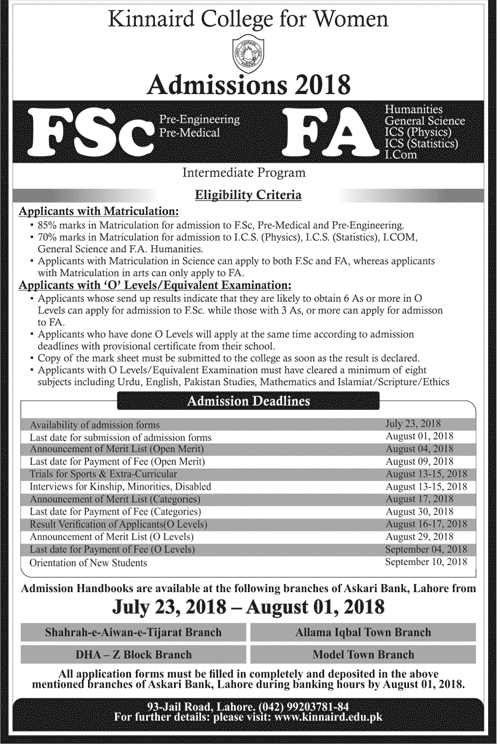 For More Information Contact:
Kinnaird College for Women
93- Jail Road, Lahore
Tel: +92 42 920 3781 – 4
Fax: +92 42 920 3788