Lawrence College Murree Admissions 2018 are now open so the Admission form and admission Entry Test Result is available to this page so that candidates while sitting at home could know easily that whether their admission is confirmed in the Lawrence College Murree or not. It been 153 years that the institute is providing quality education to the students that is the reason that every year when the Lawrence college open its admission to any class their are a huge crowd of students who wants to take admission in that college but due to limited number of seats it is not possible for the college to allow admission to such a huge number of students that is why the college arrange an admission entry test and then only those candidates who get really good passing marks in the admission test will be able to take admission in this college and other students are rejected. The college name was on the person who bring the idea of the institution that is Sir Henry Lawrence. so the Lawrence college were established in year 1860 as a asylums and then this asylums were announced as the school in year 1914 and then promoted as a college in 1926. The college is divided into three section as the first section is Junior School that is for the class from 1 to 4 and then second section is Preparatory School that is from the class 5th to 7th and then the third section is Senior School that is from the class 8th till the intermediate.
Lawrence College Murree Admissions 2018
Lawrence College Murree Application Forms:
All those students who wants to be a part of the Lawrence College Murree can get the admission form from the college campus from the 15th September, 2017 but before the 19th November, 2017 the forms should be returned to the officials after completing the data with correct and accurate information as this will be the last date but for the easiness of the students if candidates are not able to submit the form till 6th May will be rejected to accept their admission forms. After receiving admission form the candidates will have to appear in the entry test of Lawrence college Ghora Gali Murree on 2017.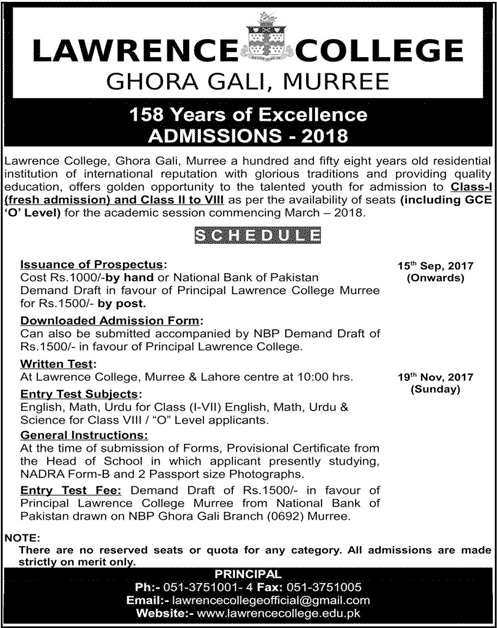 Lawrence College Murree Admission Entry Test Result:
All the students who have submit the admission form to the Lawrence college have to appear in the admission entry test that would be taken on the 2017 at Lawrence College Murree so students it is very compulsory to appear in this test as only the way to get admission is to clear this entry test after then admission test Lawrence College Murree Admission Entry Test Result 2018 will be uploaded to this page so that students while sitting at their home can check that whether their name is confirmed for the admission or not so keep in touch with this page.