Admissions are open in Rashid Latif medical College RLMC for the session of 2018 in MBBS program for all those candidates who have qualified their last year examination in Medical fields. It authorize for the Rashid Latif Medical College Lahore Admission 2018 Form. The College is looking for motivated and self creative candidates from all over the province. So if you are among those candidates who have these abilities and want to be a doctor in your future then this is a great opportunity to get admission in RLMC for MBBS. Rasheed Medical College RLMC was established in 2010 on the name of its founder Rashid Latif Khan. It is Recognized by Pakistan Medical and Dental Council (PM&DC) It is a private Medical College located on Ferozepur Road Lahore. The college is providing the internship facility for its graduates as it is attach with two teaching hospitals Hamid Latif Hospital and Arif Memorial Teaching Hospital. The main vision of the established of this college is to provide the best quality medical educations for all its candidates with in the very affordable fee structure, merit base scholarships are also granted to deserving students. This is why every year the RLMC is producing the perfect and experienced graduates who are serving the nation with their affections. So now day's admissions are open in this college for MBBS and if you want to get admission you have to complete the following admission process if you are Eligible on the following points. Have a look down other opportunities like Allama Iqbal Medical College Lahore MBBS Admission 2018 Form
Rashid Latif Medical College Lahore Admission 2018 Form, Last Date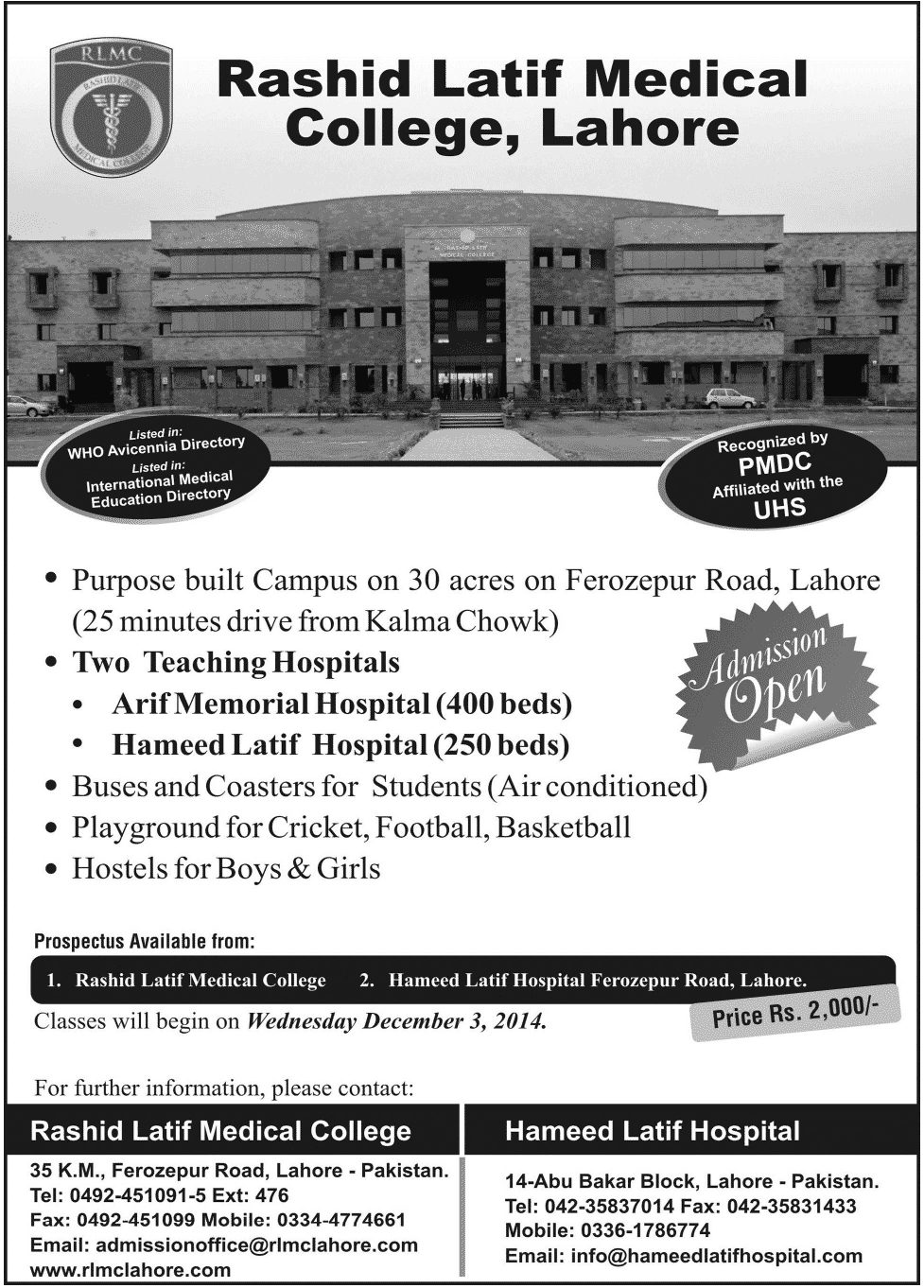 RLMC Admission Process
To get admission in Rashid Medical College for MBBS, willing students have to complete the admission process that is you have to obtain the admission form from the college main office read it carefully and fill it dully and attach all the following important documents d resubmit it to the administration department of the college before the last date which you will found in the prospectus. The other way to get admission form is from download the official website of RLMC.
RLMC Eligibility Criteria
Candidates who are willing to get admission in Rashid Medical College RLMC, they should be qualifying on the following eligibility points.
Candidates (He/ She) should have passed the F. Sc (Pre-Medical) with minimum 60% marks.
Candidates (He/ he ) having the foreign certificate equivalent to F. Sc (pre-Medical) then they are then eligible if they bring the certificate issued by IBCC Islamabad.
Age Limitation is not fixed as there is no maximum or minimum age limit for admission to MBBS and BDS.
Those candidates who have been appeared in the Entry test taken by PM&DC are only eligible for taking admission in RLMC.
RLMC Entrance Test
Entry test is the essential step to get finally admission in RLMC which will be taken under the policy of PM&DC entry test. So only those candidates are only allowed to sit in this entry test that bring them admittance card which they will collect after the submission of admission form. Candidates have to secure minimum 50% marks in this entry test. These are post steps before the Rashid Latif Medical College Lahore Admission 2018 Form, Last Date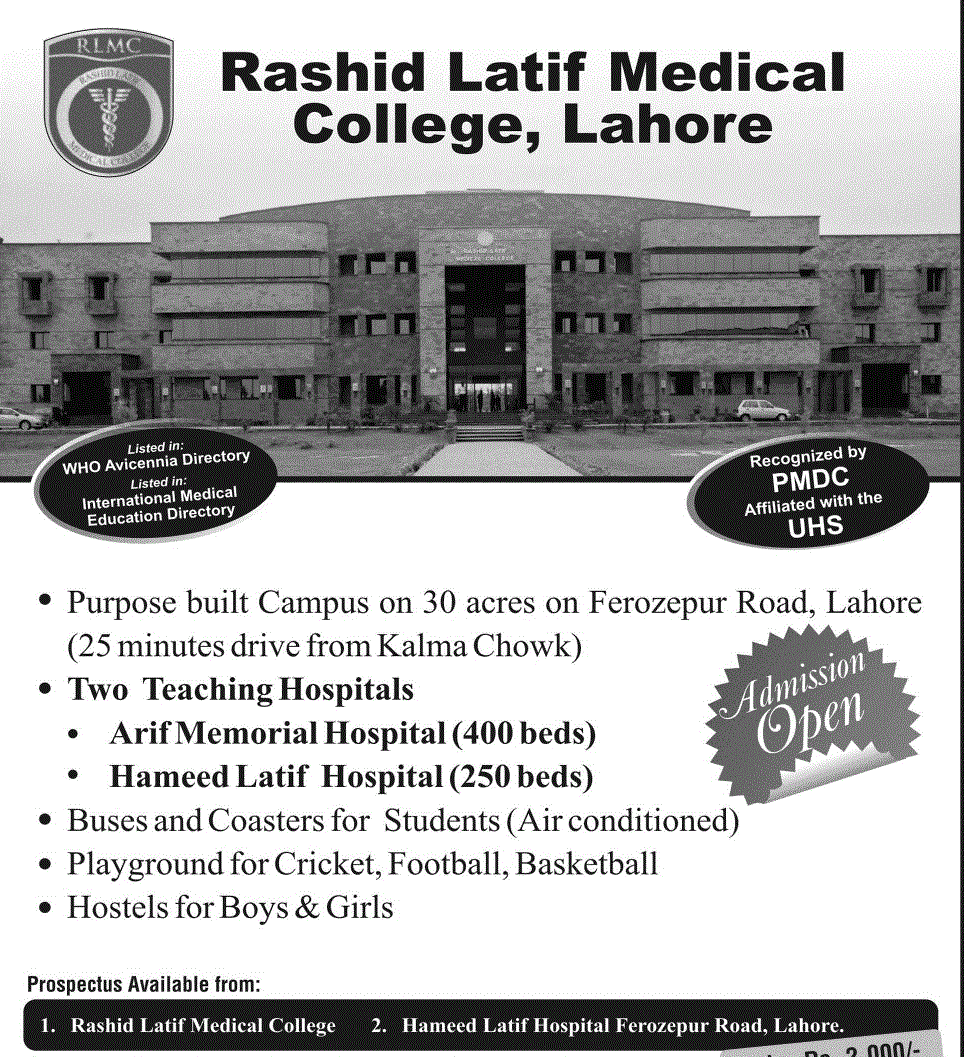 RLMC Interview  
Candidates who have fulfill all the above admission steps for Rashid Latif Medical College Lahore Admission 2018 MBBS and also qualified from the entry test then they will call by the administration office of RLMC for Interview. Officials will aptitude the communication skills and English Language Skills.