Students can check Federal Urdu University Islamabad Autumn Admission 2019 Last Date which has announced by the Officials of this university. The University is looking forward toward well mannered, self-created and shines students who can bright the name of the University after all. As you are among those students who have all these abilities so you have to buy the admission form available in all the branches of Habib Bank Limited HBL in Just rupees RS. 300/-, Admission form can also online download from the website or can be obtained by post by sending pay order/ Bank Draft / Postal Order Rs. 800/- in the favor of FUUAST Islamabad. After that, you have bought the admission form complete the next procedure, give all the required data and submit it before the last date September 2019.  So you all are to be informed by this page to get ready for the further higher education from a well-named institute. Federal Urdu University NTS Test Result 2019 will also available here soon.
Federal Urdu University Islamabad Autumn Admission 2019 Last Date
The admissions are opened for the Bachelors and Masters Program displayed below in the given schedule by the officials of the College with the Duration and Eligibility.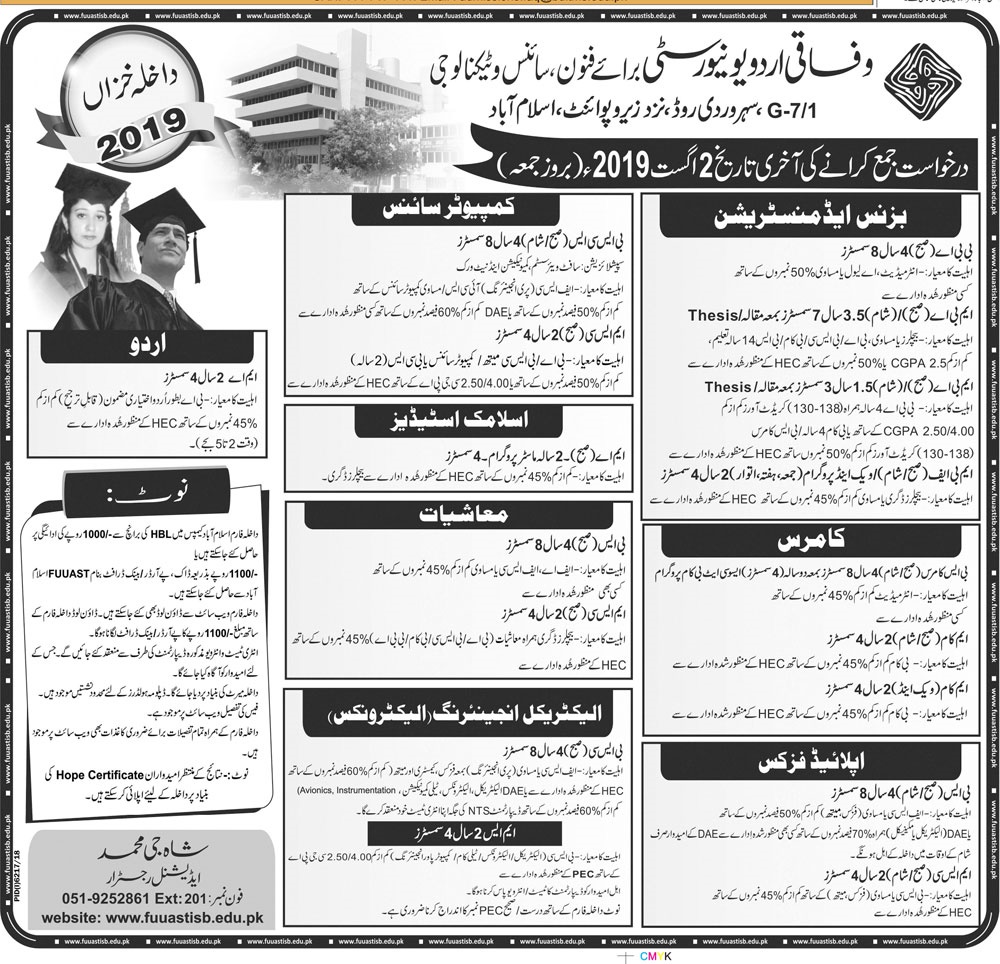 Federal Urdu University Islamabad Admission Autumn 2019 Last Date has been displayed according to the officials. This is the University which was established by Baba-e-Urdu Maulvi Abdul Haq in the year of 1949. Firstly this reputed organization was not lies in the list of universities but with the passage of time, this college was given the status of the university in 2002. And then by 13th November 2002 by the president of Pakistan Pervez Musharaf order, it was known as the Federal University of Urdu.
After that time the University is paying his duties for the students in the many Bachelor and Masters Programs. This time the University comprises three campuses and a number of departments. In Karachi, it builds its campus name Abdul Haq Campus at Baba-e-Urdu Road this was previously known as Federal Urdu Art College. Its second campus in Karachi situated at University Road, Gulshan-e0 Iqbal name Gulshan campus( Previously known as Federal Urdu Science School. In Islamabad, it has a campus named Islamabad campus near zero points Islamabad.