Morning and self Supporting (Afternoon / Replica / Evening) Program Admissions 2017 in University of the Punjab is now open is many faculties and in different course including 5 years BS, BBIT, B.Com, BBA, LLB. 3 Years MA, M.Sc, MPA, MBA, M.Com, MLS, MIOM, MSBSM, LLB so all those candidate who want to take admission in the Punjab University can collect their admission form from 18th September, 2017 from the selected Habib Bank Branches details of the branches are listed below. Punjab University is a well know University of the Province which does not need any introduction as it is working and providing educational service to the students of the Pakistan before the independence of Pakistan and after independence the responsibility of the education were on the shoulders of the PU and now there are many Punjab University Affiliated colleges. well every year thousands of students got admission in the PU different department to get education but thousands are those who rejected as due to limited number of seats PU cannot allow every students to get admission that is why only those students who are on the merit will allow to get admission. In an academic year PU opened admission in various times as PU LLB Admission 2017 are open and now the time has come when the students get admission form from the selected place. Exams Schedule of PU is being declared by the each department officials.
Punjab University PU Admission 2017 in Morning, Evening and Afternoon
Eligibility Criteria for BS or Equivalent admissions:
All those candidates who have passed their FA, FSc qualification with at least 2nd division and their age is not more than 24 years are eligible to apply for the BS or equivalent programs. Another thing which is compulsory for every students that these candidates must have passed pre entry test taken by the department in which you are applying for.
Eligibility Criteria for MA, MSc or equivalent:
All those candidates who have passing degree of BA / BSc or 14 years of educatio from a recognized institute and secure at least 2nd division but his or her age is not more than 26 years old are eligible to get admission in the MA/MSc or equivalent program. Another rules in the admission in that 50% seats are reserved for the students from the Punjab University and other 50% are for the students on merit basis. It is also mandatory for all the students to clear the pre entry test taken by the University departments.
Eligibility of BS/MA/MSc. Self Supporting Programs (Afternoon / Replica / Evening)
Eligibility and basic criteria for admission in self supporting (Afternoon / Replica / Evening) programs of BA/ MA/ MSc or equivalent will be the same as for morning programs. Entry Test conducted by same department for morning courses is also mandatory and applicable for self supporting. There is no age limited in this program.
Punjab University PU Admission 2017 Form Availability:
Punjab University PU Admission 2017 form will be available from 18th September, 2017 from the Habib Bank Limited branches of
Azad Road, Sargodha
Bank Square, Gujranwala
Farid gate, Bahawalpur
Jinnah Chowk, Sahiwal
Railway Road, Faisalabad
Main Branch, DG Khan
Railway Road, Sheikhupura
Railway Road, Kasur
Commercial Center Satellite Town, Rawalpindi
Main Branch, Mirpur AJK
Main branch, Muzzaffarabad AJK
Hussain Agahi, Main Branch Multan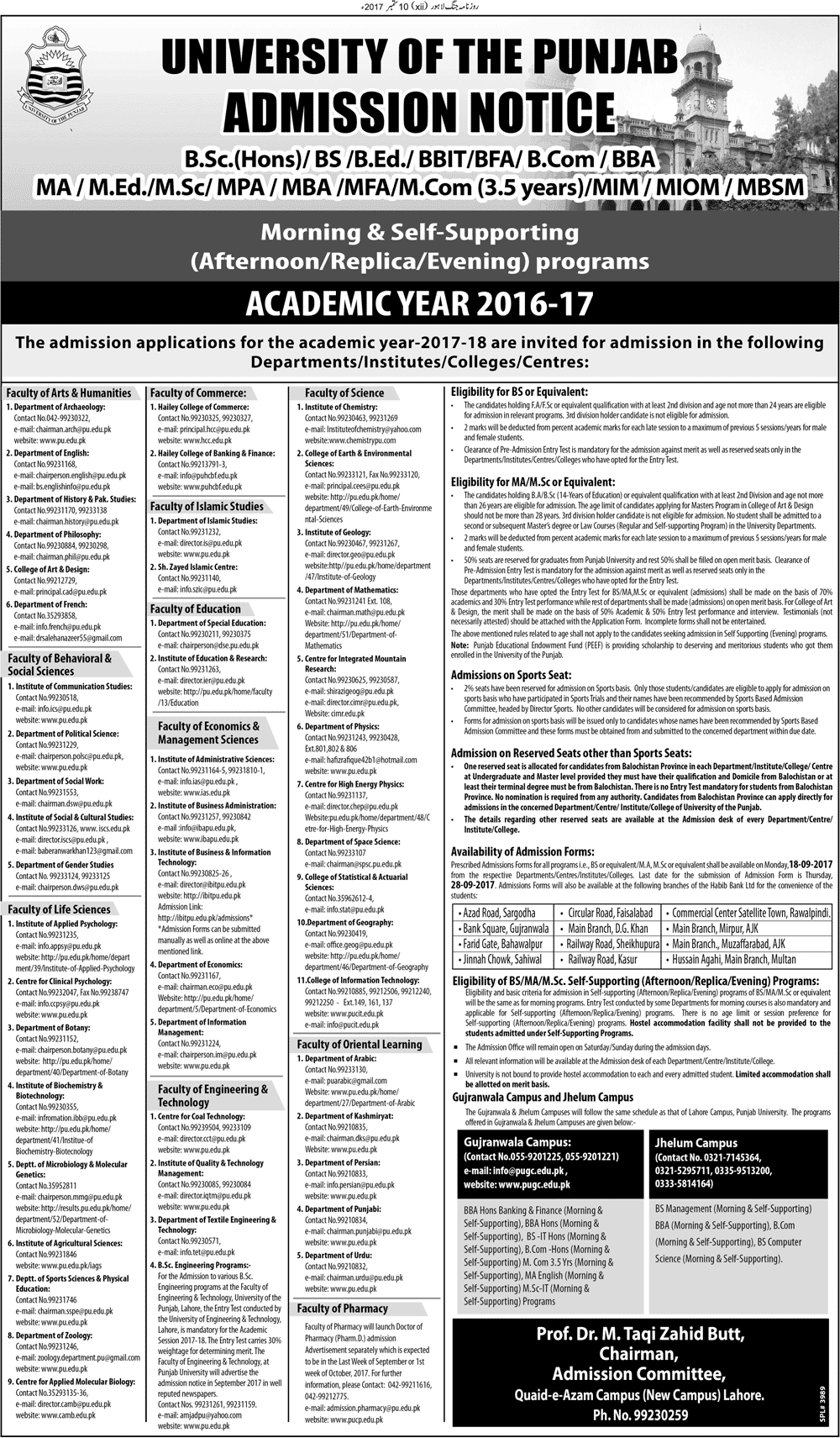 Application form should be return after completing with them with require information before 28th September, 2017 as this is the last date to submit the admission form
For More Information Contact:
Prof. Dr. Liaqat Ali
Chairmen, Admission Committee
Lahore Campus: 042- 99230259
Gujranwala campus: 055-9201225-6
Jhelum Campus: 0544448780