BS Degree and Master Degree Programs Fall Admissions 2017 has been started in the University of Gujrat UOG Lahore Campus and the last date to submit the application form if you want to take admission in this university is 23rd September, 2017 that will be the last date with no further extension in any case so do react according to the given schedule as after that date your admission form will not be entertained in any case. University of Gujrat got a chartered as a degree awarding University of Pakistan by the Government of Pakistan in year 2004. The main focus of the University from the very first day of its inception is to cultivate the hidden talent from the youth which helps them in grooming and excellence in every field. When it comes to the education then the first priority of the University is quality education to each and every student. The Present registrar of the UOG is Dr. Tariq Aqil who have done PhD in Plant Pathology from Mississippi University USA. University is providing a variety in different field to choose there are Faculty of Arts, Computing & Information Technology, Engineering & technology, Science, Management & Administrative Science and Social Sciences. every year thousands of Students completed their education from this University and get their degrees and on the other hand thousands of new students enter the campus to learn and get quality education.
University of Gujrat UOG Lahore Campus Fall Admissions 2017
Last Date to Submit the Admission Form: 23rd September, 2017

Admission form along with the prospectus of the University can be taken from the  main admission block of the University of Gujrat Lahore campus but those students who do not want to go physical to this University for this purpose also have a second way to get the admission form and that is through internet. Down on this page you will see a link just click on that link and then the admission form will be saved to your computer just print it , fill it, attach all the require documents and submit it to the admission office of the relevant faculty.
BS Degree Programs:
BBS (Hons)
BS Computer Science
BS Information Technology
BS Economics
BS English
BS History
B.Com (Hons)
BS International relations
BS Islamic Studies
BS MAss Communication
BS Mathematics
BS Political Science
BS Psychology
BS Statistics
BS Software Engineering
B.ED (Hons) in Education
Master Degree Programs:
MSc Computer Science
MSc Information Technology
MA English
MA History
MA International Relations
MA Islamic Studies
MA Political Science
MSc Mathematics
MBA (1 1/2 Years)
MBA (3 1/2 Years)
MSc Statistics
MA Mass Communication
MA Sociology
MSc Economics
MSc Psychology
M.Com
Admission Form:
Download Admission Form 2017 (Undergraduate)
Download Admission Form 2017 (MA/MSc)
All the detail of the admission policy and rules & regulation for all the degree programs is discussed in detail in the prospectus issued by the University of Gujrat every year. Students are requested to attach all the supported attested copies of documents including their CNIC Copy and other educational certificates at the time of submission of application forms. All those application that will received after the last date for the form submission should not be entertain in any case. University has all the right to stop admission of any candidates who are not lying on the rules and regulation of the University.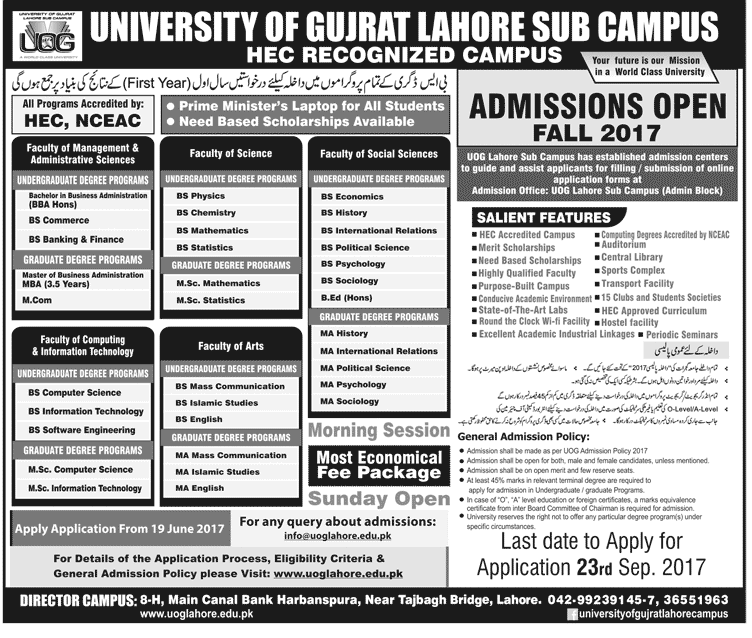 For More Information Please contact:
Chairmen University of Gujrat
8-H Main Canal Bank, Harbanspura, Lahore
Ph: 042-36551963, 36540157