CAT(Certified Accounting Technician) is the best way when you about to choose the Accountancy as your Career Perspective in Pakistan.The CAT qualification is the first step into a career in accountancy. It is design to equip the students with all the necessary technical skills and basic knowledge required to fulfill a support role in accountancy. The Accounting Technician certificate allows students to continue further for ACCA qualification. At the time of registration with CAT, students can opt for automatic transfer to ACCA on completion of all 9 papers of CAT. The Knowledge module of the Fundamental level of ACCA will be exempted to CAT qualifiers. The information over here is about the CAT Accounting Course In Pakistan.
ACCA has presented another Route called Foundation in Accountancy (FIA) to accomplish its underlying Certified Accounting Technician (CAT) capability. The quantity of examinations in the FIA conspire remain (9 to accomplish CAT). Also you will be qualified for testaments for 2 sets of 2 papers. Another recognition for 3 papers and in addition which could be utilized as an alternate way to get into standard ACCA. The FIA course enables you to take control of how and where you ponder. With a scope of universally applicable syllabus choices and the decision of separation learning, up close and personal or self examination, the capability is preferably suited to the individuals who are quick to advance their vocations while keeping up a reasonable work-life adjust. The CAT capability is universally perceived and very respected. It can prompt a testing and compensating vocation. Endless supply of the exams and required commonsense experience you will have the capacity to apply to utilize the letters CAT after your name. Should you wish to seek after your vocation further, finish of the CAT enables you to move straightforwardly to the Skills module of the ACCA capability. Furthermore, ACCA's one of a kind association with Oxford Brookes University, enables you to get a BSc (Hons) degree in Applied endless supply of Skills module of the ACCA Exams..
CAT Accounting Course In Pakistan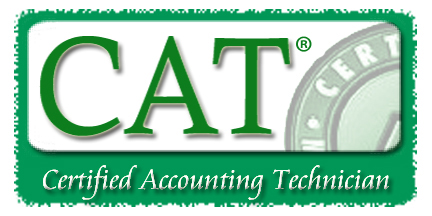 CAT Syllabus
The CAT syllabus is designed in such a way that on completion of all CAT exams students are expected to know basic knowledge of not only Accounting but also Information Technology and Management. The exams are divided into 3 levels Introductory, Intermediate and Advance.
Introductory Level
Paper 1 Recording Financial Transactions
Paper 2 Information for Management Control
Intermediate Level
Paper 3 Managing Financial Records
Paper 4 Accounting for Costs
Advanced Level
Compulsory papers
Paper 5 Managing People and Systems Paper
6 Drafting Financial Statements Paper
7 Planning, Control and Performance Management
Optional papers (any 2 out of 3)
Paper 8 Implementing Audit Procedure Paper
9 Preparing Taxation Computations Paper
10 Managing Finances
CAT Eligibility
Preferably O levels / Intermediate or Matriculation (With at least 60% marks)
Holders of certain qualifications may receive exemptions from some of the papers.
CAT Entry Requirements
There are no formal scholarly capabilities important to enroll for the CAT capability. Anyway your past capability may qualifies you for exclusions from a portion of the CAT exam.
You may likewise have the capacity to guarantee exclusion from the early on papers of the CAT capability, on the off chance that you as of now have multi year's important functional experience
These are some levels that listed according to the CAT Accounting Course In Pakistan.
Examination Rules For CAT
No time constraints for the completion of examinations.
Examinations can be attempted twice a year in June and December Sessions respectively (See computer based examinations).
The passing marks is 55% at Introductory Level, 50% at Intermediate Level and 40% at Advanced Level No limit to the number of papers that can be take, recommended number is four papers at any session Papers can be taken in any order though numerical order is recommended.
Computer Based Examinations
Understudies have the alternative to sit in Computer Based Examinations (CBE) for Introductory and Intermediate levels of CAT which are held each month. The PC based examinations enable adaptability to the understudies as far as taking examinations at sessions other than the stipulated paper based sessions of June and December. Furthermore, understudies get the outcomes on the spot which likewise refreshes their status on ACCA understudies' database.It is all about the CAT Accounting Course In Pakistan.
CAT Jobs
Accountant
Accounting Manager/Supervisor
Assistant Controller
Auditor
Bookkeeper
Chief Financial Officer
Financial Analyst
Tax Specialist